Daily Comment (October 20, 2016)
by Bill O'Grady and Kaisa Stucke
[Posted: 9:30 AM EDT] ECB President Mario Draghi is giving his press conference as we write this.  The ECB maintained its benchmark lending rate at zero, the deposit rate at -0.4% and the asset purchases at €80 bn a month.  Draghi said that the central bank expects interest rates to remain at presently low rates or lower.  He was asked if the committee would consider lowering rates in December, which Draghi deemed to be possible if the data calls for it, especially the strength of the economy and inflation.  Updated economic projections are also due for the ECB's December meeting, thus providing more color on the effect of the current interest rate and stimulus policies.
The current ECB QE program is slated to end in March 2017, and what's interesting is that Draghi indicated that there was no discussion during this week's meetings of continuing or extending the stimulus program.  At the same time, Draghi said that he would not expect an abrupt end to the QE program, but that a tapering is more likely when the Governing Council decides to withdraw stimulus.  The stimulus package will be maintained until there is "a sustained adjustment in the path of inflation" consistent with the ECB's inflation aim.  Inflation has remained mild in the Eurozone, having remained below the central bank's target rate of 2.0% since 2013.  The chart below shows the annual change in the headline CPI and the ECB's target rate.  Although CPI has picked up modestly recently, it still remains below the target rate.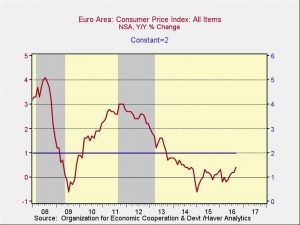 The bank expects inflation to move close to the target rate by early 2019.  Given the lack of inflationary pressures and the ECB's own inflation expectations, we would expect the QE program to remain in place until at least 2019.
Markets were expecting these outcomes; despite an initial drop in European equities, risk markets have bounced back.  The chart below shows the intraday chart of the euro, which spiked initially when the press conference started but has moved lower since.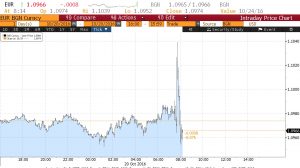 Additionally, the chart below shows the EuroStoxx 50, which fell after comments from Draghi that the future of the stimulus package was not even discussed, but equities have rebounded since.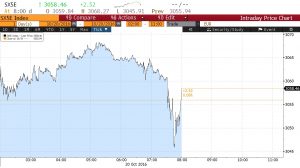 Regarding the U.S. presidential race, the third and final debate was held last night.  The debate focused on immigration, the Supreme Court and the Second Amendment.  It is unclear whether either candidate was able to persuade the undecided voters.