Daily Comment (October 16, 2017)
by Bill O'Grady and Thomas Wash
[Posted: 9:30 AM EDT] Although U.S. financial markets are quiet, there is a lot going on.  Here's what we are watching this morning:
War in Iraq?  Iraqi troops have taken a refinery and captured oil fields surrounding the city of Kirkuk.  So far, only Iraqi regular army troops have been involved; the Iranian-dominated Iraqi Shiite militias have reportedly not been part of the action.  Kurdish Peshmerga forces have withdrawn, avoiding a fight with Iraqi forces.  Reuters[1] is reporting that General Qassem Soleimani, a key leader of the Iranian Republican Guard Corps (IRGC), has arrived in Kurdistan for talks.  Soleimani is a somewhat shadowy figure in the IRGC but is considered to be the mastermind behind many of Iran's tactics in the region.  His presence there suggests Tehran is trying to contain the situation and prevent a wider war.  To some extent, the tensions in Kurdistan are part of the collapse of IS.  There is a power vacuum in western Iraq and eastern Syria; IS was the first to fill it, but it won't be the last, and the process of determining who is in control will likely be difficult and lead to constant conflict.  Oil prices lifted on the news.
A deadline for Catalonia: Catalan leaders are trying to support indigenous independence while avoiding a violent crackdown from Madrid.  PM Rajoy has given Catalonia until Thursday to say, yes or no, whether independence was declared.  If it was, look for a violent reaction from Spain.  EU Commission President Juncker indicated today that he regrets that both parties in Spain didn't heed his advice to talk sooner but said the EU would not mediate the crisis.  Catalan leaders are stuck; if they back down from independence, they will likely lose their positions and more radical elements could replace them.  If they declare independence, they will meet an ugly, aggressive response from Rajoy.  So far, the EUR and Spanish debt have shown little signs of stress.
Austria moves right: As we noted last Friday, the Austrian vote went as expected, with the center-right People's Party winning a plurality, making Sebastian Kurz the youngest leader of a major nation in the world.  Kurz has moved the previously staid People's Party into a more populist, right-wing party and has energized it with social media.  He ran on an anti-immigration platform and will likely team up with the right-wing, populist Freedom Party.  Although the general trend has been for populists to underperform in elections this year, as seen in France and the Netherlands, they have clearly done better in Germany and Austria.  Populism remains a potent force in the West.
NAFTA worries: There are growing worries that the Trump administration will scuttle the agreement.  There is talk of higher content rules for products (which would reduce imports of parts from Mexico and Canada) and sunset rules that would require renegotiation every five years.  The former might be workable but the latter essentially kills the deal.  Trade law changes business infrastructure; if it is open to major changes every five years then firms won't make the investments into international supply chains and will simply produce more at home.  Worries are starting to show up in the forex markets.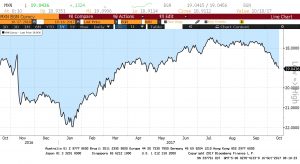 Concerns are clearly reflected in the MXN/USD (Mexican peso) exchange rate.  This is the number of MXN per USD on an inverted scale.  The MXN fell sharply after the election of President Trump but then the currency recovered on hopes that Trump, for all his rhetoric, would turn out to be a typical free-trade Republican.  Note that the MXN has been weakening steadily since the middle of last month, reflecting worries about NAFTA.  A somewhat less clear picture emerges on the CAD/USD (Canadian dollar) exchange rate.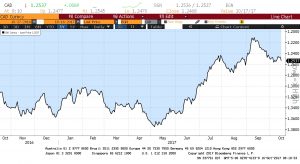 Although the CAD didn't weaken after the election (it was already quite weak), it rallied from May to September after the Bank of Canada raised rates.  We have seen the currency weaken as NAFTA talks have deteriorated.
Yellen at the G-30: The G-30 is a group of finance officials from the industrialized nations.  They met last weekend as part of the IMF meetings.  Yellen reiterated her defense of the Phillips Curve and indicated that rates would continue to rise.
A worry for Turkey?  A series of wiretaps suggests that PM (now President) Erdogan may have facilitated a violation of sanctions on Iran with gold for natural gas swaps in 2013.[2]  The Turkish president has called the transcripts and tapes a fabrication but U.S. prosecutors think Turkey may have violated international sanctions on Iran.  This case is damaging already strained relations with Turkey.
---
[1] http://www.reuters.com/article/us-global-oil/oil-rises-as-fighting-escalates-in-iraqs-oil-rich-kirkuk-idUSKBN1CL01M?utm_source=Sailthru&utm_medium=email&utm_campaign=New%20Campaign&utm_term=%2ASituation%20Report
[2] https://www.nytimes.com/2017/10/14/world/europe/turkey-new-york-case.html?emc=edit_mbe_20171016&nl=morning-briefing-europe&nlid=5677267&te=1