Daily Comment (October 15, 2019)
by Bill O'Grady, Thomas Wash, and Patrick Fearon-Hernandez, CFA
[Posted: 9:30 AM EDT] Commercial bankers come back to work today.  The Middle East is a mess, but oil prices haven't budged.  There was little progress on Brexit, but hope remains.  The Chinese trade deal continues to hit snags; China also released a batch of economic data.  Here are the details:
BREAKING:  IMF LOWERS GLOBAL GROWTH FORECAST TO 3%, LOWEST SINCE THE GREAT FINANCIAL CRISIS. 
Middle East:  The Turkey/Syria situation is devolving at great speed.  As we noted yesterday, Syria and Russia have become the Kurds new ally against Turkey.  The likely cost to the Kurds?  Living again under Assad's control.  The U.S. imposed sanctions but they were less onerous than feared, and the TRY rallied on the news.  A Saudi diplomat called the U.S. action in Syria a "disaster."   Russia is working to fill the power vacuum– Alexander Lavrentiev, Russia's special envoy to Syria, said Turkey's invasion of northern Syria is unacceptable and was not agreed with President Putin in advance.
As our most recent WGR notes, the Carter Doctrine has been in trouble since 9/11.  What we are seeing now is the logical conclusion of a path we have been on for nearly two decades.  What is happening in the Middle East is a foreshadowing of what will eventually occur in Europe and the Far East.  We suspect that two areas of the world are watching what is happening to the Kurds with great interest—the Baltic states and Taiwan.  They have to wonder if the U.S. will back them from Russian or Chinese aggression.
Chinese trade:  China still hasn't called last week's meeting a "deal."  This reluctance is partly due to China's concern that President Trump won't adhere to any agreement.  Our suspicion of what is happening to the U.S./China relationship is strategic ambiguity isn't working anymore.  For years, both China and the U.S. would say the same things, but mean something quite different; as long as the "bluffs were not called" this didn't matter much.  Now, the U.S. is forcing clarity, something China isn't used to.  A new example emerged today.  The U.S. believed that in return for delayed tariffs (that were set to begin yesterday), China was to buy $50 bn of U.S. agricultural products.  Today, China suggested that to be able to make these purchases, the U.S. will need to roll back some of the tariffs currently in place.  China has also indicated it wants more talks before signing any agreement.  Meanwhile, Treasury Secretary Mnuchin has indicated that if a deal isn't signed next month at APEC, the U.S. could go ahead and implement tariffs announced for mid-December.  The problem with these negotiations is that both sides think they have the upper hand and can, at some point, dictate terms.  As long as this condition exists, getting a deal done will be difficult.
China economic data:  China's CPI rose 3.0%, a bit more than forecast, driven mostly by an 11.4% jump in food prices.  Pork prices rose 69% from last year, a key factor in the rise of food prices.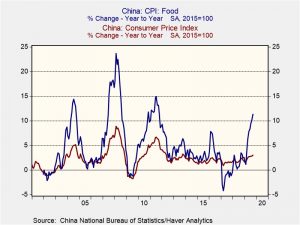 Meanwhile, PPI is still deflating.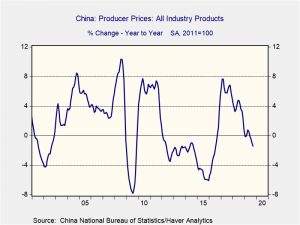 Total credit grew 12.5% from last year, in line with the past three months.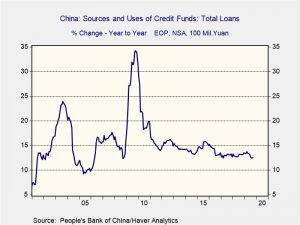 Overall, the data shows that China has a serious food inflation problem; the fact that it is trying to negotiate lower tariffs in the face of a nearly 70% rise in pork prices is remarkable.  At the same time, deflation at the producer level is a warning sign of weaker growth, and likely reflects problems tied to the trade conflict.
Brexit:  We are seeing conflicting messages coming from the EU.[1]  The Finnish PM Antti Rinne, currently the EU's president (it rotates among members) said overnight that the talks "need more time."  However, the EU's chief Brexit negotiator, Michel Barnier, suggested that a withdrawal deal is still "possible."  We continue to believe that if Johnson wants a deal before Halloween, he has to "lose" Northern Ireland; in other words, he has to put the trade border at the Irish Sea and leave Northern Ireland in the EU customs union.  His current plan is trying to finesse this outcome by leaving Northern Ireland in the U.K. trade zone but adopting EU trade rules depending on the destination of the export or import.  If Johnson doesn't abandon the Unionists, he will face new elections with a viable Brexit party on his right flank.  We suspect that Johnson will eventually abandon the Unionists which would give him a strong position in upcoming elections.
Global Bond Markets:  In his first investment outlook since retiring in March, former PIMCO bond king Bill Gross said that with a global bond market dominated by negative-yielding bonds, investors should favor stocks with a secure dividend.  However, he also warned that future stock price gains are likely to be muted as the impact of falling interest rates fades.
Odds and ends:  Spain is in turmoil after a Spanish court jailed pro-independence Catalan leaders.  The decision will complicate November elections.  Although Poland's populist PiS party won the weekend's election, it failed to control the upper house, making its win less impressive.  Although we rarely comment on U.S. elections this early, we are closely monitoring developments.  Apparently, Mayor Bloomberg is noting that the establishment "lane" may be opening and is considering running for the Democratic Party nomination.  The 2020 election has the potential to be as divisive as the 1860 election due to stark divisions among American voters.
---
[1] We know, "dog bites man," right?