Daily Comment (October 13, 2016)
by Bill O'Grady and Kaisa Stucke
[Posted: 9:30 AM EDT] The FOMC minutes did have some interesting information but no real surprises.  It confirmed what the dissents and the dots chart indicated—the FOMC is divided on policy.  The hawks are concerned that waiting too long to raise rates could lead to an overheating economy and force the central bank to ratchet up rates quickly, leading to a recession.  This group would recommend a modest hike now to prevent that overheating and extend the current business cycle.  The doves argue that slack remains in the labor market and, with rates this low, the FOMC has ample room to raise rates if the economy overheats but limited room to cut if the economy weakens.
It doesn't appear to us that much has changed.  We expect the Fed to raise rates in December but make only one more move next year.  Fed funds futures put the odds of a December hike at 61%, unchanged from before the minutes.  Our position is that the FOMC will raise rates in December to placate the hawks.  To calm the doves, forward guidance will suggest that there will likely only be one hike in 2017, barring a surge in economic activity.
The king of Thailand, Bhumibol Adulyadej, died this morning at the age of 88.  He had been suffering from a myriad of age-related ailments for years.  The king had ruled for over 70 years.  He is expected to be succeeded by his son, Crown Prince Vajiralongkorn.  The king's passing could raise political tensions in Thailand.  He was the key unifying figure in a country that has seen 19 coups (12 of which were successful) since the absolute monarchy was abolished in 1932.  This political instability has been managed mostly by the king intervening when tensions were close to boiling over.  His death raises the possibility that the rural-urban divide, the most potent in the country, will become unmanageable.  Currently, the country is governed by a military junta that replaced the previous democratically elected government that favored the rural faction.  Elections were expected by the end of next year; the king's passing will likely delay the vote.
Thai financial markets have been under pressure from the king's illness and his passing.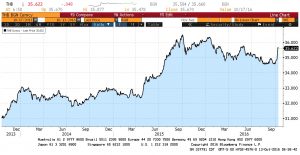 The chart above shows the Thai baht per dollar, so a rising reading is a weakening baht.  Note the rapid spike over the past two days, indicating currency depreciation in light of the political uncertainty.  Thai equities have suffered as well.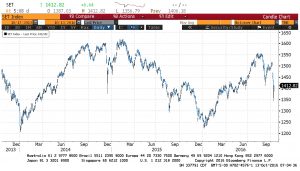 Finally, as we note below, China's trade data came in weaker than expected.  Exports plunged 10%, much weaker than forecast, and imports were also soft, falling 1.9%.  This weakness might explain why the PBOC has been allowing the CNY to depreciate.