Daily Comment (October 12, 2020)
by Bill O'Grady, Thomas Wash, and Patrick Fearon-Hernandez, CFA
[Posted: 9:30 AM EDT] | PDF
Good morning.  It's Columbus Day, so commercial bank operations are partially closed.  There is no official market for Treasuries today, although you can still trade Treasury futures. Equity markets are working higher this morning.  Judge Barrett's confirmation process begins this morning and will dominate the media.  We start today with China news; the Golden Week holiday is over, and China is heading back to work.  EU policy toward American tech firms comes next.  In U.S. policy news, current talks are at an impasse.  Our ongoing coverage of the pandemic follows.  In global news, we recap the North Korean military parade, the 10th week of protests in Belarus, and the IMF/World Bank meetings that are starting in Washington. Here are the details:
BREAKING:  The BOE is discussing the potential impact of negative policy rates on the banking system.  No details are available, but the news adds to evidence that the U.K. central bank is considering negative policy rates.
China news:  One of the important insights during Golden Week was that internal travel returned.  Domestic flights rose 13% from last year, further evidence of China's economic recovery from the pandemic.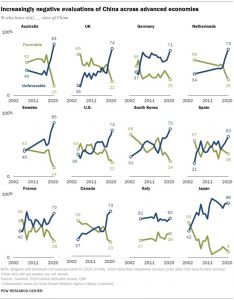 This clear rise in negative views is seen in attitudes toward Xi Jinping.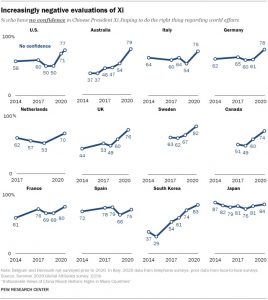 Coupled with falling U.S. ratings, the trend toward a leaderless world does seem to be accelerating.
Technology:  The EU is planning tougher regulation against large tech firms that are mostly based in the U.S.  The goal of the EU is to curb the power of these firms.  Although U.S. regulators are moving against some tech firms on antitrust grounds, we would not expect the U.S. to look favorably on Europe's attempts to regulate these firms.  And, in what looks like a PR mistake, Silicon Valley firms are said to be cutting salaries of workers who decamp to lower-cost areas to work.
U.S. Policy:  Although talks continue, Congress and the White House remain at an impasse on fiscal stimulus.  We suspect that nothing will be done before the election.  Although the economic data does support the idea that the recession is over, there is a growing risk that the recovery will be sluggish.  That outcome isn't necessarily bad for financial markets as it extends the length of monetary policy accommodation.  However, the economic and political fallout could be negative.
COVID-19:  The number of reported cases is 37,575,402 with 1,077,629 deaths and 26,109,425 recoveries.  In the U.S., there are 7,763,457 confirmed cases with 212,789 deaths and 3,075,077 recoveries.  For illustration purposes, the FT has created an interactive chart that allows one to compare cases across nations using similar scaling metrics.  The FT has also issued an economic tracker that looks across countries with high frequency data on various factors.
Virology: 
Restaurants and economics:  The National Restaurant Association reports that 100,000 outlets have closed over the past six months due to the pandemic.  That is about 17% of the total for the nation.  Some of these closures are temporary, but for many the closures will likely be permanent.  Another developing trend is that larger chains are better equipped to adapt to the pandemic.  They have access to capital to restructure their businesses and can conduct regional or national ad campaigns to highlight their adaptations.  Smaller restaurants often lack this capacity and are prone to failure.  Although there is great fear that the post COVID-19 world could be one where there are few independent outlets, in reality, the restaurant industry is one that is characterized by easy entrance and exit.  Therefore, the cost of starting a restaurant isn't extreme, and the ability to close one, compared to a factory, is less onerous.  For that reason, we would expect a recovery once the pandemic passes.  That doesn't mean there won't be changes; the focus on takeout will still be elevated.
World news:  Here is the recap of the weekend.