Daily Comment (October 11, 2018)
by Bill O'Grady and Thomas Wash
[Posted: 9:30 AM EDT]
[BREAKING: President Trump agreed to a meeting with Chinese leader Xi Jinping to discuss ongoing trade tensions during the G20 Summit.  Earlier this week, U.S. officials had warned China that trade discussions would only take place if it provided a detailed list of trade concessions.  This meeting signals a slight de-escalation of tensions between the two nations.  The story is still developing.]
Good morning all!  There was a sharp sell-off in equities worldwide after a higher than expected core PPI report sparked concerns about ongoing trade tensions; at this time, bonds and currencies remain relatively stable.  Here are the news events we are following today:
Market jitters: The equity sell-off that started in U.S. markets yesterday spread into European and Asian markets overnight.  The sharp sell-off prompted the president to initially conclude that the Federal Reserve had "gone crazy" with monetary tightening, and then later attributed the sell-off to market correction.  Although there were likely multiple causes that contributed to the stock market sell-off, the prospect of a fourth rate hike being one of them, the most prominent cause appears to be fears of escalating trade tensions between the U.S. and China.  Yesterday's PPI report looks to have sparked the sell-off.  The chart below shows the VIX index, most commonly known as the fear gauge.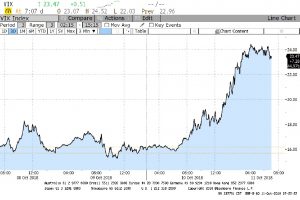 As you can see, the rise in the VIX coincided with the release of the report.  Higher than expected core PPI has sparked concerns that profit margins might suffer due to either rising costs or inflation.  Although there have been whispers that this event is possibly a signal of the economy losing steam, at this moment, we remain optimistic as there is no clear sign of a downturn happening in the foreseeable future, but we continue to monitor the situation.
Adjusted sanctions: China, Russia and North Korea have called on the U.N. Security Council to adjust current sanctions against Pyongyang.[1]  South Korea is also rumored to be considering a reduction in unilateral sanctions against the regime.[2]  The push for a reduction in sanctions is in stark contrast to the Trump administration's position of maintaining sanctions until North Korea is completely denuclearized.  Although South Korea's interest in reducing sanctions is likely due to its goal of creating a more stable Korean peninsula, China and Russia's interests appear to be more strategic.  Although it is unclear, it seems that sanctions and trade tensions have forced Russia and China into a strategic partnership to undermine the U.S.  We see their united push to adjust sanctions as a way of demonstrating their importance to the U.S. in achieving its diplomatic agenda.
New reserves in the Gulf: On Wednesday, Mexican state-owned oil company, Pemex, stated it has discovered new oil reserves in the southeast basin of the Gulf of Mexico.  The discovery provided a sigh of relief to oil market skeptics that feared the Iranian sanctions – which are due to be put in place on November 4 – will force up oil prices.  It is unclear whether this will impact the U.S. decision to provide sanction waivers to countries that would like to keep importing Iranian oil, but we will continue to monitor this situation.
---
[1] https://www.politico.com/story/2018/10/10/china-russia-north-korea-sanctions-891640
[2] https://www.aljazeera.com/news/2018/10/south-korea-eyes-lifting-sanctions-north-korea-181010194334831.html