Daily Comment (October 3, 2023)
by Patrick Fearon-Hernandez, CFA, and Thomas Wash
[Posted: 9:30 AM EDT] | PDF
Our Comment today opens with a discussion of the battle brewing over Chinese influence at the International Monetary Fund.  We next review a wide range of other international and U.S. developments with the potential to affect the financial markets today, including a further worsening of Indian-Canadian relations and dramatic moves in cryptocurrency prices yesterday related to new exchange-traded funds for the assets.
International Monetary Fund-China:  IMF President Kristalina Georgieva has backed institutional reforms that would eventually give China greater voting power, according to an interview in the Financial Times.  In the interview, Georgieva argued that the IMF needs more funding to help struggling countries around the world, and that China should have more voting power based on the fact that it now accounts for almost one-fifth of the world's economy but only 6% of the fund's capital.
Nevertheless, U.S. officials have signaled that they want to increase Western control over the IMF, so they would veto an increase in China's capital.
Capital adjustments at the IMF require the approval of countries that hold at least 85% of the institution's capital. The U.S. holds 17% of the capital, the largest shareholder, so it could unilaterally veto any effort to increase China's position in the fund.
China-Peru-United States:  Despite the U.S.'s ability to block increased Chinese diplomatic influence at the IMF, it is still struggling to counter China's growing economic influence in less developed countries.  According to new reports, the U.S. has privately warned Peru that Chinese interests are gaining too much control over that country's key infrastructure, including the electric utility serving the capital city of Lima and a new deep-water port on the country's Pacific coast.  Control of those assets by Chinese state-owned or state-influenced companies could give Beijing leverage over Peru as it seeks to gain better access to key resources and undermine the U.S.'s geopolitical and economic positions.
India-Canada:  New Delhi has ordered Canada to withdraw about 40 of its diplomats based in India, ostensibly to equalize the number of diplomats each country has in the other.  However, the move is widely seen as further retaliation for Ottawa's accusation that Indian agents killed a Sikh separatist and Canadian citizen in British Columbia last June.  The Indian government has also imposed a ban on new visas for Canadians wishing to visit India.
The worsening bilateral tensions have weakened Canadian Prime Minister Trudeau's domestic political position, especially as some have accused him of pandering to Canada's sizable Sikh community.
The tensions could also complicate the West's efforts to enlist Indian support to counter China's growing geopolitical power and aggressiveness.
European Union:  Average home prices rose by a seasonally adjusted 0.3% in the second quarter, partially reversing the declines in each of the previous two periods.  Nevertheless, second-quarter home prices in the broader EU were down 1.1% from the same period one year earlier, and prices in the eurozone were down 1.7%.  That marks the first annual home-price declines in Europe since 2014.
The fall in home values largely reflects the European Central Bank's long campaign of interest-rate hikes to combat high consumer price inflation, but it also shows economic headwinds for particular regions and sectors, such as German manufacturing.
German home prices had the worst annual declines, down 9.9%, while prices in Denmark were down 7.6%, and prices in Sweden were down 6.8%.
In contrast, prices were up 13.7% in Croatia and 10.7% in Bulgaria.
Argentina:  In an effort to derail the presidential ambitions of radical libertarian Javier Milei, who is currently first in the opinion polls ahead of the October 22 election, Economy Minister Sergio Massa has pledged to form a unity government if he wins the balloting.  However, vowing to form a government that would include Milei's libertarians and Patricia Bullrich's traditional center-right parties may alienate Massa's own left-wing populist Peronists.  As of now, Milei remains in the electoral driver's seat, raising the chance that he will come to power and try to implement his agenda of steep government spending cuts, deregulation, and dollarization of the economy.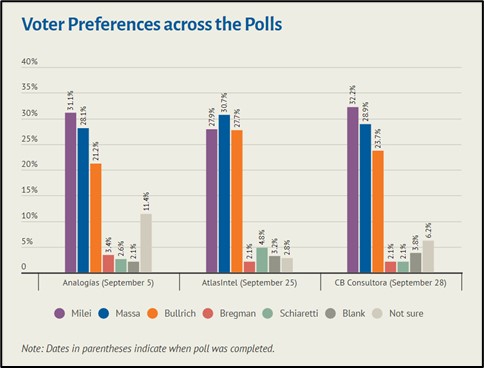 U.S. Politics:  Last night, Florida Republican Rep. Matt Goetz announced a motion to oust House Speaker McCarthy over his weekend deal with the Democrats for a short-term funding bill for the government.  The motion launches a process that will require a vote by Wednesday evening.  With the Republicans having only 221 seats, while the Democrats have 212, it would appear at first glance that only a few Republican rebels could leave McCarthy at peril, especially if all the Democrats voted against him, as they traditionally would.  In this case, however, the prospect of a hard-right Speaker could encourage the cooperation of at least some Democrats to save McCarthy's skin, especially if they could wring concessions out of McCarthy to do so.
U.S. Cryptocurrency Markets:  Bitcoin, Ethereum, Litecoin, and other cryptocurrency prices jumped yesterday as Grayscale Investments filed paperwork to convert its $5-billion Bitcoin futures ETF to a fund that could invest in the spot cryptocurrency.  Also yesterday, the first seven exchange-traded funds for Ethereum futures were launched.  However, prices for the various cryptocurrencies gave up most or all of their gains by the end of the day as the new Ethereum futures ETF garnered little investor interest.  Market data suggest turnover for the new ETFs totaled only about $7 million.
Tepid demand for the Ethereum futures ETFs may show that individual investors are less interested in cryptocurrencies than previously thought. However, some observers suggest that investors simply prefer funds that invest in spot cryptocurrencies.  Of course, today's high interest rates on money market funds have probably also sapped demand for cryptocurrencies.
The Securities and Exchange Commission has signaled it may approve spot Bitcoin and Ethereum ETFs in the coming months.
U.S. Commercial Real Estate Market:  New data suggests companies have had some success forcing their employees back into the office after the pandemic era's work-from-home policies, but that has only been enough to push office occupancy up to about 50.4% of 2019 levels.  Moreover, occupancy is now highly skewed to Tuesday through Thursday, with offices only about 30% occupied on Mondays and Fridays.  Separate data shows the overall office vacancy rate in the third quarter rose to 19.2%, just short of the record rate of 19.2% in 1991.
U.S. Auto Strike:  As the United Auto Workers' strike against the top U.S. automakers continues, new research shows how the economic cost is broadening out to suppliers, dealers, and to the workers themselves.  According to the Anderson Economic Group, suppliers to the manufacturers under strike lost $1.3 billion in the first two weeks of the strike, while the manufacturers themselves lost $1.1 billion and auto workers have lost $325 million.  In related news, Ford (F, $12.31) and General Motors (GM, $32.47) said they have laid off an additional 500 workers at plants not under strike but that were affected by the work stoppages, bringing the total of workers laid off as a consequence of the strike to about 6,000.