Daily Comment (October 17, 2022)
by Patrick Fearon-Hernandez, CFA, and Thomas Wash
[Posted: 9:30 AM EDT] | PDF
Our Comment today opens with an update on the Russia-Ukraine war, including news of further progress with Ukraine's counteroffensive to retake the Russian-held city of Kherson in the country's south.  We next review a wide range of other international and U.S. developments with the potential to affect the financial markets today, including an ominous delay in China's release of its third-quarter economic data.
Russia-Ukraine:  The Ukrainian counteroffensive in the country's northeastern Donbas region has now slowed considerably, but the latest reports indicate that the Ukrainians are launching significant new attacks in the southern region around the Russian-occupied city of Kherson.  Meanwhile, Russian forces continue to launch missile, artillery, and drone strikes at military and civilian targets across Ukraine.  Reports also suggest that the first of Russia's newly-mobilized troops have been killed in combat in Ukraine. Often, these troops have received only a few days of training.  That news is reportedly sparking increased popular anger in Russia, although it still appears that the government has control over the situation.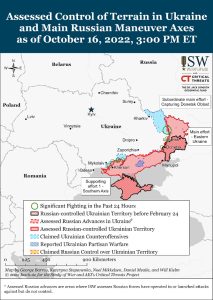 Meanwhile, thousands of Russian troops were deployed to Belarus over the weekend to join Belarussian forces arrayed on the border with Ukraine, ostensibly to help Belarus deter a purported Ukrainian attack. Even though some reports suggest the new Russian troops arrived without artillery or vehicles, the deployment is being seen largely as a Russian effort to further threaten Ukraine and force it to shift troops to the Belarussian border and away from its successful counteroffensives in the northeast and south.
Also, more than a dozen missile and artillery strikes hit the Russian province of Belgorod, on the border with Ukraine, on Sunday alone. The strikes almost surely were launched by the Ukrainian military and were meant to bring the reality of the war to Russian citizens.
Responding to reports that Russia's latest attacks have relied heavily on Iranian-supplied Shahed 136 kamikaze drones, European Union foreign ministers have warned that they could impose new economic sanctions on Tehran if it continues to offer Russia such support.
China:  The Chinese Communist Party opened its week-long 20th National Congress yesterday, during which President Xi is expected to win a precedent-breaking third term in power with a revamped Politburo to support him.
In his opening speech, Xi defended his foreign policy as a series of successes in fending off Western "bullying" and protectionism, but his praise was coupled with a somber warning that the nation must stand united behind the party to cope with a world he depicted as increasingly turbulent and hostile.
In domestic policy, Xi declined to back down from his tough, restrictive "Zero-COVID" policies. With recent data pointing to new waves of infection, a new round of tough social-distancing restrictions is likely to be imposed soon, causing yet another pullback in Chinese economic activity.
In an ominous sign for China's latest economic data, the government delayed publication of its report on third-quarter gross domestic product at the last minute. This suggests to us that the growth rate is uncomfortably low, to the point where it would distract from the positive tenor that Xi is trying to strike in the Congress.  Continued economic weakness in China is likely to be a headwind for global economic growth and world financial markets.
European Union:  Yesterday, EU commissioners agreed on a preliminary proposal to set a maximum "dynamic price" at which natural gas transactions can take place in the bloc over the next three months.  The aim is to empower the EU to intervene in cases of extreme natural gas prices while not hurting the security of supply or encouraging consumption.  The proposal will be debated by EU national leaders on Thursday and Friday before being finalized.
United Kingdom:  Newly-appointed Chancellor Hunt today said that the government will reverse nearly all of Prime Minister Truss's proposed tax cuts and slash her planned energy subsidies to restore fiscal credibility.  Hunt also warned that there will be "more difficult decisions" on taxes and spending in the future.  Meanwhile, the Bank of England confirmed that, as planned, it had ended the emergency bond buying it put in place two weeks ago to calm the markets following the initial release of Truss's tax-cutting plans.
U.K. markets improved on the news that the government is apparently getting its fiscal house in order. Benchmark 30-year Gilt prices rose, pushing their yield down to 4.36%.  The pound also rallied, and it is currently changing hands at about $1.1303.
Despite the U-turn, Truss is now just barely hanging onto power. Over the weekend, more Conservative Party members of parliament said that the prime minister's position is increasingly untenable.  Most of those officials appear to expect Truss can survive only a few days to a few weeks.
Japan:  With the yen weakening further this morning to ¥148.60, close to the psychologically important level of ¥150.00, Finance Minister Suzuki warned that the government would take bold action against any "speculative" foreign exchange moves.  The statement has left currency traders on the lookout for any intervention to support the yen, similar to what the government implemented last month.
Iran:  Anti-government protests continued over the weekend, spreading to a notorious prison for political dissidents and foreigners.  Although the Islamic regime doesn't appear to be threatened by the protests just yet, the widening unrest does pose a longer-term threat to the government.
Brazil:  In their first one-on-one debate ahead of their presidential run-off election, conservative President Bolsonaro apparently scored several body blows against leftist Former President Luiz Inácio Lula da Silva over corruption and his ties to left-wing autocrats in the region.  The latest polling suggests Lula's lead over Bolsonaro has narrowed to just 5%.  If Bolsonaro continues to make progress against Lula, we suspect the prospect of a continuing conservative government in Brasilia would be positive for Brazilian stocks.
U.S. Economy:  In the Wall Street Journal's latest quarterly survey of economists, 63% fully expect that the U.S. economy to fall into recession within the next 12 months, up from 49% in July.  The surveyed economists now expect the economy to contract in both the first and second quarters of next year.  Based on our own analyses, we agree that the economy is more likely than not to be in a recession sometime in the coming year.
U.S. Energy Market:  Utilities in New England are warning that they could face challenges in delivering electricity this winter if a surge in natural-gas demand abroad threatens to reduce the supplies they need to generate power. New England relies on natural-gas imports to bridge winter supply gaps, so it is now competing with European countries for shipments of liquefied natural gas.