Daily Comment (October 14, 2021)
by Bill O'Grady, Thomas Wash, and Patrick Fearon-Hernandez, CFA
[Posted: 9:30 AM EDT] | PDF
Good morning.  Bank earnings reports are giving a bullish tone to the equity markets this morning.  Our coverage begins with the Federal Reserve; the FOMC released its minutes yesterday.  Economics and policy come next.  Inflation worries are rising.  Crypto news follows.  Our overseas coverage begins with a China update and the international roundup.  We close with pandemic news.
Federal Reserve:  The minutes of the September 22 FOMC meeting were released yesterday.  There were two critical points from the report.  First, the members agreed that tapering will begin before the year's end and will likely end by mid-2022.  Second, the committee took great pains to note that balance sheet management and interest rate policy are separate.  There was a concern raised about inflation, and the members seemed to lean mostly toward price increases remaining elevated for a longer period.  The financial markets are well prepared for tapering, and the minutes had little effect on financial markets yesterday.
Vice-Chair Quarles is no longer in charge of the Fed's bank supervision committee, as his term ended yesterday. For now, no one has been selected to take the position.  Quarles has suggested he would like to stay on as a governor (his term ends 10 years from now), although tradition dictates he step down.  We would expect pressure to be brought on him to resign.
Governor Bowman said yesterday that she sees risks of more persistent inflation. She is the governor representing community banks, and historically, this governor has been a reliable vote for the Chair.  Her comments may signal a shift in sentiment among the governors, which could lead to growing pressure to raise rates.
The JOLTS report released earlier this week showed a couple of points worth noticing. First, even though openings fell, they remain well above the level of unemployed, meaning there are more jobs available than those currently out of work and looking to be hired.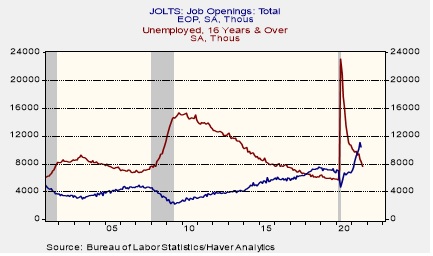 Second, the quits rate suggests wage growth will be robust in the coming year.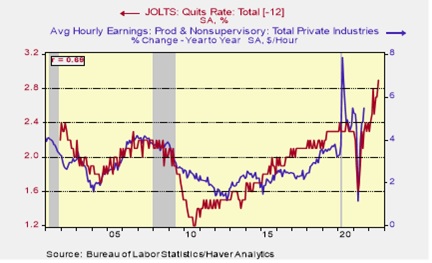 This chart overlays the quits rate, advanced 12 months, to the yearly change in hourly earnings for non-supervisory workers.  The relationship would support wage growth in excess of 5% to 6% next year.
Economics and policy:  Inflation worries dominate.
Crypto:  The long-awaited ETPs for cryptocurrencies may be coming soon.  The bad news is that they won't be grantor trusts, like precious metals, but futures-based, similar to most of the commodity ETPs.  ETFs based on futures usually trigger a K-1 for tax accounting.  Anticipation of approval is lifting volume in crypto futures trading.
China news:  China's PPI jumps.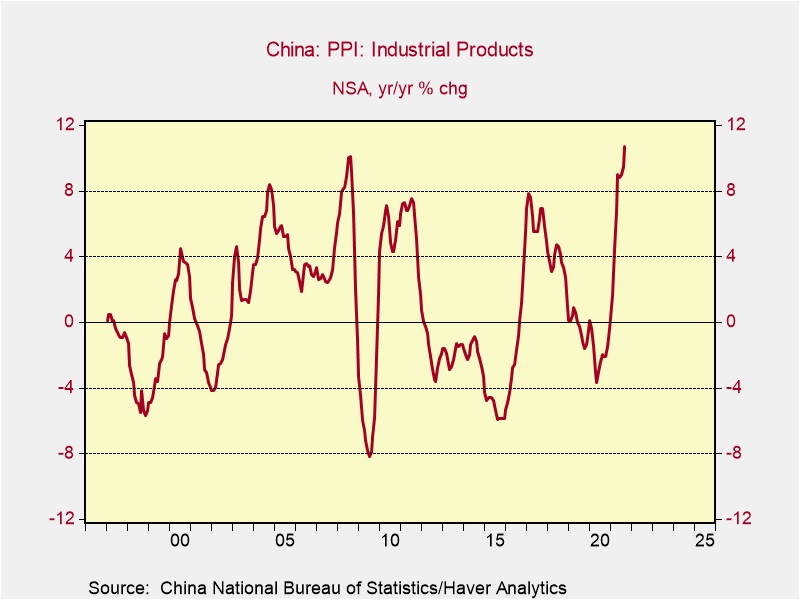 Fortunately, CPI was quite tame, rising only 0.3% from last year.  Over the past decade, the correlation between CPI and PPI in China is a mere 19%; from 1997 to 2010, it was 76%.
International roundup:  Brexit returns to Northern Ireland.
COVID-19:  The number of reported cases is 239,258,937, with 4,876,197 fatalities.  In the U.S., there are 44,684,338 confirmed cases with 719,546 deaths.  For illustration purposes, the FT has created an interactive chart that allows one to compare cases across nations using similar scaling metrics.  The FT has also issued an economic tracker that looks across countries with high-frequency data on various factors.  The CDC reports that 489,254,145 doses of the vaccine have been distributed with 404,371,247 doses injected.  The number receiving at least one dose is 217,627,490, while the number receiving second doses, which would grant the highest level of immunity, is 187,937,559.  For the population older than 18, 68.0% of the population has been vaccinated.  The FT has a page on global vaccine distribution.  The Axios map continues to show improvement in COVID-19 cases, especially in the south.  It appears that the real risk of infection is tied to being indoors.  If so, as the weather cools, we will likely see cases rise across the northern states.