Daily Comment (October 13, 2021)
by Bill O'Grady, Thomas Wash, and Patrick Fearon-Hernandez, CFA
[Posted: 9:30 AM EDT] | PDF
Today's Comment begins with several developments related to major global issues, including the current state of economic growth, supply chains, and energy supplies.  We then review various international and U.S. news items, including the Social Security Administration's latest cost-of-living adjustments to retirement benefits.  We conclude with the latest on the coronavirus pandemic.
Global Economic Growth:  The IMF, in its latest World Economic Outlook, said supply-chain disruptions and health issues would weigh on gross domestic product enough to hold global economic growth to just 5.9% in 2021, versus a forecast of 6.0% in July.  The downward revision to the forecast stemmed entirely from weaker prospects for the developed countries; the organization slightly increased its forecast for growth in the emerging markets.  The group also raised its global inflation outlook and warned of the risks of higher prices.
Global Supply Chains:  The Biden administration has reportedly secured promises from Walmart (WMT, $139.38), UPS (UPS, $181.99), and FedEx (FDX, $221.32) to extend their working hours in a bid to ease supply chain bottlenecks that are weighing down the U.S. and global economic recoveries.  Later today, the firms will announce a move towards a 24/7 work schedule as part of a broader effort to help clear the mismatches between booming demand and lagging supply.  The Port of Los Angeles will launch a similar 24/7 work schedule.
Separately, President Biden will meet business leaders, port and freight executives, and union officials to discuss the strained state of global supply chains.
The moves by the administration are mostly political optics and are unlikely to have a major impact on the current supply disruptions.  Resolving the current shortages will require a broad range of firms worldwide to adjust their operations.  That will take time.  Underlining that point, top bank officials attending an Institute for International Finance conference this week agreed that the current challenges would be transitory, with Jamie Dimon, CEO of JPMorgan Chase (JPM, $165.36) insisting, "This will not be an issue next year at all."
Global Energy Crisis:  In an interview with the Financial Times, International Energy Agency chief Fatih Birol warned that global energy markets would remain volatile unless investment in clean power can be tripled in the next decade.  According to Birol, projected investment in oil and gas is now aligned with the changes needed to reach net-zero emissions of greenhouse gases by 2050.  However, public spending on renewable power is only at a third of the future levels required.
Birol made the statement while introducing the IEA's latest World Energy Outlook, which forecasts an eventual decline in oil demand in all three of its scenarios—from the most status quo assumption to the most ambitiously green (net-zero emissions by 2050).
Under its most conservative "stated policies scenario," based on climate policies that are already in place and those that are under development, the IEA expects oil demand to peak in the mid-2030s at roughly 104 million barrels per day, compared with almost 100 million today, with a slow decline through 2050.
European Union-United Kingdom:  The EU today will unveil a package of measures intended to reduce the bureaucracy associated with the controversial post-Brexit trading arrangements for Northern Ireland.  The proposals, which come in response to U.K. demands for a radical rewriting of the so-called Northern Ireland protocol, could reduce the number of customs and regulatory checks on the new Irish Sea border by up to half.  The U.K. is taking a hard line on the issue, and the measures to be offered today are unlikely to end the current EU-U.K. tensions.
France:  Six months ahead of the country's next presidential elections, President Macron proposed a five-year, €30 billion investment plan to boost the country's high-tech industries and reduce dependence on imported raw materials and electronic components such as microchips.  The "France 2030" plan would direct government money to ten targets, including the development of small "modular" nuclear reactors, green hydrogen production, and the financing of start-ups.
U.S. Debt Limit:  The House of Representatives yesterday approved Senate-passed legislation raising the federal government's borrowing limit into December, temporarily staving off default while lawmakers battle over setting a new ceiling for U.S. debt.  The bill will increase the debt ceiling by $480 billion, an amount the Treasury Department has said would allow the U.S. to pay its bills at least through December 3.  President Biden is expected to sign the legislation in the coming days.
Separately, in an effort to end the cycle of debt-limit crises, House Speaker Pelosi yesterday floated the idea of giving the Treasury Secretary the power to raise the borrowing limit but giving Congress the power to reject the increase.  That is similar to an approach devised by Senate Minority Leader McConnell during the 2011 fiscal crisis, which ended with the 2011 Budget Control Act.  That law raised the debt ceiling in three stages, with the latter two increases subject to congressional disapproval.
Of course, the passage of the latest debt limit increase only puts the issue off for a few weeks, and its expiration coincides with the end of a stopgap spending measure.  In other words, the markets could well face another round of angst and volatility over fiscal policy just after the Thanksgiving holiday.
U.S. Social Security:  The Social Security Administration today will release its cost-of-living adjustments for retirement and disability payments in 2022.  The adjustments are expected to provide a roughly 6% boost, equal to a nearly $93 increase in today's average retirement benefit of $1,543 per month.
U.S. Monetary Policy:  Atlanta FRB President Bostic said in an interview that last month's sharp slowdown in U.S. payroll growth should not stop the Fed from beginning to taper its pandemic-era asset purchases in November.  According to Bostic, "I'd be comfortable starting in November . . . I think that the progress has been made, and the sooner we get moving on that the better."
COVID-19:  Official data show confirmed cases have risen to 238,836,409 worldwide, with 4,868,300 deaths.  In the United States, confirmed cases rose to 44,571,733, with 716,570 deaths.  Vaccine doses delivered in the U.S. now total 488,178,975, while the number of people who have received at least their first shot totals 217,403,897.  Finally, here is the interactive chart from the Financial Times that allows you to compare cases and deaths among countries, scaled by population.
Virology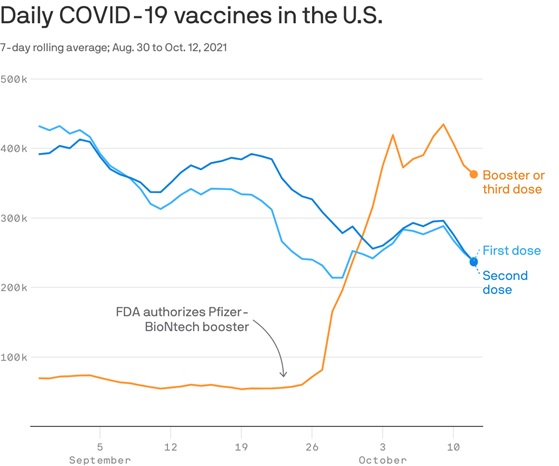 Source: Axios
Yesterday, the Labor Department submitted a draft "emergency temporary order" that would require businesses with 100 or more employees to have their workers vaccinated or regularly tested for COVID-19.  The proposed standard would also direct employers to provide paid time off to workers so they may receive the vaccine. Employers that don't comply could face fines of up to roughly $13,600 a violation.
In New York, a federal judge extended an order requiring the state government to allow religious exemptions from its vaccination mandate for healthcare workers.  According to the judge, the mandate conflicted with individuals' federally protected right to seek religious accommodation from their employers.
Today, the Department of Homeland Security is expected to ease pandemic restrictions on land crossings into the U.S. from Canada and Mexico.  For the first time in 20 months, travelers from Canada and Mexico will be permitted to enter the U.S. at its land-border crossings for purposes such as shopping or visiting family and friends so long as they are fully vaccinated.

Throughout the pandemic, Mexican and Canadian citizens have been only allowed to enter the U.S. for essential reasons, such as attending school or trucking goods across the border.
Unvaccinated travelers will still be prohibited from coming to the U.S. for nonessential travel.
 Economic and Financial Market Impacts