Daily Comment (October 11, 2021)
by Bill O'Grady, Thomas Wash, and Patrick Fearon-Hernandez, CFA
[Posted: 9:30 AM EDT] | PDF
Good morning.  It's Columbus Day and Indigenous People's Day.  Being a commercial bank holiday, the Treasury market is closed, although Treasury futures are trading and would suggest interest rates will continue to rise.  It's also a government holiday, meaning there are no government economic reports today.  U.S. equity futures are pointing to a lower open as oil prices continue to ratchet higher.  West Texas Intermediate prices are now above $80 per barrel.  Our coverage begins with the international roundup. Up next we have a China update and the latest on crypto.  Economic and policy news follows, and we close with the pandemic report.
International roundup:  There was an election surprise in the Czech Republic; Chancellor Kurz is out, and the IMF Managing Director remains under fire.
China news:  Taiwan tensions remain elevated, and real estate problems persist.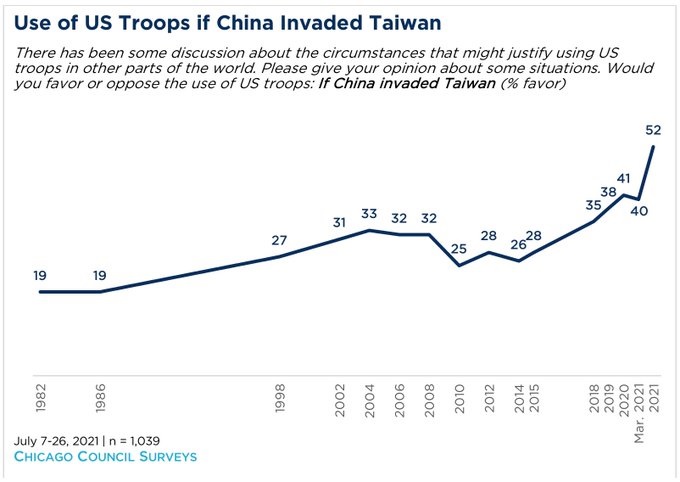 (Source:  Chicago Council on Global Affairs)
There is growing evidence that the problems of Evergrande (EGRNF, USD, 0.36) are spreading to other property developers. Modern Land (1107, HKD, 0.465), another property developer, has asked to defer a bond payment.  China is trying to manage what looks like the end of a debt-fueled property boom.  On the one hand, the goal is to bring down debt levels and curb home prices.  However, property is a key pillar of household wealth, and if prices fall, the result could be social unrest and weakening consumption.  We are seeing stress in China's high-yield dollar market.  Bondholders of China's dollar bonds will likely be the "last in line" during liquidations.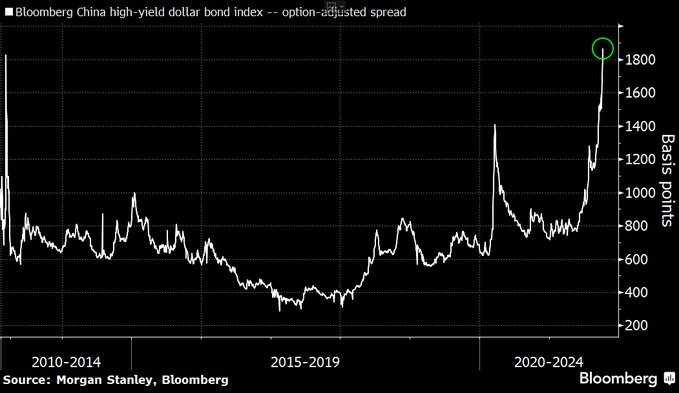 (Source:  Bloomberg)
 Crypto:  In trying to determine when the next financial crisis will emerge, our best guess is from the crypto space, specifically from stablecoins.  These coins purport to hold an equal amount of dollars to the stablecoin.  They are useful to crypto traders because if a trader wants to take profits on a position, they can liquidate, say bitcoin, and move it to a stablecoin, likely avoiding a taxable event.  Regulators have expressed concern that stablecoins are effectively unregulated money market funds, and without transparency on what is being held as assets to produce the stablecoin, runs are possible.  Recent reporting on Tethercoin suggests the holdings are a bit dodgy, which raises fears that if holders move to liquidate, there won't be adequate assets to meet demand.
Economics and policy:  Global supply chains continue to weigh on growth and lift inflation.
Global supply chains remain broken, and there is growing evidence the logistical problems are contributing to inflation and slowing economic growth. No one policy will resolve the logistics issues because there are multiple causes, including lack of workers, COVID-19 outbreaks, industry concentration, and consumer behavior.  Large retailers are reportedly chartering their own ships to secure goods.  However, even getting secure shipping doesn't necessarily mean the ships can be unloaded easily, although the retailers are using much smaller vessels that can be unloaded at minor ports.  Even though the costs are higher, at least supplies can be secured.  This process could further pressure smaller retailers and result in additional industry concentration.
As home prices rise, borrowers are finding their home appraisals are violating covenants and killing purchase agreements. In the past, eventually, appraisals rose, but in the aftermath of the 2005-08 housing bubble, that may not be the case going forward.  Meanwhile, younger homebuyers are pooling resources to buy homes; it remains to be seen how durable these arrangements will be as buyers' lives change.
Last week, Ireland agreed to a 15% minimum global corporate tax, ending one of the more notable holdouts to the OECD agreement. A minimum corporate tax is probably a necessary requirement for a rise in the U.S. corporate tax rate.  Even with this agreement, Congress may still not approve a tax hike.
COVID-19:  The number of reported cases is 237,956,055, with 4,853,764 fatalities.  In the U.S., there are 44,340,408 confirmed cases with 713,354 deaths.  For illustration purposes, the FT has created an interactive chart that allows one to compare cases across nations using similar scaling metrics.  The FT has also issued an economic tracker that looks across countries with high-frequency data on various factors.  The CDC reports that 487,277,035 doses of the vaccine have been distributed, with 401,819,240 doses injected.  The number receiving at least one dose is 216,889,814, while the number receiving second doses, which would grant the highest level of immunity, is 187,215,471.  For the population older than 18, 67.8% have been vaccinated.  The FT has a page on global vaccine distribution.