Daily Comment (November 7, 2018)
by Bill O'Grady and Thomas Wash
[Posted: 9:30 AM EDT] Happy Wednesday!  No more political ads on TV!  Here is what we are watching this morning:
Election takeaways: The midterms came out about as expected, with the House going to the Democrats and the GOP expanding its hold on the Senate.  Although, in the end, things turned out roughly as forecast, there was a lot of drama throughout the night.  Some of the closely watched political pollsters and pundits caused all sorts of swings in the overnight markets.  Here is what we are seeing:
Hardening bases—The president's plan of creating voter interest by focusing on immigration worked with voters that are his key constituency, which would be rural and suburban older white voters, especially men, with less than a college degree.  The GOP dominated the less populated areas of the country.  The Democratic Party plan of focusing on women in the suburbs worked.  Democrats not only did well in cities but also in more affluent suburbs.  Democrats continue to make gains with those holding college degrees.[1]  Progressive candidates in red states didn't fare well.  Moderate Democratic candidates for Midwestern governors did quite well.  One of the hardest issues of leadership is understanding the correct lessons to learn from victory or defeat.  GOP leaders will note that moderate Republican candidates lost in suburban districts.  They could decide that moderates can't win.  Democrats may decide that the countryside is lost for good.  It is highly likely that the lesson both parties will take from this election is to keep pounding on the same themes to the same voters.  Although this may lead to narrow victories, it won't create any sort of national unity.  In summary, the likely lesson learned by both parties will increase national divisions.
The race for the White House begins today—Although we expect the president to take a breather after a punishing campaigning schedule, the rallies he held recently will likely continue, although the pace probably won't be as frenetic.  But, expect Democratic presidential hopefuls to emerge.  Who are we watching?  Sherrod Brown (D-OH) was easily re-elected to his Senate seat even as the GOP won the governor's race.  Brown is a true blue collar populist; he was anti-trade before it was cool.  The national media is focused on a lot of other candidates but Brown would pose a real alternative for the Trump constituency.
Markets are good with gridlock—Perhaps the most interesting market response to the election has been a drop in the dollar.  It is possible traders are thinking that the House will now run a parade of investigations against Trump and distract him from his trade agenda.  Although possible, we haven't seen much evidence to suggest the Democrats have become ardent free trade supporters.  In addition, gridlock likely reduces the chances of further fiscal spending, which is supportive for Treasuries.  Equities have bounced this morning and Treasuries are rallying.
Overall—The results were as expected.  We would look for equities to follow their usual pattern after midterm elections and rally.  If dollar weakness holds, it will be bullish for commodities.
Chinese foreign reserves: China's foreign reserves fell $34.0 bn, a bit more than forecast.  We suspect the decline was due to the PBOC's support for the CNY, although the pace of declines would suggest that Chinese authorities are trying to guide the currency lower, not prevent it from falling.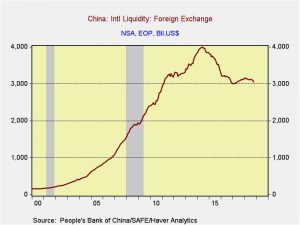 Oil supply cuts?  Now that the elections are out of the way, OPEC appears to be shifting gears and returning to price supports.  OPEC ministers are meeting in Abu Dhabi this weekend and are planning to discuss production cuts for next year.[2]  Oil prices are up today despite a large jump in oil inventories reported by the API.  We get the DOE data later this morning.
BOJ again: Another member of Japan's central bank board, Yukitoshi Funo, said today that the BOJ may need to raise rates soon to support the banking system.[3]  This is the second time in a week that members of the BOJ have hinted at reversing accommodative policy.
---
[1] https://www.politico.eu/article/7-takeaways-from-a-wild-us-midterm-election-house-senate-donald-trump/
[2] https://www.bnnbloomberg.ca/opec-said-to-consider-2019-oil-output-cuts-in-yet-another-u-turn-1.1164366
[3] https://in.reuters.com/article/japan-economy-boj/boj-policymaker-signals-chance-of-future-rate-hike-to-ease-bank-strains-idINKCN1NC0NP