Daily Comment (November 4, 2016)
by Bill O'Grady, Kaisa Stucke, and Thomas Wash
[Posted: 9:30 AM EDT] Given this morning's hefty economic releases, we will keep our opening comments short.  Equity markets are trading sideways to higher following this morning's release of the October employment report (see below).  Some of the highlights from the report include an improving unemployment rate and better than expected wage growth.  Although October payroll gains were weaker than expected, September numbers were revised strongly higher, with the two-month net change surprising to the upside.  Additionally, the U-6 unemployment rate, the broadest measure of unemployment, fell to its lowest level since April 2008 as did the median duration of unemployment.  The dollar is trading higher this morning as the data likely supports a December Fed hike.  Market expectations are calling for an 80% likelihood of a hike at the next meeting.
This week's domestic oil inventories rose 14.4 mb, well above market expectations of a 1.6 mb build.  The chart below shows the current level of crude inventories, the prior year's levels and the five-year average.  We are currently higher than the prior year and well above the average.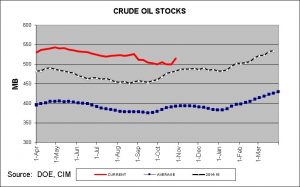 The inventory increase was caused by a jump in crude imports, which rose 2.2 mb, and a decline in refinery utilization, which fell 0.4% to 85.2%.