Daily Comment (November 28, 2018)
by Bill O'Grady and Thomas Wash
[Posted: 9:30 AM EDT] Good morning!  Equities are ticking higher in front of Chair Powell's speech this morning.  Here is what we are watching today:
The Fed: Chair Powell speaks in NY at 12:00 EST.  We don't expect anything groundbreaking but we will be watching to see if he follows the path laid out by Vice Chair Clarida yesterday.  Clarida didn't give up much on the direction of policy (he stuck to "data dependent") but there is one change he did signal, which is that forward guidance is dead, at least in terms of FOMC comments.[1]  Forward guidance became a policy tool under ZIRP; once the Fed reached 0% fed funds, Chair Bernanke shifted his comments to say, in effect, that "rates are low and going to stay that way."  That was done to enhance whatever benefit the economy would get from low rates by indicating borrowers and investors could rely on rates staying low for a long time.  The policy was always controversial; Stanley Fischer didn't care for it at all because he feared it locked the bank into a policy that it may need to adjust in case of a sudden change in conditions.  We view the discontinuation of forward guidance as evidence of policy normalization.  Once rates lifted off zero, the value of forward guidance as a way to enhance the value of zero rates was removed.  However, policymakers did keep guidance policy as rates rose, using the informal policy of only raising rates at meetings with a press conference, for example.  However, as the Fed approaches neutrality, forward guidance becomes a problem because it could lead market participants to overestimate how much tightening is in the pipeline, leading policy to be tighter than the Fed intends.  Instead, the FOMC does appear to be trying to create as much flexibility as possible so it can act appropriately if the economy slumps or accelerates and not be "straightjacketed" into a policy path.
The other Fed news of note is the president's continued bashing of the central bank.[2]  The persistence of the criticism, in some sense, reduces its effectiveness.  The lambasting has become so frequent that it has become part of the background and, so far, has had no obvious impact on changing FOMC behavior.  However, it may someday; if policy is designed to reflate the economy, and we think that is the underlying policy trend, then curtailing central bank independence is part of that goal.  When you want low inflation, you implement central bank independence.  We would not expect a formal return to the pre-1951 era Fed which was forced, by regulation, to facilitate Treasury borrowing.  But, the White House can accomplish the same thing by emasculating the Fed chair, as Nixon did with Arthur Burns.  The undermining of Fed independence hasn't happened yet, but we do expect that to occur at some point and President Trump has started the process by breaking the Clinton-era "Rubin truce."
The G-20 and China talks: It is getting increasingly difficult to figure out how much of the administration's rhetoric is posturing for negotiations and how much is the indication of actual positions.  For example, Larry Kudlow suggested yesterday that a deal might occur but his tone was not as optimistic as he usually projects.[3]  Kudlow did admit that pre-meeting talks have apparently stalled.[4]  At the same time, the NYT[5] suggests that, despite Kudlow's attempt to reduce expectations, the president really wants a deal.  Since we view the NYT as more of a signaling channel for elite opinion and less of a news organization, this could either be an attempt from elements within the administration to nudge the president or it really does reflect the position of the White House.  The financial markets have generally discounted a truce of sorts.  Although the sides appear too far apart to make a significant agreement, the promises of substantial talks in return for a delay of additional tariffs might be doable.  If discussions end badly, look for global equities to sell off.
Macron's woes continue: The French president gave a speech yesterday[6] offering his long-term vision for France.  The talk was widely panned with the primary criticism being that Macron seems far too focused on long-term goals and is ignoring the plight of the bottom 90%.  The recent hike in gasoline taxes appears to be the trigger; middle and lower class citizens found themselves priced out of the cities due to rising rents and were forced to move to the distant suburbs.  Now, with the hike in taxes, they can't afford to drive to work in the cities.  Macron appears tone deaf to the concerns of the "yellow jackets" (protestors are wearing the yellow vests that road crews wear), and the longer these protests go on the greater the odds are that a left- or right-wing populist will see increasing popularity.
Brexit update: PM May's plan continues to take harsh criticism; there is growing support for the U.K. to instead join the European Free Trade Association (EFTA),[7] which is what Norway operates under.  This alternative does take the U.K. out from under the jurisdiction of the EU courts but still requires it to allow for the free movement of peoples.  EFTA is a solution for the elites; the Euroskeptics won't like it but such a program might be able to garner enough support from all the parties to pass.  However, PM May is likely a goner if this option becomes "Plan B."  PM May has been something of a political Houdini; her political obituary has been written often.  However, this issue might bring her down.  On the other hand, the Tories don't want new elections and so we would not expect her resignation to trigger a successful no-confidence vote.  Instead, we would expect another compromise PM that will finally bring Brexit to a close.
OPEC: Although we may not get an official cut in quotas, we do expect the cartel to informally reduce output.[8]  Russia has indicated it would support Brent at $60, which implies policies to at least stabilize prices, but we expect the Saudis to try to boost prices by at least $10 per barrel.
Don't sleep on a government shutdown: It appears the president is hardening his position on the border wall[9] and lawmakers are struggling to develop a compromise.[10]  Given the relative frequency with which such events occur, under normal circumstances we would expect the market to mostly ignore a shutdown, assuming it will be resolved soon.  But, with market sentiment fragile, a shutdown could be seen as a "last straw" and trigger a selloff.
One more housing chart: We received a number of comments about our charts in yesterday's report, most expressing surprise that cash-out refinancing has returned.  We want to add one more chart which highlights that, even with the surge, current conditions are different than 2005.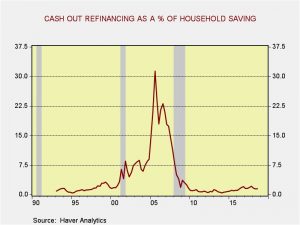 This chart uses the level of cash taken from cash-out refinancing and compares it to overall household saving.  At the peak of the housing bubble, cash-out refinancing represented over 30% of total household saving; simply put, households were truly using their homes as a source of saving.  Currently, the percentage is 1.5%.  Although cash-out refinancing is rising, it is dwarfed by the overall increase in household saving.  Thus, in this regard, the reliance on refinancing for cash is probably a localized issue, a factor in housing markets that have seen sharp appreciation.
---
[1] We expect the dots, a form of forward guidance, to remain for now.
[2] https://www.washingtonpost.com/politics/trump-slams-fed-chair-questions-climate-change-and-threatens-to-cancel-putin-meeting-in-wide-ranging-interview-with-the-post/2018/11/27/4362fae8-f26c-11e8-aeea-b85fd44449f5_story.html?utm_term=.6c200bd81c76&wpisrc=nl_politics&wpmm=1
[3] https://www.politico.com/story/2018/11/27/trump-trade-china-xi-meeting-1018195
[4] https://www.ft.com/content/27d7948c-f26c-11e8-ae55-df4bf40f9d0d?emailId=5bfe1af9fe2cdd0004198877&segmentId=22011ee7-896a-8c4c-22a0-7603348b7f22
[5] https://www.nytimes.com/2018/11/27/us/politics/trump-xi-trade-g-20.html?emc=edit_mbe_20181128&nl=morning-briefing-europe&nlid=567726720181128&te=1
[6] https://www.nytimes.com/2018/11/27/world/europe/macron-france-nuclear-yellow-vests.html?emc=edit_mbe_20181128&nl=morning-briefing-europe&nlid=567726720181128&te=1
[7] https://www.ft.com/content/833dd0b6-f168-11e8-938a-543765795f99
[8] https://www.wsj.com/articles/opec-open-to-risking-trumps-ire-prompted-by-budgets-and-shale-1543333651
[9] https://www.politico.com/story/2018/11/28/trump-politico-interview-1023306
[10] https://www.wsj.com/articles/lawmakers-gridlocked-over-wall-funding-as-deadline-nears-1543361830