Daily Comment (November 25, 2019)
by Bill O'Grady, Thomas Wash, and Patrick Fearon-Hernandez, CFA
[Posted: 9:30 AM EST]
Happy Monday!  This will be a short week for U.S. markets.  (N.B.  The Wednesday report will be the last one for this week; have a great Thanksgiving.)  It's a modest risk on day so far.  There was some positive trade news.  Tories continue to poll well as election platforms are released.  Democracy supporters do well in Hong Kong local elections.  Here are the details:
Trade:  China is calling for more protection of intellectual property rights, a key demand from the U.S.  It is unclear if this paper is an outline for actual legislation and enforcement.  It is also unclear if the USTR will view this change as adequate protection.  Official Chinese media says the two sides are "very close" to a Phase 1 deal; however, it is increasingly looking like the Phase 1 may be all that we get.  Both sides need a truce which a Phase 1 deal would offer.  But, the relationship between China and the U.S. is now at the level of strategic competition and further progress is unlikely.  If a deal is struck, it is, on its face, bullish for equities.  What is difficult to discern is how much optimism over a deal is already discounted.  Cash levels remain high (although retail MMK did dip modestly last week) and so we would not be surprised to see another upleg in equities if an agreement is announced.
Hong Kong:  Pro-democracy candidates scored a resounding victory in the local council elections over the weekend, winning 85% of the 452 contested seats and gaining a majority in 17 of the 18 councils amid extremely high turnout.  The local councils have only limited authority on low-level issues like street repair and garbage collection, but the results are being taken as a sign of broad support for the anti-China protests that started early last summer.  Municipal Chief Executive Lam promised to "listen to the views of the public with an open mind and seriously reflect on it."  Chinese media on the mainland merely announced the completion of the elections.  Chinese leaders were probably hoping that the increasingly violent protests would sour the broader Hong Kong public on the anti-China, pro-democracy movement.  Now that the elections have shown that isn't happening, Beijing will probably be more reluctant to embark on a sharp crackdown, so some of the headwinds for Hong Kong assets will probably ease.
Brexit:  As part of the election process, U.K. parties publish "manifestos" or platforms on what policies they want to enact.  In some respects, these are much more important in U.K. elections; party platforms in the U.S. are more like "wish lists" that are rarely looked at except by political junkies.  However in a parliamentary system, where control of the legislature gives executive power, winning a majority means the manifesto will likely become the roadmap for policy.  The Labour manifesto, released last week, is a return to Britain's post-WWII socialism.  The Tory manifesto is mostly about not raising taxes and delivering Brexit.  Polling is showing two notable trends.  First, the Tory lead over Labour is continuing around +10%.  Second, the Brexit Party is fading fast, which is good news for Johnson as Farage's party is his only threat to his right flank.  We also note that former PM Blair and the Liberal Democratic Party have both separately called for voters to cast their ballot "tactically" to deprive either the Conservatives or the Labor Party of a majority in order to pave the way for a second referendum on Brexit.
Germany:  The Ifo Business Climate Index rose to a seasonally-adjusted 95.0, improving from a revised 94.7 in each of the previous two months and reaching its highest level since July.  The index hasn't fallen in three straight months, suggesting Europe's economic slowdown could be bottoming out.  If so, that should help give a boost to European stocks in the near term.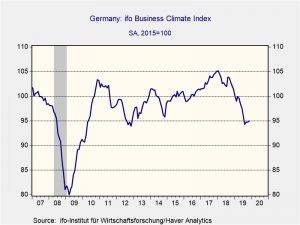 Canada:  The government has announced it will not introduce legislation to end a strike at Canadian National Railway Co. (CNI, 90.42), despite growing disruptions for agriculture, chemical and energy producers.  The strike is now in its fourth day, and given that CNI is the country's largest railroad, there is some risk the walkout could have a noticeable impact on the Canadian economy and stocks, if it continues.
Mexico:  In an initial estimate, third-quarter GDP came in essentially unchanged from the previous quarter, after stripping out seasonal impacts and price changes.  Just as important, revisions showed GDP fell slightly in each of the previous three quarters, and in four of the last five quarters, suggesting the Mexican economy is mired in recession.  GDP in the third quarter was actually down 0.3% from the same period one year earlier.  The news is likely to be negative for Mexican and broader Latin American stocks.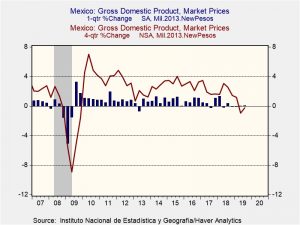 Odds and ends:  The civil war in Libya is creating conditions for Islamic State to rebuild.  China's efforts to build a presence in the Arctic is showing up in Norway.  Natural gas, already struggling under a supply overhang, is facing additional competition from biogas.  U.S. GDP has become almost completely dependent on consumption; uncertainty on a number of issues continues to weigh on business investment.  The WSJ looks into malinvestment in residential real estate and the potential impact on the wealth of Baby Boomers.  Initial offerings for special-purpose acquisition companies (SPAC)—public companies that use IPO's to raise cash specifically for acquisitions—reached a new record.   This development is probably a consequence of low interest rates spurring speculation.