Daily Comment (November 23, 2020)
by Bill O'Grady, Thomas Wash, and Patrick Fearon-Hernandez, CFA
[Posted: 9:30 AM EDT] | PDF
Good morning and happy Monday!  Equities are higher this morning as a third vaccine candidate shows promise.  We begin our coverage with a recap of the G-20.  Not much happened, so it will be short. We include foreign policy news. Brexit appears to be approaching the last minute; we discuss this below.  Pandemic coverage follows along with a comment on China's bond market.  We close with economic odds and ends.  As a reminder, for Thanksgiving, the Daily Comment will take a couple of days off, with no comment after Tuesday.  We will return on Monday, November 30.  There will also be no Asset Allocation Weekly (AAW) or Weekly Energy Update (WEU) next week.  Here are the details:
G-20 and foreign policy:  The meeting was held virtually over the weekend.  There were promises of cooperation, including regarding vaccine distribution, but little in the way of concrete proposals.  In part, world leaders are awaiting the final outcome of the U.S. election and the path of policy next year.  Thus, it was a rather uneventful meeting.
Brexit:  There are reports that the EU has quietly told the European Parliament to be prepared to vote on a Brexit deal around Christmas.  As is normal for EU deals, nothing gets done until the very last minute.  Although a vote at this time would ordinarily be a major hardship, it appears it will be held remotely, meaning MEPs won't have to travel to Brussels.
The U.K. and Canada have rolled over a trade deal that will extend current terms after New Year's Day. This agreement is similar to one the U.K. inked with Japan.  Currently, the U.K. is bound by EU trade agreements, but next year, when it is formally out of the EU, it will need to negotiate its own.  The terms with Canada and Japan anticipate the exit.
COVID-19:  The number of reported cases is 59,004,131 with 1,363,736 fatalities.  In the U.S., there are 12,349,443 confirmed cases with 257,274 deaths.  For illustration purposes, the FT has created an interactive chart that allows one to compare cases across nations using similar scaling metrics.  The FT has also issued an economic tracker that looks across countries with high frequency data on various factors.
Virology:
China:  A recent wave of SOE bond defaults has led financial regulators to promise a crackdown.  Given China's debt fueled growth model, it remains to be seen what that crackdown will look like.
Economic news:  Here's an update of what we are following:
Los Angeles port officials are reporting a massive backlog of container ships that are waiting to dock to unload their cargo. An influx of imports is colliding with capacity issues as the virus has reduced the workforce.  As the imports arrive, they will tend to raise the trade deficit and weigh on GDP.
As the pandemic hit, firms began to hoard cash; as part of the effort to alleviate this, dividends were restricted.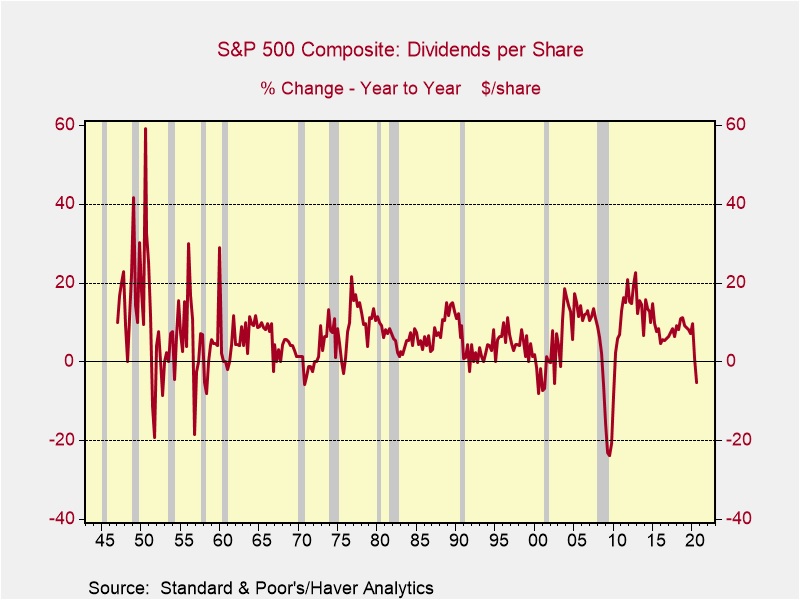 There are reports that firms are resuming dividend payments in anticipation of a vaccine.
For years, American car dealers have had large car lots with auto inventories. Car companies would maintain steady production, and during periods of slack demand, inventory levels would rise.  Although there has been a clear downtrend in retail car inventories, the pandemic has led to historically low inventory levels.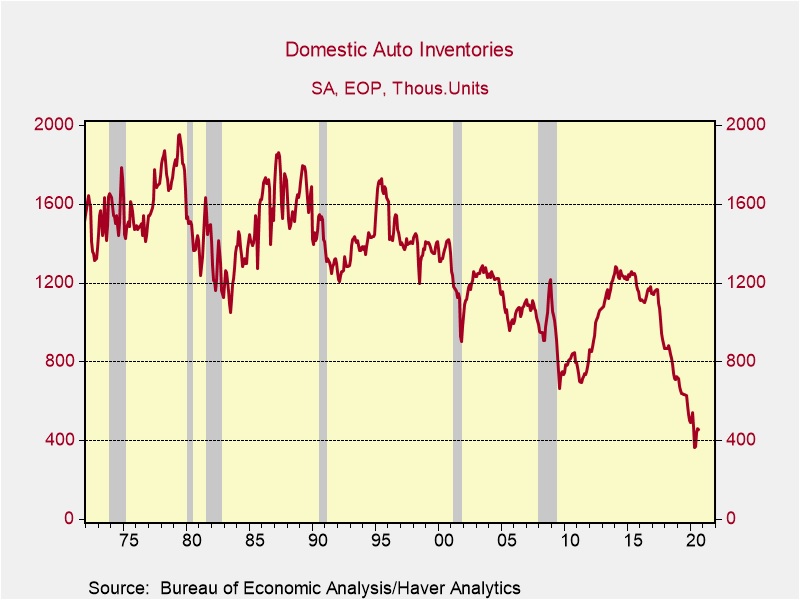 The pandemic may accelerate a change in how Americans buy cars.  Instead of getting the "how can I get you to drive off the lot with a new car today" from dealers, it may become a case where a buyer orders a car and waits a few weeks for delivery.  This change would reduce inventory costs to dealers, although it probably leads to higher prices (the pressure to sell a car off the lot is lower if there isn't a car on the lot).  It probably reduces labor costs, too.  If a salesperson is merely an order taker, that can be done online.  However, this also means more variation of production schedules.  Some of this issue could be mitigated by simply creating an order backlog.  Europeans have been buying cars like this for years; Americans may be next.