Daily Comment (November 2, 2016)
by Bill O'Grady, Kaisa Stucke, and Thomas Wash
[Posted: 9:30 AM EDT] Risk markets continue to trade lower this morning as anxiety over the election has increased.  This morning, a Bloomberg Politics independent poll reported a tight race, with Clinton receiving 39% of the undecided vote over 35% for Trump.  When third-party candidates are added, Clinton holds a 3% lead over Trump, receiving 30% of the votes.  The Washington Post-ABC News Tracking Poll reported this morning that Clinton supporters' enthusiasm has waned somewhat after the news of the FBI re-opening her e-mail case.[1]  Both candidates run nearly even, with 46% of the vote for Trump over 45% for Clinton.
Market volatility has increased leading up to the final week before the elections.  The CBOE VIX index, which measures market expectations of near-term volatility, has risen for the past six trading days and is trending higher again this morning.  The chart below shows the YTD level of the index.  Although volatility has risen, it remains well below the risk market sell-off levels from February and the mid-summer uncertainty.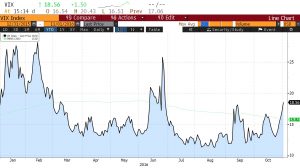 Volatility has also increased in Europe but remains well below the volatility levels of the Brexit vote.  The chart below shows the VIX index for Europe.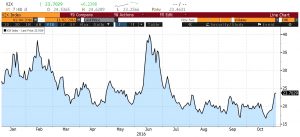 The Mexican peso, which tends to fall when the market perceives Trump gaining over Clinton, has trended lower over the past week.  The chart below shows the peso per dollar ratio—a higher reading means a weaker peso.  The currency has weakened recently but remains stronger than the September levels.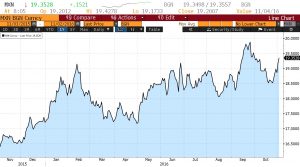 _______________________________
[1] https://www.washingtonpost.com/news/the-fix/wp/2016/11/01/post-abc-tracking-poll-clinton-falls-behind-trump-in-enthusiasm-but-has-edge-in-early-voting/