Daily Comment (November 14, 2019)
by Bill O'Grady, Thomas Wash, and Patrick Fearon-Hernandez, CFA
[Posted: 9:30 AM EST] Episode #3 of our Confluence of Ideas podcast is now available.
Hong Kong is deteriorating rapidly.  Trade talks continue, but friction is emerging.  Global economic data was 'meh.'  Powell follows up his Congressional testimony today.  Worries about disease.  Here are all the details and more:
Hong Kong:  Conditions in Hong Kong continue to deteriorate.  As we noted yesterday, the protests have moved from being a merely weekend event to daily.  Protestors are increasingly destroying public property, such as tollbooths and vandalizing train stations.  They are also aggressively disrupting auto traffic by lighting up barricades.  Today, the area closed schools due to the civil disruption.   Mainlander students have been threatened and attacked by Hong Kong students; groups are arranging to rescue these students.  Civil order is breaking down in a profound manner; violence by both sides is elevated, and Hong Kong citizens have been remarkably tolerant of the disorder.  So far, Beijing has not cracked down but the increasing violence is reaching a point where a harsh reaction is increasingly likely.  Our take is that a full-blown crackdown will likely make any conciliatory moves on trade by the administration impossible.  The violence, if not quelled soon, is becoming a risk to financial markets.
Trade:  According to reports, trade talks are stalling over agricultural purchases.  On the surface, this doesn't make any sense.  Chinese food prices are soaring, and a clear remedy is to import agricultural products in massive quantities.  Additionally, U.S. farmers and ranchers have that supply.  The problem comes down to process.  USTR Lighthizer has a long history in forming trade agreements with clear targets and responses if the targets are not met.  The U.S. is demanding that China "provide monthly, quarterly and annual targets for purchases."  It is likely that if these numbers are not met, the U.S. would be able to retaliate with additional tariffs.  China has good reason to avoid hard numbers; by forcing Chinese buyers to purchase American goods, they could find themselves unable to arbitrage lower prices from other sources.[1]  China is making concessions in other areas, e.g., opening its markets to U.S. poultry.
In addition to farm product issues, China is apparently balking at strong enforcement mechanisms for technology transfers.  At the same time, the U.S. is reluctant to remove any tariffs without clear concessions from China.  China, of course, wants to see the U.S. remove tariffs to begin talks.  It is possible that both sides believe they need a narrative that shows the other side capitulated.  If so, the odds of a deal are much longer than the market currently thinks.
Global economic data:  Japan's GDP rose an annualized 0.2%, the weakest growth this year.  The data was adversely affected by some one-off events, such as Typhoon Hagibis, but trade friction with South Korea and a slowing Chinese economy are also causing problems.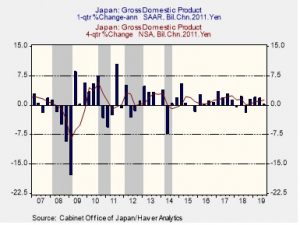 China's data mostly disappointed investors.  China's industrial production came in weaker than forecast, up 4.7% from last year, less than the 5.4% expected.  Private firms showed the most weakness, as state-owned firms' production was steady.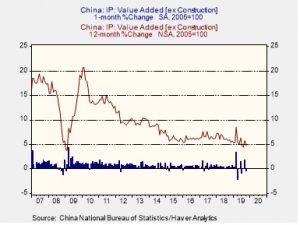 Investment was also weak, rising 5.2% through the first nine months of the year compared to the same period last year.  Capital spending dipped to 3.7% in October, down from 4.8% in September.  Retail sales disappointed as well, rising 7.2% compared to forecasts of +7.8%.
About the only bright spot was Germany, who saw its GDP rise 0.1%, avoiding the layman's definition of recession (two consecutive negative quarters of GDP growth) but still very sluggish growth.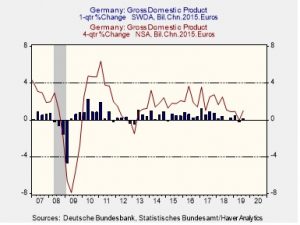 Powell:  The testimony was modestly dovish.  In this press conference after the last meeting, Powell seemed to suggest the risks to the economy were balanced.  At the testimony, he seemed to signal that there was perhaps more risk to the downside, suggesting that the odds of the next move being a cut is higher.
Germany-Russia:  The German parliament has passed one of the final legal changes needed for Russia to complete its Nord Stream 2 gas pipeline to Germany.  The law exempts the project from EU rules forbidding one entity to be both the producer and the supplier of natural gas.  If the pipeline is soon completed as expected, the U.S. administration has threatened to impose sanctions on it, which would likely be a source of tension and headwinds for European stocks.
United States-North Korea:  After signaling its frustration at stalled denuclearization talks over the last several months, North Korea yesterday threatened to take a "new path" if the United States and South Korea resume the joint military exercises next month as planned.  Any resumption of North Korea's provocative acts would likely hurt Asian stocks.
Brexit:  The Liberal Democrats have indicated they would not join a coalition with Labour if Corbyn is the PM.  The Brexit party will still run candidates in key Labour seats, a disappointment to the Tories.
Turkey:  Turkish President Erdogan received a warm welcome from President Trump yesterday.  However, his meetings with Senate leaders did not go well.  The Senate is rather unified on defying Turkey, and could force the president to veto sanctions at some point.
Bugs:  If there isn't enough to worry about, the CDC warns that new viruses, bacteria and fungi that are resistant to antibiotics are resulting in 35k deaths per year.  China has confirmed at least two cases of pneumonic plague.  This version is a less known type of plague (bubonic caused the Black Death) but is actually more of a problem.  The pneumonic version can be transmitted human to human via the lungs; bubonic requires a flea bite.  So far, the Chinese situation appears under control but if it were to spread, it could be difficult to control.  It is curable with antibiotics.
Odds and ends.  Gang activity, originating in Sweden, has prompted Denmark to reinstitute border checks on ground traffic coming from northern countries.  Supporters of Juan Guaido seized the Venezuelan embassy in Brasilia, creating a standoff with security officials from both Venezuela and Brazil.
---
[1] This is a short-run problem.  Agriculture commodities tend to close arbitrage windows fairly quickly; it would not even be unheard of for U.S. supplies to buy Brazilian grain to meet China's quotas.  But, such arrangements mean that China will likely pay higher prices.