Daily Comment (November 6, 2020)
by Bill O'Grady, Thomas Wash, and Patrick Fearon-Hernandez, CFA
[Posted: 9:30 AM EDT] | PDF
Good morning and Happy Friday!  Equity markets are taking a breather this morning, lower after a strong and volatile week.  It's employment day; we cover the data in detail below, but the quick read is that it came in much stronger than forecast.  We lead off with the state of the election.  Our pandemic recap follows.  The Fed met yesterday.  Not much happened, as expected, but we will give our take.  We close with a look at cryptocurrencies.  Being Friday, there is a new Asset Allocation Weekly along with the associated podcast and chart book.  Starting in January, in a bid to shorten this report, we will no longer publish the AAW at the bottom of the Daily.  It will be available only as a stand-alone report, but it will be linked within the Daily Comment.  Here are the details:
Election update:  Although final results won't be known for about two weeks, it appears VP Biden is on his way to a very narrow win.  By the most conservative estimate, he has captured 253 electoral votes and is leading in three of the five remaining states, although the lead is narrow.  The Senate isn't resolved yet either.  Georgia will have one runoff election and perhaps two, but we doubt there will be a Democratic sweep; the more likely outcome is that the GOP remains in control of the Senate.  Although there have been sporadic protests, there has been nothing widespread and fears of massive civil unrest have failed to materialize… so far.  The lack of the worst-case outcome has supported risk assets this week.  If civil order remains and a peaceful transfer of power occurs, the outlook for equities is positive. We will have more to say on this topic in next week's Asset Allocation Weekly.
COVID-19:  The number of reported cases is 48,801,037 with 1,235,335 deaths.  In the U.S., there are 9,610,965 confirmed cases with 234,944 deaths.  Yesterday, U.S. infection numbers hit another record. For illustration purposes, the FT has created an interactive chart that allows one to compare cases across nations using similar scaling metrics.  The FT has also issued an economic tracker that looks across countries with high frequency data on various factors.  In the Rt data, only one state, Mississippi, has a reading of less than one.  Maine is reporting the fastest infection rate.
This chart below shows new deaths for selected nations, smoothed with a seven-day moving average, and comparing deaths per million on a log scale.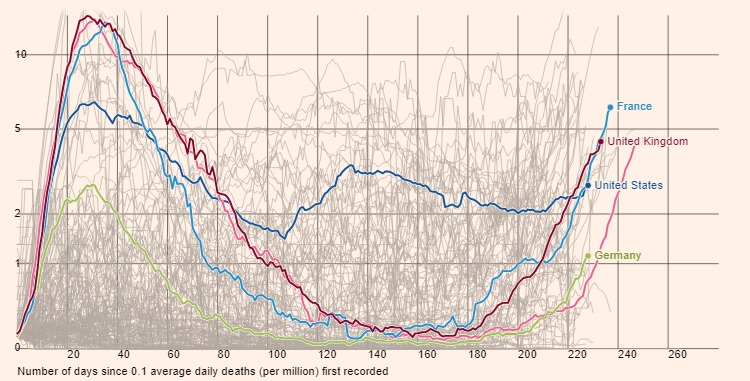 (Source: FT)
The rise in deaths across Europe is disturbing and has led to widespread lockdowns.
Virology: 
In the race for a new vaccine, there are some candidates using a novel technique involving mRNA. If these novel vaccines work, it holds the promise of much faster production and more efficient vaccine development.  Pfizer's (PFE, USD 36.39) vaccine is using this technology.  But, it has never been tried before and may fail.  An interesting side note to mRNA technology is that it depends on a lipid nanoparticle that is produced by only a few firms, including Polymun Scientific Immunbiologische Forschung GmbH, a small, privately held firm in Austria.  This side note highlights the underlying fragility of the highly efficient supply chains that have developed over the past forty years.  We expect that one of the factors that will change in light of the pandemic will be a jettisoning of the focus on efficiency to redundancy.  This change will make us safer but less efficient (and less profitable).
One of the factors that could affect the acceptance of a COVID-19 vaccine is the fear of adverse reactions. Although Phase III trials are an attempt to determine safety and effectiveness, the trials really can't measure adverse outcomes, especially for vulnerable groups, e.g., immune comprised recipients, the elderly, pregnant women, etc.  In an attempt to track these potential effects, government officials plan to use smartphone apps to help track results.  This development will allow officials to move quickly if adverse issues occur.
The Fed:  As expected, the Fed didn't make any changes but did signal that the FOMC was concerned about the pandemic's potential effect on the economy.  The Fed did hint that it may do something in December if it appears that fiscal action will be delayed.  We note that the head of the Senate Banking Committee, Pat Toomey (R-PA) wants to end the Fed's emergency programs.  We agree with Toomey that some of what the Fed is doing borders on fiscal policy, which should be the purview of Congress.  However, some of the emergency programs should be seen as proper for acting as lender of last resort in a shadow banking environment.  Acting as a backstop for various markets prevents runs on various assets that are used in repo.  Although we are sympathetic to Toomey's position[1], there is a risk that shutting down these programs may mean they are not in place when the next crisis comes.
There was one sidelight to yesterday's meeting; Mary Daly, President of the San Francisco FRB, voted as an alternate. Neel Kashkari, the President of the Minneapolis FRB, was unavailable as he was on paternity leave.  It is the first time in Fed history that a member of the FOMC has missed a meeting for this reason.
Cryptocurrency:  The Silk Road was an online drug bazaar that was shut down in 2015.  Yesterday, 69,000 of bitcoin were seized by the DOJ that were held in a wallet of Ross Ulbricht, who was convicted of drug trafficking and money laundering.  These coins had been stolen from Ulbricht but left untouched.  The government is expected to liquidate the bitcoins, but likely in tranches, so as to not affect the price.
---
[1] Not that our sympathy matters.