Daily Comment (November 6, 2019)
by Bill O'Grady, Thomas Wash, and Patrick Fearon-Hernandez, CFA
[Posted: 9:30 AM EST] The second episode of the Confluence of Ideas podcast is available!
A German breakthrough?  Since unification, Germany has supported the EU with certain qualifications.  The primary goal, at least from the German point of view, is to prevent giving the rest of the profligate Europeans free access to German saving.  As part of that fear, Germany has resisted the creation of a Eurozone bond, a bond that would have the full faith and credit of all the nations of the Eurozone.  Although such a bond would be a significant competitor to the U.S. Treasury and raise the likelihood that the EUR would become a viable reserve currency, Germany has feared that its free-spending neighbors would borrow using this bond and force Germany to make good on the paper.  So far, a single bond hasn't developed and that means a foreign nation holding EUR as reserves must choose a national bond to hold.  Given the divergence in yield and credit quality, this can be a difficult choice.  Another area of disagreement has been over deposit insurance.  It would be better for the Eurozone, since everyone has the same central bank, to have a unified regulatory structure.  This would include unified deposit insurance.  However, for reasons similar to its opposition to a Eurobond, Germany fears that a bad failure in another Eurozone nation could force German savers to spend money to bail out foreign depositors.  That opposition may be cracking.  Germany's finance minister, Olaf Scholz, indicated he might support a unified deposit insurance program.  If such a program does develop, it would reduce the risk for Eurozone banks and likely give their equities a lift.
China's Eurobond: Although the Eurozone doesn't issue a Eurobond, apparently China does.  China has just issued a Euro-denominated bond, the first in 15 years.  The Chinese financial authorities sold €4 bn of bonds with seven-, 12- and 20-year maturities.  Half of the proceeds were issued in the seven-year at a 0.197% yield, with the remainder split equally between the other two maturities.  The 12-year carried a yield of 0.618% and the 20-year has a yield of 1.078%.  Demand was quite strong, with a bid/cover of 4.87x.  Part of the reason demand was strong is that China is considered a safe credit (even though it can't print euros) and the seven-year yield compares favorably to a -0.5% German yield.  We suspect China has issued this paper to diversify its funding base; foreign-issued EUR paper is only about 5% of the world's foreign denominated bonds, with USD dominating nearly all the rest.
China trade: Optimism on a trade deal is high.  Both sides seem to want a deal, and there is evidence that the Chinese leadership is preparing its citizens for a partial, not complete, removal of tariffs.  The Chinese position seems to be a measured and proportional removal of tariffs on both sides.  There is a problem with this plan, unfortunately, which is that the U.S. has a much larger target of Chinese imports to apply tariffs.  A pure one-for-one removal will leave China at a disadvantage.  This issue may be leading Chinese negotiators to overplay its hand.  In effect, China seems to want a near full removal of tariffs for opening up agricultural trade and promising to guard intellectual property.  This would seem to take away President Trump's favorite trade tool—the tariff.  If China is really insisting that the U.S. forgo future tariffs for what it has offered, this will look like a cave by the U.S., something the White House probably won't accept.  This all means that risk markets have been rising on expectations of a trade agreement; if that deal fails, as small as it will likely be, the reaction will be negative for equities.
On a side note, Europe is becoming worried that the focus on U.S. and China trade is leaving Europe out of the discussion.  The Chinese vice premier recently canceled a trip to Brussels.
Saudi Aramco IPO  Our suspicions that the Saudis would want to push up oil prices into the IPO have been confirmed.  The kingdom may need all the help it can get; foreign buyers will likely remain cautious about the geopolitical risk of the Saudi state oil company.
A weird world we live in: Greek sovereign bonds are on a tear.  It's 10-year yields, which hit 34.8% in December 2011, are currently yielding 1.20%.  That's right…that's significantly less than the current U.S. 10-year at 1.85%.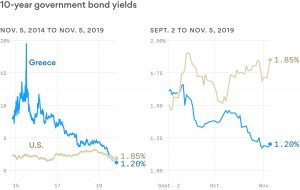 The reason?  European inflation remains low and Greece has cleaned up its act after the near debacle earlier this decade.  However, we agree it makes little sense to believe that the risk of Greece is less than the U.S.  After all, Greece still is issuing bonds in a currency it can't print.  Perhaps this is the clearest evidence yet of the distortions caused by low and negative policy rates.
Odds and ends: Russia has moved a small number of troops into Libya to support Khalifa Hifter.  This action is further evidence of Russia expanding its influence in the Middle East.  The U.S. is expanding the military mission in Syria solely to control the oil fields.  China is signaling that it will back stronger action to stabilize Hong Kong.