Daily Comment (November 2, 2020)
by Bill O'Grady, Thomas Wash, and Patrick Fearon-Hernandez, CFA
[Posted: 9:30 AM EDT] | PDF
Good morning and happy Monday.  It's November, we have switched to standard time in much of the country, and tomorrow is election day.  Super Typhoon Goni passed through the Philippines over the weekend.  Global equities are higher this morning.  We start our coverage with the election.  Pandemic news is next.  The Fed meets this week; we look at what the central bank may be thinking.  We update China and close with odds and ends.  Here are the details:
 Election news:  Although we are seeing a recovery in risk assets this morning, equities have been under pressure for much of October.  Cash levels remain elevated and have risen in the past three weeks.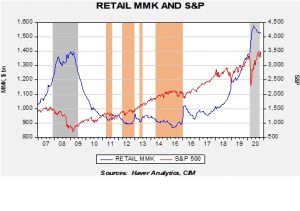 Our read on sentiment is that there is a high level of concern, which is not unreasonable.  We probably won't know the outcome of the election with certainty when we go to bed tomorrow night.  It may be a week before we know for sure.  Disinformation will be circulating from a myriad of sources.  But, the levels of cash suggest that a good bit of fear has already been discounted.  If conditions turn out to be less than feared, a relief rally is likely.  We will continue to monitor the political situation in the coming days.
COVID-19:  The number of reported cases is 46,618,804 with 1,201,833 deaths.  In the U.S., there are 9,208,9544 confirmed cases with 231,833 deaths.  For illustration purposes, the FT has created an interactive chart that allows one to compare cases across nations using similar scaling metrics.  The FT has also issued an economic tracker that looks across countries with high frequency data on various factors.
Virology: 
The FOMC:  The Fed meets this week, with the meeting concluding on Wednesday.  We do not expect any change in policy, although a discussion about the maturity structure of purchases is likely.  The U.S. is enjoying a boom of sorts in durables purchases and housing investment.  Rising long-term interest rates could put these areas at risk.  However, the Fed could support the housing market by increasing their purchases of mortgages.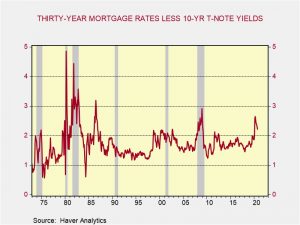 The spread of mortgage rates to the 10-year T-Note is elevated, so it's 50 bps above average.  The Fed could try to narrow this spread by driving mortgage rates toward the current 10-year yield level.
China:  A couple items of note.  First, China's PMI data confirms that the recovery remains in place.  All the major subcategories are above the 50-expansion line.  Not only has manufacturing shown improvement, but the services index is up to its highest level since 2013.  Second, Chinese officials are continuing to expand foreign access to its financial markets.  The most recent measure is to allow foreigners the ability to trade in China's futures markets.  Opening up financial markets will reduce Beijing's ability to control such markets, but it will make it more difficult for the U.S. to isolate China.  In addition, greater access will internationalize the CNY, improving its stature.
Odds and ends:  These were items we noted:
Airlines, facing rising infections and lower travel, are going BOGO—buy one ticket, get one free! The airlines are cutting prices aggressively to try to lure a reluctant public back to air travel.  Cutting prices is always tricky, because in the short run, a firm is never sure what elasticity of demand it is facing.  If the demand curve is elastic, cutting prices is a good strategy; under such conditions, a 1% drop in prices should lead to a greater than 1% rise in demand.  But, more often, firms face an inelastic demand curve, which means that cutting prices only leads to falling revenue.
Over the weekend, Moldova held presidential elections. No candidate won a majority, triggering a runoff election.  So far, the pro-EU challenger is leading.