Daily Comment (November 9, 2023)
by Patrick Fearon-Hernandez, CFA, and Thomas Wash
[Posted: 9:30 AM EST] | PDF
Good morning! Equity markets are treading cautiously ahead of Fed Chair Jerome Powell's speech, while Real Madrid advances to the Champions League knockout stages for the 27th consecutive year. Today's Comment begins with why investors should remain cautiously optimistic about the shift in central bank sentiment. We then give our thoughts on the potential impact of proposed bank regulation changes, and how the Republican debate may hint at future foreign policy direction. As always, our report includes a summary of the latest domestic and international data releases.
Policy Sentiment Shift: Bond investors are convinced that rates have already peaked. However, policymakers seem less certain.
After reaching their October highs, global bond yields have embarked on a downward trajectory. The 10-year Treasury yield has plummeted nearly 50 basis points since its peak two weeks ago, mirroring the retreat observed in its British and German counterparts, which have shed 40 and 30 basis points, respectively, during the same period. This surge in bond demand has extended to mortgage rates, with the average 30-year fixed-rate mortgage experiencing a 25 basis point decline in a week, settling at 7.61%. The collective pause adopted by central banks has fueled investor speculation about a potential bond rally, leading to a renewed interest in fixed-income securities.
While investors appear to believe that central banks have concluded their rate-hike cycle, central bankers themselves remain more cautious. Bank of England Governor Andrew Bailey has decisively dismissed speculation of a policy easing in mid-2024, underscoring the ongoing struggle against inflation. Echoing this sentiment, Bank of Canada Governor Tiff Macklem has warned that the lingering effects of energy price shocks could hinder inflation control efforts. Reinforcing this cautious outlook, Federal Reserve Governor Michelle Bowman and Minneapolis Fed President Neel Kashkari have hinted at the possibility of further interest rate increases to ensure inflation's return to the 2% target.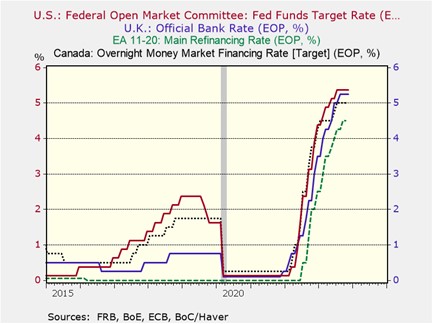 The future course of monetary policy will largely hinge on expectations for economic growth. While concerns about a potential recession in 2024 are mounting, similar worries were prevalent at the beginning of this year. One encouraging aspect is the continued resilience of the labor market across the developed world. Even Canada, which experienced a technical recession in the third quarter, boasts an unemployment rate of 5.7%, below its historical average of 7.6%. Most evidence suggests that even if there is a downturn, it is likely to be mild. Hence, a recession may not be enough to pivot policy, especially if inflation returns.
Regional Banks: Several months after endangering the financial system, small to midsize lenders may begin another chapter.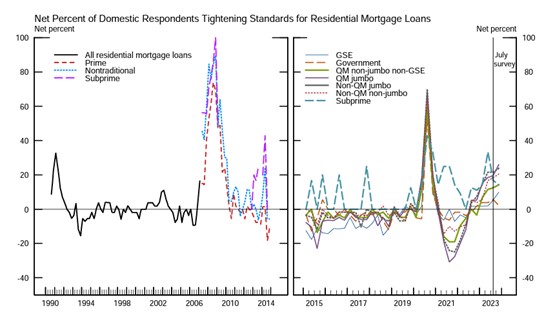 (Source: Federal Reserve)
New capital restrictions would complicate banks' efforts to lend across the country. The latest Senior Loan Officer Opinion Survey (SLOOS) shows that banks are already tightening their lending standards, particularly for non-government-backed and non-residential loans. If these rules are implemented, they could dampen the potential stimulative impact of a pivot in Fed policy, which is likely to be less aggressive than in previous easing cycles. This may mean that when the Fed does decide to make the policy change, it might be less successful in generating demand than in previous easing cycles, especially if the rate cuts are modest as we would expect.
Rethinking Defense: Although all Republican presidential candidates have voiced support for Israel in its fight against Hamas, they have taken a more Jeffersonian stance on other foreign policy issues.
During the debate, most candidates expressed skepticism about further funding for Ukraine. Former UN Ambassador Nikki Haley said the U.S. should support Ukraine by sending weapons, not aid. Entrepreneur Vivek Ramaswamy argued that Ukraine's occupied areas should remain with Moscow. Republican Gov. Ron DeSantis of Florida and Sen. Tim Scott of South Carolina both expressed concerns about how the money is being spent. In contrast, former New Jersey Gov. Chris Christie was the only candidate to show restraint, warning that the cost was warranted to prevent another world war.
Their wariness regarding Ukraine comes as Americans are voicing more concern about deteriorating law and order in the United States. A recent Gallup poll showed that Americans' perception of safety has fallen to its lowest level in five years. The most frequently proposed solution to the rising crime problem discussed on the debate stage was to increase security along the U.S.-Mexico border. Candidates also proposed finishing the border wall and possibly designating drug cartels as foreign terrorist organizations. China was also mentioned, with Haley vowing to stop all trade with the world's second-largest economy until it prevents fentanyl from entering the U.S.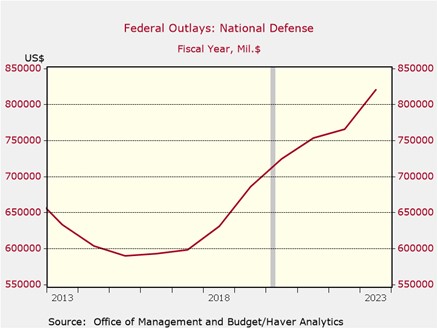 The candidates' notable tone on the debate stage suggests that a sizeable Republican base may now prefer a more Jeffersonian approach to foreign policy, with a focus on domestic issues over global affairs. While the United States may not completely abandon its leadership role in the world, it may need to redefine that role to be more palatable to a populace that has grown tired of its hegemonic status. This could involve off-budget spending programs similar to the Lend-Lease Act or aid packages with strings attached akin to the Marshall Plan.
Other News: Bank of Japan Governor Kazuo Ueda has stated that the central bank will proceed cautiously as it moves away from its ultra-accommodative policy. His remarks suggest that Japanese policymakers may be averse to significant changes in policy. Hollywood actors and studios have reached a tentative agreement to end the 118-day strike, with new restrictions on the use of artificial intelligence technology. The agreement reflects labor concerns about the threat that AI poses. Spanish Prime Minister Pedro Sánchez and the Catalan separatist Junts have reached an agreement that could pave the way for a new government.