Daily Comment (November 30, 2022)
by Patrick Fearon-Hernandez, CFA, and Thomas Wash
[Posted: 9:30 AM EST] | PDF
Good morning on this last day of November.  Risk markets are trending higher this morning, and a key component to the rally in commodities and equities (especially the former) is a weakening dollar.  For most of the year, the dollar has been on a tear, despite the fact that on most valuation measures, it was already richly valued.  Divergences in monetary policy due to the Fed conducting tighter policy than the rest of the world, was behind the strength.  However, as the markets anticipate at least a slowing of tightening in the U.S., the dollar has begun to roll over.  We still suspect that the expectations of easing are overly optimistic, which could mean that the dollar will at least make a recovery in the coming weeks.  However, over next year, our expectation is that the dollar will decline, which will be supportive for commodities and equities.  On the topic of the Fed, we get the Beige Book today and Chair Powell will speak on the economy.  The markets are watching for any hints of a slowing of tightening.
In today's Comment, our coverage begins with China news.  Economics and policy are up next.  An update on the Ukraine War follows, and we close with international news.
China news:  The government's Zero-COVID policy is evolving, and former General Secretary Jiang has died.
Markets, Economics and Policy:  Congress moves to prevent a rail strike and the "lame duck" session heats up.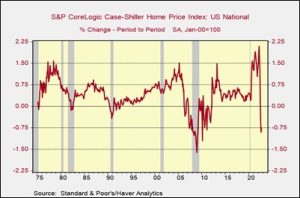 War in Ukraine:  Is Crimea going to revert to Ukraine?  And Germany recounts its errors.
International News:  Orbán is isolated, and "corn wars" are developing.
---
[1] This is why, in our analysis of politics, we usually have less regard for senators who become presidents.  Senator's positions often don't matter; instead, we prefer people who have actually had to make decisions for which they are responsible.  In this regard, we believe that governors tend to be better candidates.