Daily Comment (November 29, 2021)
by Bill O'Grady, Thomas Wash, and Patrick Fearon-Hernandez, CFA
[Posted: 9:30 AM EDT] | PDF
Good morning and happy Monday!  Risk markets are higher after a rough day on Friday.  It's a big week for Fed speakers, with Chair Powell speaking to Congress tomorrow on pandemic policy.  We expect Powell will get lots of questions on inflation today as well.  Vice-Chair Clarida and Gov. Bowman also speak tomorrow.  Atlanta FRB President Bostic talks on Thursday, along with Gov. Quarles, San Francisco FRB President Daly, and Richmond FRB President Barkin.  Financial markets are trying to project the path of monetary policy, so this week will offer us some clues.
Our coverage begins with comments on Friday's market action, along with some preliminary discussion of the Omicron variant.  Our pandemic coverage comes next, followed by economics and policy.  We then discuss China news and close with an international news recap.
More like red Friday:  On Friday, news of a new COVID-19 variant sent risk assets tumbling.  Oil prices fell over 12%, and the major equity indices fell over 2%.  The news of this variant, dubbed Omicron, is bad, but for now, we don't really know how bad.  South African researchers were able to identify the new strain early; the thing about early warnings is that the earlier you get them, the less you know.  The number of mutations to the spike protein of the B1.1.529 variant raises the risk that it will be able to evade current immune defenses.  But we don't know if this new variant is more lethal than the current versions.  It appears that it spreads more easily but early indications hint that this variant may not be as potent, although we warn this is anecdotal evidence.  One complicating factor is that South Africa has a young population, so the lethality may be skewed by this factor.  Simply put, we don't know what exactly we are dealing with quite yet.
South Africa's reward for providing an early warning was to be hit with travel restrictions.  Although that response makes sense, it may discourage nations in the future from disclosing the information.  There are concerns that if this new variant leads to breakthrough infections and is more lethal, it may be hard to reimplement social restrictions.
At the same time, Friday's market reaction looks a bit severe, most likely due to a combination of bad news colliding with thin, holiday market conditions.  Once trading stops are high in a falling market, it will tend to build on itself.  Risk markets are recovering this morning, but we are still well off from Wednesday's level.  We would expect markets to trend higher in the aftermath of the selloff.
COVID-19:  The number of reported cases is 261,629,689 with 5,202,472 fatalities.  In the U.S., there are 48,234,746 confirmed cases with 776,647 deaths.  For illustration purposes, the FT has created an interactive chart that allows one to compare cases across nations using similar scaling metrics.  The FT has also issued an economic tracker that looks across countries with high frequency data on various factors.  The CDC reports that 572,190,175 doses of the vaccine have been distributed with 454,447,737 doses injected.  The number receiving at least one dose is 231,367,686, while the number receiving second doses, which would grant the highest level of immunity, is 196,188,756.  For the population older than 18, 70.9% of the population has been fully vaccinated, with 59.1% of the entire population fully vaccinated.  The FT has a page on global vaccine distribution.
Economics and policy:  The economy is roaring, and port conditions are improving.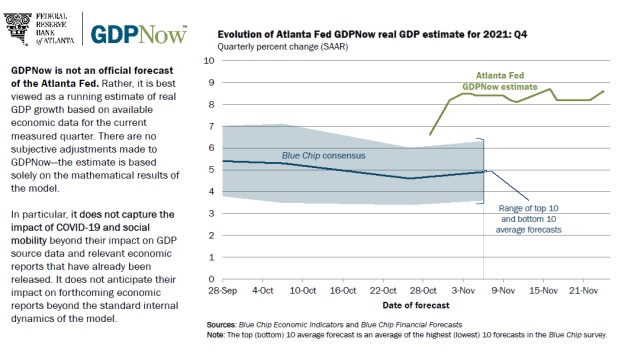 The Atlanta FRB's GDPNow forecast, which plots the path of GDP for the current quarter based on the flow of economic data, is projecting a growth rate of 8.6%.  Although we think the FOMC will move slowly to raise rates (and the Omicron variant will likely support that point), if the Fed wanted to raise rates, there is enough economic growth to support tighter policy…at least for now.
China news:  The U.S. is hinting at nuclear talks with Beijing, and the Commerce Department expands the Entity List.
International roundup:  There were contested elections in Honduras over the weekend, and Ukraine warns of a coup.