Daily Comment (November 23, 2021)
by Bill O'Grady, Thomas Wash, and Patrick Fearon-Hernandez, CFA
[Posted: 9:30 AM EDT] | PDF
N.B.:  HOLIDAY SCHEDULE – The Daily Comment will go on hiatus after Tuesday's report and will return on Monday, November 29.  A Weekly Geopolitical Report was published yesterday, and the next report will be available on December 6.  There will be no Asset Allocation Weekly report or podcast this Friday; it will return next week on December 3.  There won't be a Weekly Energy Update either; it will return a week from Thursday on December 2.  From all of us at Confluence Investment Management, have a great Thanksgiving. 
In today's Comment, we open with international news, including an unexpectedly good print for Eurozone economic activity and increasing tensions over the Russian troop buildup around Ukraine.  We also review new developments in key commodity markets before turning to U.S. developments.  We close with the latest news on the coronavirus pandemic.
Eurozone:  IHS Markit said its "flash" composite purchasing managers' index for the Eurozone unexpectedly increased to 55.8 in November compared with 54.2 in October.  The data suggest the Eurozone economy is weathering the latest resurgence in the coronavirus pandemic and rising inflation, at least for now.  The data also contains some tantalizing hints that supply-chain disruptions may be easing somewhat in Europe.  The chart below shows the IHS Markit composite, manufacturing, and services PMIs over the last two years.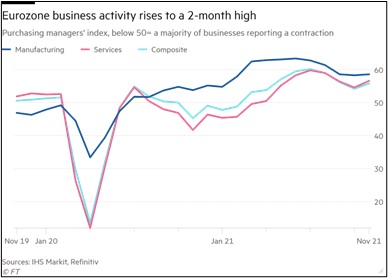 Russia-Ukraine:  Responding to a series of briefings U.S. intelligence officials have given to European allies in order to explain why they think Russia may be preparing to invade Ukraine, the Kremlin said Russian forces were merely conducting routine exercises and other necessary drills and that they aren't threatening anyone.  The statement also suggested the U.S. warnings could be a ruse intended to cover up what it described as Ukrainian leadership's aggressive intentions.  In contrast, Ukraine's intelligence chief said Russia could launch an attack by late January or early February.
Turkey:  The Turkish lira is in yet another free fall today, following a fiery speech in which President Erdogan praised the central bank's recent interest-rate cuts and vowed to continue his unorthodox economic policies.  So far today, the currency has dropped some 9%, surpassing the psychologically important level of 12 to the U.S. dollar and bringing the total decline in 2021 to more than 40%.
Pakistan:  Central bank Governor Baqir has warned that emerging markets are vulnerable to a taper tantrum-style shock if advanced economies do not act sooner to manage rising global inflation.  According to Baqir, the risk is that central banks in the major developed countries might have to jack up interest rates sharply if they let inflation get out of hand, in which case investors would likely dump their holdings of emerging-market assets.
Global Oil Market:  The U.S., the U.K., Japan, South Korea, China, and India today are planning to release tens of millions of barrels of oil from their strategic reserves in an effort to bring down surging energy prices.  However, the rare, coordinated release is widely seen as mere political messaging since the total volume released is likely to be too small to have any lasting impact on the market.
North American Lumber Market:  North American lumber prices are again surging, this time in response to major flooding in the Canadian province of British Columbia.  The flooding has washed out roads and bridges, caused landslides, and cut off rail lines, leaving the province's large lumber producers isolated from both their forest supplies and their customers.
U.S. Monetary Policy:  As widely expected, several key Republican senators voiced their support for President Biden's nomination of Federal Reserve Chair Powell for a second term.  Since most Democrats in the Senate are also expected to support Powell, the Fed chief appears on track to keep control of U.S. monetary policy in the coming years.
COVID-19:  Official data show confirmed cases have risen to 258,400,173 worldwide, with 5,162,970 deaths.  In the United States, confirmed cases rose to 47,889,750, with 772,412 deaths.  Vaccine doses delivered in the U.S. now total 566,766,665, while the number of people who have received at least their first shot totals 230,732,565.  Finally, here is the interactive chart from the Financial Times that allows you to compare cases and deaths among countries, scaled by population.
Virology
 Economic and Financial Market Impacts