Daily Comment (November 20, 2023)
by Patrick Fearon-Hernandez, CFA, and Thomas Wash
[Posted: 9:30 AM EST] | PDF
Our Comment today opens with indications of a potential cooling of Japan-China tensions as Beijing looks to bolster Chinese economic growth.  We next review a wide range of other international and U.S. developments with the potential to affect the financial markets today, including a mysterious disappearance by North Korean paramount leader Kim Jong Un, a radical shift in Argentina's political leadership in yesterday's election, and big changes in the U.S. artificial intelligence industry.
China-Japan:  Following their summit at the Asia-Pacific Economic Cooperation meeting last week, Japanese Prime Minister Kishida said Chinese President Xi agreed to support expert-level talks on the safety of Japanese food products.  The announcement came three months after Beijing banned imports of Japanese seafood in response to Tokyo's decision to release treated wastewater from the stricken Fukushima nuclear reactor.  Coupled with Xi's recent effort to ease tensions with the U.S. and Australia, the news from Kishida suggests Xi is intent on an even broader détente with the U.S. geopolitical bloc as a way to revive China's faltering economic growth.
China-South Africa-United States:  Reports say South Africa has now sent its first-ever bulk shipment of soybeans to China, illustrating how Beijing is trying to diversify its food and feed security by boosting its buying from Africa and Latin America.  The Chinese move to "de-risk" its food supply could dash hopes for a return to normal U.S.-China agricultural trade after the disruptions of the Trump years.
North Korea:  The new Missile Industry Day holiday, announced earlier this month to mark the launch last year of North Korea's most powerful nuclear-capable missile, mysteriously passed on Saturday without any mention in state media.  Moreover, Saturday marked the 29th straight day in which paramount leader Kim Jong Un was not seen in public or in the country's press.
The media's failure to mention the new holiday and Kim's unusually long absence could suggest he is facing some kind of internal political challenge or health issue.
Such a prospect would raise concerns about instability in North Korea. Given the country's tight political ties with China and Russia, and its growing missile arsenal, any such instability in North Korea would be of grave concern to countries and investors around the world.
Italy:  In a scheduled update after markets closed on Friday, Moody's (MCO, $356.67) affirmed its investment-grade rating on Italian sovereign debt and raised its debt outlook from negative to stable.  As its basis for the move, Moody's cited "stabilization of prospects for the country's economic strength, the health of its banking sector, and the government's debt dynamics."
In response, investors are bidding up Italian government bonds this morning, pushing the yield on the benchmark 10-year obligation down to a two-month low of 4.32%.
The spread between Italian and German 10-year government bond yields has fallen to just over 1.7%, also its lowest in about two months.
Argentina:  Radical libertarian economist and first-term congressman Javier Milei won yesterday's run-off presidential election, defeating Economy Minister Sergio Massa of the ruling left-wing populist Peronist Party by approximately 56% to 44%.  Milei's decisive win suggests Argentines have become fed up with the excessive government spending, high regulation, rampant inflation, and frequent debt defaults and currency crises under the Peronists.
Milei, who will be inaugurated on December 10, has promised a swift lurch to right-wing policies such as slashing government spending and replacing the Argentine peso with the U.S. dollar to bring down inflation. Milei has also signaled that he will shift Argentina's foreign policy back toward friendship with the U.S. and away from China.
Milei has no executive experience, and his La Libertad Avanza (LLA) coalition, founded in 2021, will hold only a small number of seats in the lower and upper chambers of the legislature. Therefore, it isn't clear whether Milei will be able to push through his proposed reforms.

Dollarizing the economy will be especially difficult, as the central bank holds few greenbacks at present.
Besides that, Argentina is still largely frozen out of the global credit markets, making it unclear where it could get more dollars to exchange for the peso.

Nevertheless, optimism about a change in direction within Argentina is driving up the value of Argentine stocks and sovereign bonds so far today. The value of many Argentine stocks trading in the U.S. has climbed by double-digit percentages so far today.
United States-Israel-Hamas:  Amid signs of a potential ceasefire and a freeing of hostages in the Israel-Hamas conflict, President Biden on Saturday warned that the U.S. may sanction Israeli settlers who have been attacking Palestinians in the West Bank.  The attacks and killings of West Bank Palestinians by Israeli troops and settlers haven't been well reported since the conflict was sparked by Gaza-based Hamas militants' October 7 attacks on Israel, but Biden has privately raised concerns with Israeli Prime Minister Netanyahu that they could broaden the conflict.  Biden's warning of sanctions shows the administration is still concerned about that happening.
Separately, satellite imagery studied by the Financial Times indicates that more than half the buildings in northern Gaza have been destroyed or seriously damaged by the Israeli airstrikes and other attacks aimed at rooting out Hamas fighters in the enclave.
As we noted in a Comment last week, there is an apparent disconnect between the extent of the physical damage in Gaza and the number of casualties reported by Hamas. Most recently, Hamas medical authorities have reported that about 12,000 residents of Gaza have been killed in the Israeli attacks, with many more than that injured.  In contrast, the FT analysis suggests that at least 60,000 buildings in all of Gaza have been destroyed or seriously damaged.

That implies that, on average, "only" one Palestinian has been killed for every five buildings hit.
While the Palestinian casualties are still horrific and tragic, the low ratio of deaths to buildings lost suggests Hamas is seriously undercounting Gaza's casualties, the Israel Defense Forces are being more discriminating and careful than is suggested in the global press, or both.
United States-India:  Despite the sharp drop in Chinese citizens studying in the U.S., which we noted in a recent Comment, new data shows the total number of international students studying in the U.S. jumped 12% to more than 1 million in the 2022-2023 academic year.  The increase was driven in large part by a 35% jump in the number of Indians coming to the U.S. to study.  The overall number of foreign students in the U.S. is now only slightly below pre-pandemic levels, but the number of foreign graduate students in the country has reached a record high.
The rebound in international student enrollments is probably a relief to colleges and universities since foreign students often pay the full list price to enroll and help subsidize the cost to U.S. students.
Many Indian students in the U.S. are gifted in the sciences, technology, engineering, and math, so their rising representation at U.S. colleges and universities is likely to bolster the nation's advantages in research and innovation.

To the extent that Indian students are allowed to work before or after graduation, they could also contribute to the U.S. economy with less of the security concerns surrounding students from Communist China.
Even those who return to India could end up working directly for a U.S. firm, since more multinational companies have begun setting up their own back-office technology departments in India. These "global capability centers" focus on cybersecurity, artificial intelligence, and even human resources and accounting tasks that had previously been handed to Indian outsourcing companies such as Infosys (INFY, $17.51).

The jump in Indian students in the U.S. is not only helping offset the drop in Chinese students, but it could also help peel India away from the China/Russia geopolitical bloc and draw New Delhi closer to Washington.
U.S. Artificial Intelligence Industry:  Speaking of U.S. technology innovation, the board of privately held artificial intelligence darling OpenAI on Friday unexpectedly ousted CEO and founder Sam Altman, apparently for poor communication about technological risks rather than any malfeasance or management shortcomings.  Over the weekend, top investors in the company were reportedly working to bring him back, but the deal fell through.  This morning, reports say Microsoft (MSFT, $369.84), a major investor in OpenAI, will hire Altman and his president and co-founder, Greg Brockman, to head a new advanced AI research team at Microsoft.
Although it's unclear whether Altman and Brockman can replicate the success of OpenAI at Microsoft, their move could have profound implications for both companies and for the future development of the industry.
In any case, the boardroom drama highlights how AI, which is widely expected to have profound effects on the global economy, could be hindered or tripped up by disagreements about its risks and how to manage or regulate it.
U.S. ESG Investing:  And speaking of another recent investment craze, new research from Morningstar (MORN, $271.04) shows the third quarter was the first period in which more environmental, social, and governance (ESG) funds liquidated or removed their ESG investing criteria than were added.  Net withdrawals from the funds have totaled $14 billion in the year to date.  The pullback from ESG investing reflects multiple factors, including high interest rates that have drawn money into other products, a regulatory clampdown requiring tighter ESG criteria, and political attacks.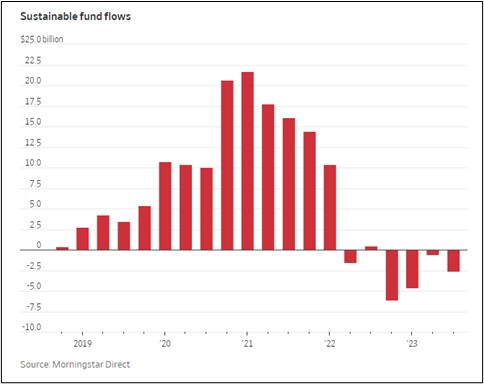 U.S. Labor Market:  Amid extensive labor shortages following the mass retirement of baby boomers during the coronavirus pandemic, workers continue to feel empowered, and unions continue to flex their muscles.  Now, workers at two branches of Wells Fargo (WFC, $42.96) have begun agitating for union representation.  The development confirms that unions aren't just striking for better pay and conditions in industries that have traditionally been unionized.  Workers are also boosting their efforts to unionize in industries that traditionally have not had to deal with organized labor, including technology, retail coffee chains, and now banking.
The Daily Comment will go on hiatus beginning Wednesday, November 22, and will return on Monday, November 27.