Daily Comment (November 10, 2021)
by Bill O'Grady, Thomas Wash, and Patrick Fearon-Hernandez, CFA
[Posted: 9:30 AM EST] | PDF
Today's Comment opens with key U.S. developments that could have an impact on the financial markets today, including news of a new government crackdown on crime at big companies.  We next cover a range of international news, including the appointment of a new Japanese foreign minister who is surprisingly soft on China.  We close with the latest news on the coronavirus pandemic.
U.S. Regulatory Policy:  An official at the Justice Department yesterday warned that the administration would launch a crackdown on corporate crime in the coming weeks, with a focus on companies that have violated past deferred prosecution agreements or have failed to invest in legal compliance systems.  The official warned that the crackdown, which is separate from the administration's intent to ramp up antitrust enforcement, would touch some of the biggest U.S. companies.  The statement highlights our concern that U.S. firms are likely facing much greater regulatory risks than they have in many years.
U.S. Bond Market:  A federal working group looking into the U.S. Treasury market's recent liquidity problems issued a progress report but was criticized for failing to go beyond familiar solutions such as increased transparency and oversight and central clearing.  The report also stopped short of making any policy recommendations and did not suggest a timeline for the working group's analysis to be completed.
U.S. Inflation:  Yet another basic commodity is getting attention for its rapid price increases.  Prices for ethanol, the corn-based fuel that is a common additive to gasoline, have risen about 50% year to date, with the near-term contract trading at about $2.20 a gallon on the Chicago Board of Trade.  The jump comes as demand rebounds strongly from the coronavirus pandemic, and supply remains constrained.
Belarus-European Union:  As troops and border guards pushed back thousands of primarily Middle Eastern migrants trying to enter Poland from Belarus, the EU accused Belarussian President Lukashenko of acting like a "gangster" in instigating the crisis.  EU officials believe Lukashenko orchestrated the mass migration push to punish the EU for the sanctions it has imposed on Belarus for its political repression.
Japan-China:  Japan's new prime minister, Fumio Kishida, has appointed a foreign minister who is unexpectedly dovish on China.  The new foreign minister will be Yoshimasa Hayashi, a Harvard-educated, English-speaking official, who previously served as both minister of defense and minister of education.  Like Kishida, he is also a member of the ruling party's most liberal and pacifist faction, suggesting that Kishida has been emboldened by his party's win in the late October parliamentary elections.  Therefore, he may feel less need to bend to the conservative factions in the party.  All the same, the conservatives remain dominant in the party and will probably pressure Hayashi to maintain a tough stance on China and continue bolstering Japan's alliance with the U.S.
China-Taiwan:  In its biannual military strategy report, Taiwan's defense department said it would try to deter China from taking the island by force primarily by adopting "asymmetric" tactics like sinking China's large amphibious landing ships with multitudes of small, cheap, fast attack boats.  The strategy calls for inflicting maximum damage on any Chinese invasion force while its troops are embarking on their ships or airplanes and when they are crossing the Taiwan Strait, the times they would be most vulnerable.
The strategy of attacking Chinese forces during their embarkation and cross-strait transit phase may make sense, but we have seen little evidence that Taiwan's military is sufficiently aggressive or skilled in long-distance strikes to pull it off.
In reality, Taiwan's military would probably require a massive transformation before it could hold off a Chinese invasion for any significant time.
Besides that, many of China's options for taking control of Taiwan center on tactics that would be much smaller in scale and harder to defend against, such as blockading or seizing the many Taiwanese islands that lie literally just a few miles off China's coast.  One example is the Taiwanese island of Kinmen, from which the Chinese city of Xiamen is clearly visible (see photo below).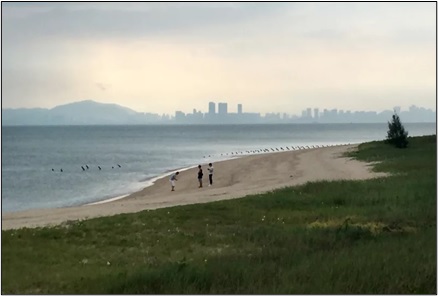 A view of the Chinese city of Xiamen, Fujian Province, from the Taiwanese island of Kinmen (Source: NPR).
China:  The October Producer Price Index was up a whopping 13.5% year-over-year, far worse than both the expected increase and the rise in the year through September.  The gain in October was the biggest since 1995.  The country's statistics bureau ascribed the price jump mostly to higher costs for domestic energy and raw materials.  Even though the government can keep a tight lid on China's consumer prices (the Consumer Price Index was up just 1.5% year-over-year), the big hike in basic materials will surely feed into concerns about higher production costs in China boosting inflation in other countries.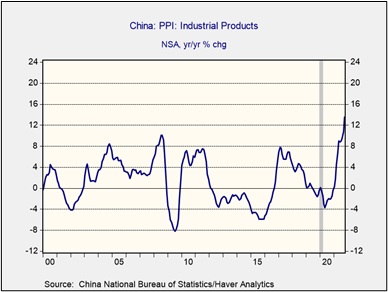 India:  An acute shortage of fertilizers is threatening to disrupt the winter planting season, stoking unrest among the country's politically important farmers ahead of a series of crucial state elections next year.
COVID-19:  Official data show confirmed cases have risen to 251,054,359 worldwide, with 5,068,233 deaths.  In the United States, confirmed cases rose to 46,696,230, with 757,417 deaths.  Vaccine doses delivered in the U.S. now total 536,665,505, while the number of people who have received at least their first shot totals 224,257,467.  Finally, here is the interactive chart from the Financial Times that allows you to compare cases and deaths among countries, scaled by population.
According to the latest CDC data, 67.5% of the U.S. population has now received at least one dose of a vaccine, and 58.5% of the population is fully vaccinated.
Pfizer (PFE, $47.30) and partner BioNTech (BNTX, $226.37) asked U.S. health regulators to expand the authorization of their booster to people as young as 18 years old.  If the regulators approve, the extra doses could provide millions of people with another layer of security as winter drives many indoors where the risk of transmission is higher.

Currently, the vaccine booster from Pfizer and BioNTech is approved only for adults who are 65 years and older or are at risk of severe disease and death, including a consequence of their jobs or where they live.
In contrast, the vaccine booster shots produced by Moderna (MRNA, $236.85) and Johnson & Johnson (JNJ, $162.51) have already been approved.

In France, President Macron announced that residents over 65 would need booster jabs if they want to eat out or make long-distance journeys, beginning next month.  The move suggests all adults will eventually require a third injection against the virus if they want to continue to live normally.
In China, where the government continues to enforce its strict "zero COVID" policy, the  Shanghai Marathon was postponed, just as similar races have been postponed in Wuhan, Shijiazhuang, and Beijing.