Daily Comment (May 8, 2023)
by Patrick Fearon-Hernandez, CFA, and Thomas Wash
[Posted: 9:30 AM EDT] | PDF
Our Comment today opens with more signs that major countries and companies are shoring up their alliances and operations to counter China's increasing geopolitical aggressiveness.  We next review a wide range of other international and U.S. developments with the potential to affect the financial markets today, including new data suggesting the German economy may finally be slipping into recession and the latest on the U.S. political standoff over the federal government's debt limit.
Japan-South Korea: Japanese Prime Minister Kishida yesterday visited Seoul for a summit with South Korean President Yoon, marking the first visit by a Japanese leader in 12 years.  The meeting, which led to several bilateral agreements, illustrates the two countries' rapid rapprochement as they both begin to focus on the growing geopolitical threat from China.
The recent rapprochement comes after more than three years of estrangement over Japan's behavior in Korea before and during World War II.

Illustrating just how far Japan was willing to go to solidify its relationship with Seoul, Kishida expressed his "unwavering" commitment to the 1998 joint declaration that expressed Japan's "deep remorse and heartfelt apology" for its wartime aggressions.
According to Kishida, "My heart aches as many people went through very difficult and sad experiences in the harsh environment at that time."

Kishida's remarks could give Yoon space to maneuver amid domestic political opposition to a closer relationship with Japan without a fresh apology.
China-Singapore: FedEx (FDX, $229.30) confirmed it will move its regional headquarters for Asia Pacific, the Middle East, and Africa from Hong Kong to Singapore, including about 15% of office jobs.  The firm insisted the move simply aims to connect the regional headquarters and its operational units "with greater speed and agility," but we suspect it really aims to protect FedEx workers from the draconian security law that China imposed on Hong Kong in 2019.  If so, the move is another example of global fracturing and the way U.S. firms are "friend-shoring" investment into the U.S.-led bloc and away from the China-led bloc.
Russia-Ukraine War: Ukraine has still not launched its much-anticipated counteroffensive against the Kremlin's invasion forces, but it continues to stage drone attacks against Russian logistics facilities behind the front lines in an apparent effort to soften up Russian forces.  Meanwhile, the Russian forces today launched what local officials said was the biggest wave of drone and missile strikes against Kyiv since the war started.  The Russian attacks came as Yevgeny Prigozhin, the leader of Russia's Wagner Group of mercenaries, backtracked on threats to withdraw his forces from the embattled city of Bakhmut because of insufficient ammunition and supplies from the Russian Ministry of Defense.  Reports suggest Prigozhin may have been assuaged after former invasion commander Gen. Sergei Surovikin was named as liaison between the Defense Ministry and the Wagner forces.
Arab League-Syria: In an emergency session in Cairo, national leaders of the Arab League decided to readmit Syria after more than a decade of isolation over its brutal tactics in its civil war.  The move is being seen as a sign of waning U.S. influence in the Middle East as it will complicate U.S. efforts to isolate Syrian President Bashar al-Assad.
Germany: March industrial production fell by a seasonally adjusted 3.4%, much worse than expected and enough to mark its biggest monthly drop in a year.  Along with other recent data showing March declines in factory orders, retail sales, and exports, the data suggests that Germany, the EU's biggest economy, may have slipped into recession in the first quarter.
U.S. Fiscal Policy: Treasury Secretary Yellen yesterday warned that if Congress refuses to pass an increase in the federal debt limit by June 1, the administration would consider invoking the Constitution's 14th Amendment to continue paying the government's bills, including its debt service.  However, Yellen called the potential move a "not good option" that would likely cause a constitutional crisis as scholars dispute whether the amendment could be used in such a way.
Separately, President Biden and members of his administration plan to meet tomorrow with House Speaker McCarthy and other congressional leaders to discuss a way out of the impasse.
We continue to believe that brinksmanship surrounding the debt ceiling could prompt elevated volatility in the financial markets as we approach the June 1 deadline by which Yellen has warned that the government could no longer pay its bills.
U.S. Labor Market: The monthly labor report, released on Friday, showed the unemployment rate for Black Americans fell to a record-low of just 4.7% in April.  In tight labor markets, workers who have historically been underemployed are typically drawn into jobs over time.  The longer those workers remain in their jobs, the greater the chance they will build valuable skills, become more productive, and be better able to ease the growing shortage of labor in the economy.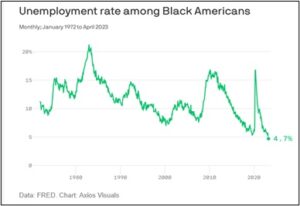 U.S. Manufacturing Sector: Organizers said this year's SelectUSA summit in Washington, where state and local governments woo foreign investors, had record attendance.  Reports say the hundreds of billions of dollars in federal subsidies for new manufacturing facilities in last year's Inflation Reduction Act and CHIPS Act have sparked a massive competition by state and local governments to draw in foreign investors.