Daily Comment (May 8, 2020)
by Bill O'Grady, Thomas Wash, and Patrick Fearon-Hernandez, CFA
[Posted: 9:30 AM EDT]
Good morning and happy Friday!  Global risk markets are rising at the same time Treasury yields are falling.  It's employment Friday; we cover the data below but, suffice it to say, it's historic and not in a good way.  We update the COVID-19 news.  This week's Asset Allocation Weekly is published below.  And, podcasts are back!  Despite being unable to utilize our recording studio, our sound engineer, Dane Stole, has figured out how we can record remotely.  Check it out!  Here are the details:
COVID-19:  The number of reported cases is 3,862,174 with 269,881 deaths and 1,291,490 recoveries.  In the U.S., there are 1,256,972 confirmed cases with 75,670 deaths and 195,036 recoveries.
For those who like to keep score at home, the FT has created a nifty interactive chart that allows one to compare cases and fatalities between nations, scaled by population.
The virus news:
The good news:

The FDA has approved a vaccine for the second phase of clinical trials. Moderna (MRNA, 53.19) announced its vaccine will move on to Phase 2.  Phase 1 determines if the drug or vaccine is safe; Phase 2 determines if it is effective.  If it passes this phase, it will move on to Phase 3, which tests the vaccine for safety and effectiveness on a larger scale.  If it passes all three, it may be available for the general public early next year.
A new study confirms that anyone who has had COVID-19 does create antibodies to the disease. It isn't clear how much immunity this gives a person, but it does suggest that it gives at least some protection for an unknown period of time.

The bad news:
The policy news:
House Democrats are putting together a fourth coronavirus stimulus package. Early reports suggest a number around $2.0 trillion.  However, we would not be surprised to see this number go higher.  Lobbyists realize this will probably be the last one for a while so they are trying to get the "last shot" at their goals.  We do note negotiations with the GOP, both Senate and White House, have not started.  We expect a rather frosty response from the Senate, but perhaps a more positive one from the executive branch.
One of the lingering concerns about the policy response to COVID-19 is that much of the funds come from the states, which mostly lack the ability to deficit spend. In the recovery from the 2007-09 recession, falling state spending mostly offset higher federal spending, blunting the policy response.  The decline in state tax revenues is widespread. A bill has been introduced to shore up state revenue.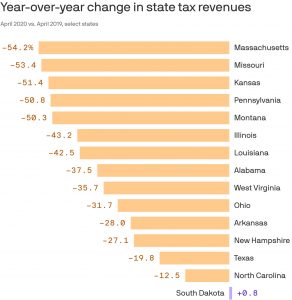 (Data: Lucy Dadayan/The Urban Institute. Chart: Andrew Witherspoon/Axios)
The economic news:
As states reopen, companies are struggling to restart their businesses. Three major problems have emerged.  First, generous unemployment benefits are keeping workers at home.  Second, with schools closed as well as many day-care centers, workers who might be willing to return to their jobs can't due to the lack of child care.  Third, many of these laid off workers may not have a job to return to as bankruptcies rise.  These factors may slow the recovery even as shutdown orders ease.
There is growing labor unrest in the meatpacking industry. Union leaders strongly criticized the decision to use the Defense Procurement Act to force facilities to reopen that had been closed due to virus infections.
The market news:
The foreign policy news:
Argentina:  The country's biggest bondholders are balking at the restructuring deal being offered by the government.  The Kirchner government wants a 62% reduction in interest payments and a 5.4% write-off.
China:  There are reports that a new computer virus, called Aria-body, was developed by a group with ties to the Chinese military.  The virus can take control of a computer and apparently cover its tracks.  It is passed invisibly through emails.  Its primary purpose appears to be information gathering.
Middle East:  The U.S. is pulling Patriot missile batteries out of Saudi Arabia.  These were initially put in the kingdom in response to the missile attack last year.  The decision to remove the missile defense system could reflect a number of factors.  First, it is possible that the kingdom has improved its own defenses and no longer needs the U.S. support.  Second, backchannel contacts with Iran may have reached some sort of agreement not to repeat the missile attack; as we noted yesterday, Israel noted that Iran appears to be pulling back from Syria.  It may be that Iran simply lacks the resources to threaten Saudi Arabia and the U.S. is reacting to that fact.  Finally, there is a clear move to reduce the American military footprint in the Middle East and this action reflects that.  We do note that Islamic State is stepping up its activities as the U.S. and Europe reduce troop strength in Iraq.