Daily Comment (May 7, 2020)
by Bill O'Grady, Thomas Wash, and Patrick Fearon-Hernandez, CFA
[Posted: 9:30 AM EDT] Good morning; it's the 75th anniversary of Germany's surrender in WWII.  Despite expectations of dreadful labor market data tomorrow, equity futures continue to move higher.   The BOE maintains current policy.  We update the COVID-19 news.  Our Weekly Energy Update can be found here.  Here are the details:
COVID-19:  The number of reported cases is 3,769,150 with 264,111 deaths and 1,250,579 recoveries.  In the U.S., there are 1,228,609 confirmed cases with 73,431 deaths and 189,910 recoveries.
For those who like to keep score at home, the FT has created a nifty interactive chart that allows one to compare cases and fatalities between nations, scaled by population.
The virus news: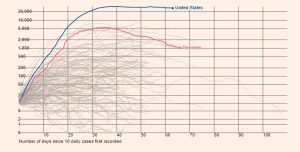 The policy news:
The economic news: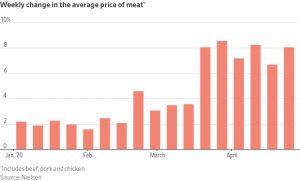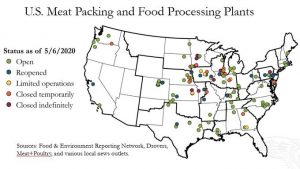 One of the arguments used to end restrictions on interstate banking was that larger banks would have economies of scale that would improve their efficiency and reduce costs. This was more of a faith-based idea; there wasn't much evidence at the onset that it was true.  In some aspects of banking, scale turned out to be important.  The handling of transactions has improved with concentration, for example.  And, there is no doubt that scale helps with creating and building technology.  However, for relationship banking, there is scant evidence that scale improves service, especially for smaller firms.  Community banks have proven this in the COVID-19 situation, being much more effective in tapping the government programs to provide loans to small businesses.
As we detail in the data table below, China's April exports bounced unexpectedly, although much of this may be clearing up the backlog from Q1. We also note that Chinese car sales are starting to recover.
The market news:
The battle for the USPS is underway. The postal service has been losing money most years, in part due to its mandate to deliver letters.  In general, delivery services make their money on parcels, while regular mail is a loss leader.  Delivery companies have reduced the USPS hold on parcels and electronic mail has made letter carrying even less attractive.  In addition, the unionized workforce of the USPS makes it difficult for the service to adapt to changes in the marketplace.  The White House has appointed a new postmaster and is pressing to renegotiate labor contracts and delivery arrangements that are unfavorable to the USPS.  We note that online retailers who tend to benefit from these delivery arrangements are lobbying hard to maintain the current status and are asking Congress for a bailout of the postal system.
Years ago, we participated in a conference call with a client and her advisor. The client wondered if she should buy one-ounce gold coins or quarter-ounce coins.  We responded by noting that four of the latter equal the former, to which the client said, "If I need to bribe the border guards, am I better off with smaller coins?"  We responded, "If we get to that degree of societal breakdown, you will be better off with booze, bullets and tobacco."  Much to the chagrin of the advisor, the client agreed with us.[1]  Recent market performance appears, at least to some extent, to support this notion.
The foreign policy news:
---
[1] Again, this is Bill's story and he is using the imperial "we."