Daily Comment (May 6, 2020)
by Bill O'Grady, Thomas Wash, and Patrick Fearon-Hernandez, CFA
[Posted: 9:30 AM EDT]
Today's positive market action comes as state governments and countries around the globe continue to ease their coronavirus restrictions.  Besides that, it's also VE Day, and the beginning of National Nurses Week!  We review all the virus news below, along with a discussion of new developments in U.S.-U.K. trade, Brazilian politics, and last week's attack on Venezuela.
COVID-19:  Official data show confirmed cases have risen to 3,685,129 worldwide, with 258,051 deaths and 1,208,139 recoveries.  In the United States, confirmed cases rose to 1,204,175, with 71,078 deaths and 189,791 recoveries.  Here is the chart of infections from the Financial Times: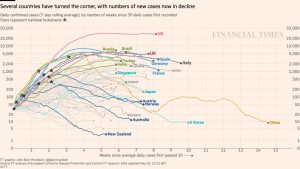 Virology
Gilead Sciences (GILD, 79.14) said it will provide licenses to other drug firms to manufacture and sell its COVID-19 treatment, remdesivir, outside of the U.S., farming out production to ensure supply meets global demand.
Highlighting how vulnerable the aged are to the disease, New York State said it has recorded at least 4,968 confirmed and presumed deaths at nursing homes and adult care facilities.  New Jersey said it has had 4,151 deaths at such facilities, as it and Pennsylvania have now become prime U.S. hotspots for COVID-19 fatalities.
Russia reported its fourth straight day of at least 10,000 new coronavirus cases, making it an important hotspot for infections along with countries like Brazil, Mexico, and India.
Real Economy
Political Fallout
The U.S. and Australian governments continue to push for an international inquiry into the origins of the new coronavirus and how China handled the initial outbreak, including putting pressure on the EU to support such an investigation.

However, top EU officials are pushing back in favor of a multilateral study of the epidemiology of the virus that wouldn't place blame on any particular country.
Blaming China for poorly handling the initial stages of the outbreak is also complicated by increasing evidence that the virus may have been spreading to the U.S. and Europe, including France, as early as December, well before it was recognized as a major problem in much of China.
United States-United Kingdom:  To accelerate a comprehensive U.S.-U.K. trade deal, U.S. Trade Representative Lighthizer and British International Trade Secretary Truss announced that almost 30 bilateral working groups will hold virtual discussions on key trade issues over the next two weeks.  It's positive that the administration is now able to shift its attention to other issues beyond the coronavirus, but, as we've said before, it will be difficult to quickly reach a deal, and when push comes to shove, the Brits may not find U.S. demands to be very palatable.
Brazil:  Testimony made public yesterday indicates President Bolsonaro is being investigated for trying to control Rio de Janeiro police who are investigating his sons there for corruption.  The testimony from former Justice Minister Moro suggests the scandal could "have legs."  If so, it would likely be an ongoing drag on Brazilian stocks.
Venezuela:  New details have emerged about last week's mysterious paramilitary attack in Venezuela.  Reports say a group of about two dozen soldiers, consisting of Venezuelan military defectors and foreign mercenaries (including two U.S. veterans), planned a sea attack to arrest the country's authoritarian government and free political prisoners.  However, the group was apparently infiltrated by Cuban or Venezuelan operatives, and the attackers were intercepted by Venezuelan forces before they could land.  Reports say eight attackers were killed and 13 were captured.  Both President Trump and Venezuelan opposition leader Guaidó claim they had no knowledge of the operation.  Nevertheless, the Bay of Pigs-like fiasco probably gives President Maduro a bit of help as he continues to resist efforts to topple him.