Daily Comment (May 31, 2022)
by Patrick Fearon-Hernandez, CFA, and Thomas Wash
[Posted: 9:30 AM EDT] | PDF
Our Comment today opens with an update on the Russia-Ukraine war, where Russian forces continue to make progress toward their scaled-down goal of seizing all of Ukraine's eastern Donbas region.  In other major news regarding the war, the European Union has finally agreed on a partial ban on Russian oil imports, helping drive up global oil prices so far this morning.  We next review a range of international and U.S. developments with the potential to affect the financial markets today.  We wrap up with the latest news on the coronavirus pandemic.
Russia-Ukraine:  Russian forces continue to capitalize on their superiority in the quantity of equipment and manpower available to pour into the fight, especially now that they are concentrating their efforts on seizing territory in the Donbas region of eastern Ukraine.  The Russian superiority in equipment and personnel quantities has allowed them to seize more of the city of Severodonetsk, despite their continued losses of junior officers and rank-and-file soldiers.  The Russians are also regrouping near Izyum to renew offensives towards Slovyansk and Barvinkove.  It now appears more likely that Russia will eventually achieve its scaled-down goal of controlling all the Ukrainian provinces of Luhansk and Donetsk.  Meanwhile, we continue to see growing domestic dissent within Russian military circles, claiming that the Kremlin is not doing enough to win the war.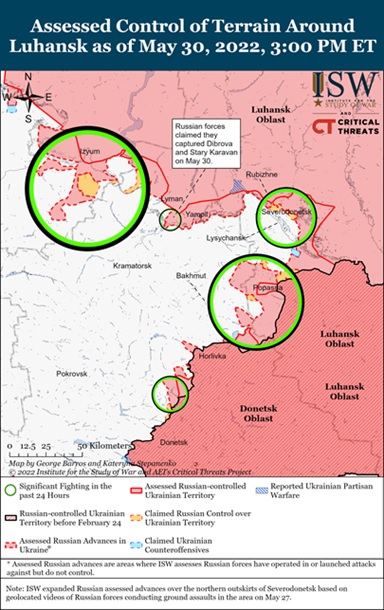 As evidence that Europe's post-invasion defense spending hikes will likely have staying power, Germany's government and center-right opposition parties on Sunday struck a deal to write its €100 billion defense budget hike into the country's constitution.  The agreement provides for a special constitutional fund to support the Bundeswehr until as late as 2026, after which the government is committed to providing the finances necessary for German forces to meet NATO capability goals.

In a sign that German citizens are now more open to flexible budget financing, if necessary, to fund high-priority goals, the new fund will be financed entirely by new public borrowing.
According to Chancellor Scholz, the new fund ensures that German defense spending on average will meet or exceed the NATO standard of 2% of GDP.
The deal also calls for administrative reforms to accelerate weapons procurement and strengthen German military operations.

On the sanctions front, European Council President Michel said the EU has finally struck an agreement to ban imports of Russian oil, with a temporary exemption for oil delivered by pipeline.  The ban would apply to about two-thirds of all EU oil purchases from Russia.  Focusing on initially banning only seaborne oil imports will spare Hungary, Slovakia, and the Czech Republic, which are particularly dependent on Russian oil delivered by pipeline.  The EU ban is expected to be finalized on Wednesday, but in conjunction with relaxed Chinese pandemic restrictions, it is already helping boost global oil prices.

The partial ban risks distorting competition in the EU oil market, with refineries connected to pipelines from Russia enjoying a price advantage.
Hungarian oil group Mol (MOL.BD, 2,646.00) says it has enjoyed "skyrocketing" margins for its refineries since March because of the widening Brent-Ural spread.

In further disruptions to the global energy markets, major natural gas traders in the Netherlands and Denmark said they expect Russia to stop shipments to them as early as today, following their governments' refusal to pay Russia in rubles in violation of EU sanctions.

The Netherlands and Denmark would join Finland, Poland, and Bulgaria in having their supplies of Russian gas turned off.
Those countries account for 16% of the volume Russia was contracted to deliver to Europe at the start of the year and now be sourced elsewhere.
Eurozone Inflation:  As shown in the data tables below, the Eurozone's May Consumer Price Index (CPI) was up a record 8.1% from the same month one year earlier, far above both the expected inflation rate of 7.7% and the April rate of 7.4%.  Excluding the volatile food and energy components, the zone's May Core CPI was up a worse-than-expected 3.8% compared with 3.4% in the year to April.
Although top ECB officials have recently said they plan to hike interest rates by just 25 basis points at upcoming meetings, the soaring inflation rate could force the policymakers to impose some 50-basis-point hikes.
If the ECB signals a faster rate hike pace, it will likely produce additional headwinds for Eurozone equities, although it could also boost the euro.
United Kingdom:  Almost ten more Conservative Party members of parliament have said they submitted letters of no confidence in Prime Minister Johnson, following last week's report accusing him of breaking pandemic social distancing rules and the government's tardy release of an inflation-relief program.
That brings the number of publicly known letters to 34, although some observers believe unacknowledged letters would bring the total close to 50.
A vote of no confidence that could topple Johnson would be required if the number of letters reached 54.
China-South Pacific:  A summit of South Pacific island nations yesterday deferred a decision on endorsing China's proposed "China-Pacific Island Countries Common Development Vision," at least temporarily setting back China's effort to bring those countries under its influence.  While some South Pacific nations have been open to China's overtures (including the Solomon Islands, which has just signed a new security agreement with Beijing), others remain wary of Chinese influence and are concerned that China is not working hard enough to limit global warming, which is a major threat to their low-lying territories.
Under Beijing's proposed program, China would:

Help train police and diplomats from Pacific Island nations.
Set up Confucius Institutes, which in other countries have funded language studies but also have disseminated Beijing's views on certain issues.
Provide aid, including new border-control technology and further infrastructure funding under China's controversial Belt and Road Initiative.
Deepen cooperation in industries such as fisheries.
Promote rules for data security.

The U.S. and its key allies, including Australia, have belatedly been working to counter China's move in the region, including measures through the Biden administration's limited new Indo-Pacific Economic Framework.
Israel-United Arab Emirates:  The governments of Israel and the UAE signed a free-trade agreement today, boosting business ties less than two years after they established formal diplomatic relations in a U.S.-brokered deal.  The deal will cut tariffs and otherwise loosen restrictions on some 96% of trade between the two countries.
Colombia:  Leftist former guerilla Gustavo Petro won the first round of Colombia's presidential election on Sunday with 40.3% of the vote, followed by populist right-wing real estate tycoon Rodolfo Hernández with 28.1%.  The two will now compete in a June 19 run-off election.
As in many countries around the world in recent years, the results are a rebuke to the country's traditional centrist politicians, who are widely scorned for failing to end problems like poverty and drug violence.
While Petro and Hernández would probably both scare some investors away from Colombian assets, Petro may be the greatest risk, given his pledges to insert the state into Colombia's market economy, heavily tax the rich, and move the country away from its dependence on oil and coal.
U.S. Monetary Policy:  The White House announced that President Biden will meet today with Federal Reserve Chair Powell to discuss the state of the U.S. and global economies.  The president has pledged not to try to influence Fed policy, but he has broadly supported the Fed's plans to withdraw stimulus and fight inflation.
U.S. Fiscal Policy:  Senate Majority Leader Schumer and Sen. Joe Manchin are reportedly nearing a deal to advance some elements of President Biden's stalled economic program.  While the details remain closely held, some Democrats and outside analysts now expect a possible agreement could raise roughly $1 trillion in revenue and spend about $500 billion over a decade.
Roughly half the new revenue would be dedicated toward reducing the deficit.
The spending would focus on tax incentives for reducing carbon emissions and some support for fossil fuels, as well as an extension of subsidies for purchasing health insurance under the Affordable Care Act.
COVID-19:  Official data show confirmed cases have risen to  529,459,106 worldwide, with 6,289,228 deaths.  The countries currently reporting the highest rates of new infections include the U.S., Taiwan, Germany, and Australia.  (For an interactive chart that allows you to compare cases and deaths among countries, scaled by population, click here.)  In the U.S., confirmed cases have risen to 84,012,408, with 1,004,760 deaths.  In data on the U.S. vaccination program, the number of people considered fully vaccinated now totals 221,190,484, equal to 66.6% of the total population.
Virology
In the U.S., the latest wave of infections already appears to be topping out, although hospitalizations and deaths are still accelerating with their usual lag.  The seven-day average of newly reported cases has now reached 109,105, up 14% from two weeks ago.  The seven-day average of people hospitalized with confirmed or suspected COVID-19 in the U.S. came in at 26,781 yesterday, up 20% from two weeks earlier.  New COVID-19 deaths are now averaging 368 per day, up 22% from two weeks earlier.
In China, plummeting infections in Shanghai suggest the city can lift most of its draconian restrictions on Wednesday as planned.  More than 22 million residents living in low-risk areas will be able to leave their compounds freely and fully resume using public transport. Private cars will also be allowed on the roads again.
On the other hand, Hong Kong has identified two new infection clusters centered on high-end nightclubs.  Health officials on Monday confirmed 275 new infections, including 48 imported ones, as well as two more related deaths.

The development came as officials prepared to roll out the third stage of their vaccine pass scheme on Tuesday.
Under that plan, most residents will need three jabs to enter premises unless they have already recovered from an infection less than six months ago.
Economic and Financial Market Impacts
The end of pandemic restrictions in Shanghai and elsewhere in China has raised hopes for reviving economic activity in that country, driving global oil prices up to a two-month high of approximately $117 for Brent crude.

Analysts estimate China's latest pandemic lockdowns have cut its oil demand by approximately 1.2 million barrels per day.
Most or all of that demand is now likely to come back in the coming weeks and months.