Daily Comment (May 31, 2017)
by Bill O'Grady, Kaisa Stucke, and Thomas Wash
[Posted: 9:30 AM EDT] News flow was quiet overnight.  The biggest item came from the U.K. where a YouGov model projected a hung Parliament.  It showed the Tories losing 20 seats to fall to 310, while Labour would pick up 28 seats, capturing 257.  The required majority is 326 seats.  Other polling is mixed, with the most recent showing Conservatives with a 12% lead.  The betting markets continue to show May holding an 89% probability of winning.
The GBP slumped overnight on this news but has partially recovered its losses.  We still expect that May will prevail but probably not significantly improve her party's current four-seat majority.  However, the underlying concern in all Western elections has been the trend of deep voter dissatisfaction.  Outsiders, candidates not considered part of the political establishment, have been consistently polling well everywhere in the West.  Brexit and the U.S. presidential election are clear indications of this pattern.  Even the French presidential election confirmed this trend; although the more populist Le Pen didn't win, she did make it into the second round and French voters are betting that a young and mostly inexperienced newcomer with his own party is a better choice than the more established parties.
What is worrisome about the British election is whether voters will view PM May as enough of an outsider or take a chance with Jeremy Corbyn.  Although Corbyn's policy positions appear radical enough to disqualify him, the fact that the polls have narrowed raise the possibility that voters are desperate for something new.  During the U.S. election, there was a famous op-ed called "The Flight 93 Election."[1]  The report suggested that, like the passengers on that famous flight, American voters could either remain in their seats and crash (vote for Clinton) or charge the cockpit and elect a novice (vote for Trump) on the chance that he might be able to fly the plane.  In reality, the likelihood of a good outcome with a novice at the wheel is low but voting for the status quo was to accept a certainly bad outcome.  It is possible that British voters may make a similar calculation next Thursday.  If they do, we could see a hung Parliament or, perhaps even more shocking, a Labour-controlled government.
If we end up with a narrow Conservative win, which appears the most likely outcome, it will tend to weaken the May government's mandate to negotiate with the EU.  However, financial markets will likely take this outcome in stride.  A hung Parliament or a Labour-led government would likely lead to a sharply weaker GBP and equity markets.  It will also continue the trend where Western voters seem inclined to take chances on their leaders due to an overall milieu of disenchantment.
Oil prices have remained under pressure this morning on worries about oversupply.  This weakness has occurred despite comments from Russian and Saudi officials indicating they are committed to recent output cuts.  We don't think the weakness is due to OPEC action.  Instead, we think the market is really in a trading range and it looks like, in the short run, we are going to test the lower end of that range.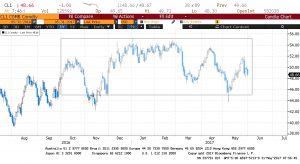 This chart shows the nearest crude oil futures price; we have placed a box on the chart that represents a range of $45 to $55 per barrel.  Over the past eight months, this range has captured most of the price range and we expect that range to hold in the coming months.  Since it doesn't appear that the current weakness is due to anything specific, we expect the market to stay in this range for the foreseeable future.  Thus, if prices decline toward the lower end of the range, around $45, we would look for prices to stabilize around that level and recover.  On the other hand, we don't see conditions that would lead to a sustainable breakout above or below this range for the time being.
_________________________________
[1] http://www.claremont.org/crb/basicpage/the-flight-93-election/