Daily Comment (May 28, 2021)
by Bill O'Grady, Thomas Wash, and Patrick Fearon-Hernandez, CFA
[Posted: 9:30 AM EDT] | PDF
Good morning, all! U.S. equities are expected to open higher this morning as President Biden's new budget proposal caused a boost in investor optimism. Today's report starts off with a brief summary of the $6 trillion proposal. International news follows, with an update on EU relations with Belarus following the recent plane incident and a crackdown on Big Tech by French authorities.  Economics and policy news are up next, including reports of an automaker resuming production and the U.S. withdrawal from Afghanistan. China news follows, and we close with our pandemic coverage.
Biden's budget proposal: The Biden administration is expected to unveil a budget proposal of $6 trillion over the next decade. The proposal will likely include investments in infrastructure, childcare, and cybersecurity, and Biden plans to pay for this additional spending through taxes on corporations and high earners. This budget is expected to meet stiff opposition from Republican lawmakers who fear that the increase in fiscal spending could lead to a return to the 1970s era of stagflation. On the other hand, the administration believes the increase in spending will boost the economy's long-run health and predicts that the deficit will begin to narrow going into 2030.
The additional spending over the next decade should be supportive for equities. However, there are still concerns as to whether the increase in spending will translate into sustained economic growth. President Franklin D. Roosevelt, who President Biden is often compared to, was unable to avoid a downturn in 1938 despite the fiscal expansion. In our view, it is never wise to assume that all spending is good, and vice versa. That being said, we are optimistic that additional spending will likely provide a boost in consumer confidence after an unexpected decrease in the Conference Board Consumer Confidence Index in May.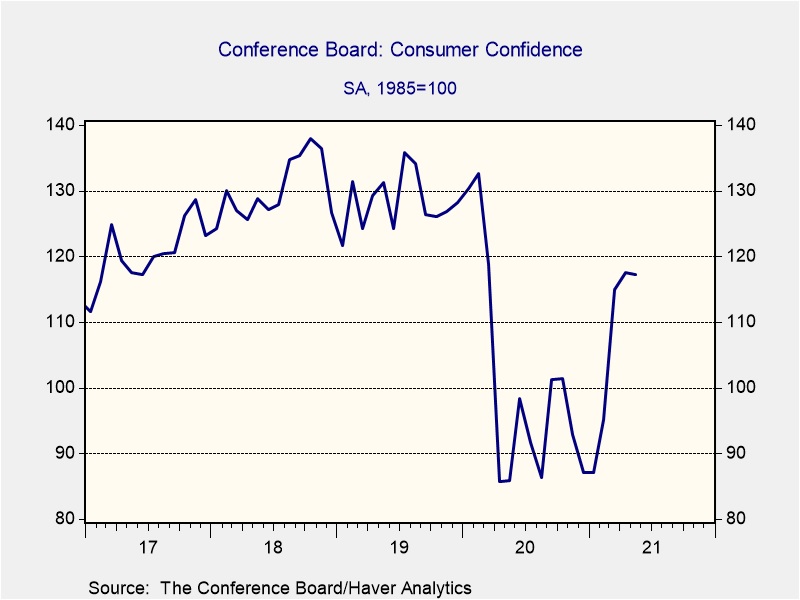 International news: EU airlines forced to cancel flights to Moscow, French regulators agree to a settlement, and the BOJ to consider climate change.
Economics and policy: Republicans willing to add to the deficit, SOS Blinken warns of renewed conflict in Gaza, and the U.S. withdrawal ahead of schedule.
 China:
COVID-19:  The number of reported cases is 168,520,476 with 3,501,002 fatalities.  In the U.S., there are 33,192,974 confirmed cases with 592,432 deaths.  For illustration purposes, the FT has created an interactive chart that allows one to compare cases across nations using similar scaling metrics.  The FT has also issued an economic tracker that looks across countries with high-frequency data on various factors.  The CDC reports that 359,849,035 doses of the vaccine have been distributed with 289,212,304 doses injected.  The number receiving at least one dose is 165,074,907 while the number of second doses, which would grant the highest level of immunity, is 131,850,089.  The FT has a page on global vaccine distribution.