Daily Comment (May 25, 2021)
by Bill O'Grady, Thomas Wash, and Patrick Fearon-Hernandez, CFA
[Posted: 9:30 AM EDT] | PDF
In today's Comment, we open with the latest details on the Belarusian "state hijacking" and its impact on geopolitical relations between the U.S., Europe, and Russia.  We then continue with other international news ranging from China and Russia to Turkey and Ecuador.  We end with the latest developments on the coronavirus pandemic.
European Union-Belarus:  EU leaders imposed new sanctions on Belarus and banned Belarusian airlines from entering EU airspace to punish the Lukashenko government for an incident over the weekend.  A jet fighter was ordered to force a civilian airliner flying over Belarusian territory to land and then arrested an opposition journalist on the plane.  Separately, British Foreign Secretary Raab said the U.K. was suspending the Belarusian national airline's permit to operate in British airspace and would advise British airlines to avoid the former Soviet Republic's airspace.  President Biden said his administration was also considering punishments.
In response, President Lukashenko signed a series of laws that gave authorities the power to suspend telecom networks, block media outlets, and ban unauthorized opinion polls. In addition, all mass events in Belarus now have to be authorized.
Since Belarus and its authoritarian government are already very isolated politically, with few friends besides Russia, it's not clear that any new Western sanctions will have much impact on the country, its economy, or Europe in general.
However, we do note that the weekend incident continues a trend in recent years in which authoritarian governments have shown an increased willingness to strike out at their enemies beyond their own territory.  Other notable examples include Russia's poisoning of dissidents living in the U.K. and China's new security law for Hong Kong, which criminalizes anti-Chinese agitation anywhere in the world.
United States-China:  Goldman Sachs (GS, $368.29) won approval from Chinese regulators to launch a joint-venture asset management company in China with the Industrial and Commercial Bank of China (IDCBY, $12.70).  That follows an announcement earlier this month that BlackRock (BLK, $872.36) won approval for a joint venture with the China Construction Bank (CICHY, $15.86).
The decisions demonstrate that China continues to implement economic reforms in select areas, opening up opportunities for U.S. investors.
However, by giving major U.S. financial firms a greater interest in good U.S.-China relations, Beijing probably hopes the firms will lobby Washington to cool bilateral tensions.
United States-Russia:  The U.S. and Russia may be ready to announce a date for the first summit meeting between Presidents Biden and Putin.  In a news conference today, Kremlin spokesman Dmitry Peskov told reporters an announcement related to a summit would be coming "soon."  Based on its sources, a Swiss newspaper yesterday said the summit will be held in Switzerland.
Global Commodity Sector:  Even though the post-pandemic commodity boom is boosting profits for miners, they aren't throwing cash at new projects, raising concerns about future shortages and higher prices for some metals.
So-called technology metals, such as cobalt, copper, and lithium, are set for particularly large deficits amid rising demand for batteries, electric cars, and wind turbines.
As we've noted before, the dearth of new oil and gas projects is also likely to buoy energy prices into the future, despite the long-term trend toward renewables.
Turkey:  In the latest sign of political interference in Turkish monetary policy, President Erdogan has dismissed Oguzhan Ozbas, one of the central bank's deputy governors and a member of its monetary policy committee.  He replaced him with Semih Tumen, a presidential adviser and a professor of economics at TED University in Ankara.  Erdogan has now replaced three senior central bank officials in just the last two months, on top of numerous other personnel changes in recent years.  He makes these moves as he pushes his unconventional view that high interest rates are a cause, rather than a cure, for Turkey's high inflation and financial problems.  In response, the lira has plunged some 14% since March, although the currency has reacted little to today's news.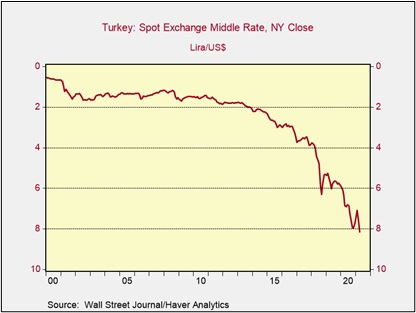 Ecuador:  Conservative businessman Guillermo Lasso was sworn in as the country's new president yesterday.  In his inauguration speech, Lasso decried corruption and authoritarianism and vowed to address the country's massive economic and social challenges.
COVID-19:  Official data show confirmed cases have risen to 167,367,952 worldwide, with 3,475,611 deaths.  In the United States, confirmed cases rose to 33,144,178 with 590,697 deaths.  Vaccine doses delivered in the U.S. now total 357,250,475, while the number of people who have received at least their first shot totals 163,907,827.  Finally, here is the interactive chart from the Financial Times that allows you to compare cases and deaths among countries, scaled by population.
Virology
 Economic and Financial Market Impacts
As more evidence of the big economic rebound expected when economies open up again, non-official, real-time data showed that Britons quickly returned to their favorite pubs and restaurants after the country lifted restrictions on May 17.  In fact, bank transaction tracker Fable Data said U.K. consumer spending between Monday and Wednesday last week was 10% higher than the levels recorded for the same days in 2019, before the pandemic hit.
As the Chinese economy continues to perform well, benefiting from its first-in, first-out experience with the pandemic, the renminbi hit a three-year high against the dollar today.  The onshore-traded renminbi gained 0.2% to trade at 6.4052/$, its highest point since June 2018.  With a gain of approximately 10% over the last year, the currency is now creating a quandary for monetary policy officials who fear that the appreciation will slow growth or exacerbate the risk of asset bubbles.