Daily Comment (May 24, 2021)
by Bill O'Grady, Thomas Wash, and Patrick Fearon-Hernandez, CFA
[Posted: 9:30 AM EDT] | PDF
Good morning, and happy Monday!  U.S. equity futures are higher this morning.  The Northern Hemisphere's hurricane season runs from June 1 to November 1, but recently it has become common for storms to form early.  NOAA has named Ana the first tropical storm of 2021, but it has already become subtropical.  Our coverage starts with the Belarus situation. Cryptocurrency news is followed by the international roundup.  Next up is economics and policy, and we close with pandemic news.
Belarus:  In a bold action, Belarus forced a Ryanair (RYAAY, USD, 115.64) flight to make an emergency landing in Minsk, using the pretext of a bomb threat.  The flight originated in Athens on its way to Vilnius.  Belarusian security agents on the plane claimed that there was a bomb on board and then sent a MIG-19 to force the civilian airliner to land at the Minsk airport.  Once the plane landed, Roman Protasevich, a Belarusian journalist, was detained.  He is wanted by the regime for disclosing state secrets and for fomenting unrest.  Protasevich faces a 12-year sentence and perhaps worse if convicted (and it is highly likely he will be).  After a "search" for a bomb showed that no such device was on board, the plane was allowed to fly to its original destination; however, Protasevich, his girlfriend, and four security agents did not complete the last part of the flight.
It remains to be seen what actions the West will take.  The common refrain is that this event was "state hijacking."  Eastern European Nations are incensed, but getting Western European Nations to take any significant actions will be difficult.  EU leaders are discussing the situation today.  But, if the reaction of the European Commissioner for Transportation is any guide, we wouldn't expect much beyond strong statements.  The U.S. issued a statement condemning the act.  America already sanctions Belarus, so we would not expect much more to come from Washington.  We would, however, expect the EU to ban commercial flights originating in the region from entering Belarusian airspace.  Nonetheless, fears that further measures may lead to Russia absorbing the former Soviet state will likely limit action.
Cryptocurrencies:  After selling off most of the night, bitcoin is moving higher at present.  Prices have been under strong pressure recently.  As we warned last week, it appears the crypto assets are beginning to have an impact on broader financial markets.  Although recent behavior between markets could be a coincidence, we suspect that the rising use of leverage in crypto trading will end up linking this market to the broader financial system.  We are noting a more hostile stance from central bankers concerning crypto; perhaps the most substantial risk to that market comes from the government.
International roundup:  Japan is signaling a more aggressive military stance, tensions remain high in Myanmar, and election violence in Mexico is elevated.
Economics and policy:  A bipartisan infrastructure bill isn't likely, a deal on corporate taxes is more likely, and economic expectations have caught up with the data, meaning that positive surprises will probably decline.
It is looking increasingly like a bipartisan deal on infrastructure isn't going to happen. Although there has been some movement, the two sides remain far apart.  It remains to be seen whether the president's full bill can make it through the Senate.  In the end, we may see something, but momentum is slowing, and, as often happens, the White House has to deal with surprises that distract it from moving forward (e.g., Israel, Belarus, Nord Stream 2, etc.).
We may be getting close to a deal on corporate taxes; the U.S. is supporting a 15% minimum rate within the G-7. That won't prevent firms from moving business to traditional tax havens, but a deal within the G-7 will likely raise revenue from corporations.
The Citi economic surprise index measures the difference between economist expectations and the actual data. The index is adjusted for its impact on the forex markets, but it is a handy way of seeing how much of the economic trends are discounted in markets.  Recent data is approaching zero, suggesting that much of the economy's good news is in market prices.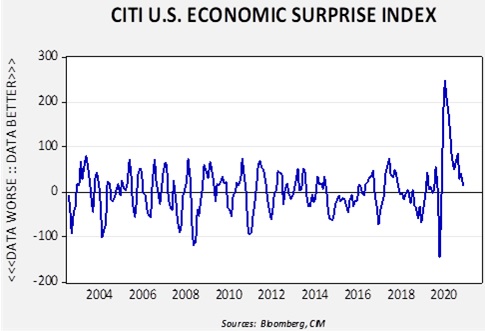 If so, this means that even strong economic data will have fewer positive effects on prices, and it increases the likelihood of negative surprises.
COVID-19:  The number of reported cases is 167,229,205 with 3,464,997 fatalities.  In the U.S., there are 33,117,923 confirmed cases with 589,893 deaths.  U.S. cases and deaths are at their lowest levels in a year.  For illustration purposes, the FT has created an interactive chart that allows one to compare cases across nations using similar scaling metrics.  The FT has also issued an economic tracker that looks across countries with high-frequency data on various factors.   The CDC reports that 357,250,375 doses of the vaccine have been distributed with 285,720,586 doses injected.  The number receiving at least one dose is 163,309,414, while the number of second doses, which would grant the highest level of immunity, is 130,014,175.  The FT has a page on global vaccine distribution.
---
[1] For reference, Vice-Chair Clarida's term ends September 2022 and Vice-Chair Quarles's term ends in October.