Daily Comment (May 23, 2017)
by Bill O'Grady, Kaisa Stucke, and Thomas Wash
[Posted: 9:30 AM EDT] A deadly terrorist attack occurred in Manchester, U.K. last night as an apparent suicide bomber exploded a bomb outside a concert venue as a concert was ending.  At present, 22 have died and over 50 were wounded.  IS has taken responsibility for the attack.  The effect on financial markets was small, although it may become an issue if (a) there are follow up attacks, and/or (b) if it affects the Tories' lead in the polls.
EU negotiators and Greece failed to reach an agreement on debt relief despite seven hours of talks.  Nothing has really changed; the IMF and Greece want debt relief and the Northern Europeans don't want to give them any.  We look for a patch to get Greece through the summer and then serious talks that will involve debt forgiveness will be likely after the German elections this autumn.  The good news is that this issue shouldn't affect markets; the bad news is that we doubt Germany will be any more open to debt forgiveness after the election and Greece will eventually have to face exiting the Eurozone.
EU negotiators finished talks on Brexit and have given negotiators a mandate to extract maximum costs for legacy promises, while also requiring Britain to offer broad EU citizen rights to those living in the U.K.  This looks to us as an opening position for talks but if these are the actual demands of the EU then we expect the U.K. to simply walk away from talks and live without trade access to the EU beyond what is proffered by WTO rules.  A "hard" Brexit will be quite damaging to the U.K. economy; it's hard to imagine the London financial district surviving in its present form.  At the same time, an EU without Britain is one that loses its most potent military and thus will be vulnerable to Russian intrusions.  The EU is worried that if it doesn't take a hard line on the U.K., other nations may decide to exit the EU, too; at the same time, too harsh of a stance may end up being a loss for both sides.
Oil prices fell overnight but have worked their way back to unchanged.  We expect the Saudis to "do whatever it takes" to keep prices propped up.  However, there are reports that the Trump administration is considering selling off half of the nation's SPR, or about 344 mb of oil, which would seriously undermine OPEC efforts to keep prices high.  After the warm meetings the president just had in Riyadh, it seems unlikely that this proposal will have legs.  But if it does, it would be a negative for oil prices.
Finally, we are seeing a major spike in bitcoin prices.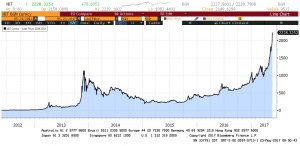 It isn't clear what is causing this parabolic move in the cryptocurrency.  Sales against yen are rising but that may be due to reports that the currency is gaining wider acceptance as a medium of exchange.  In some respects, cryptocurrencies have all the benefits of gold with less downside; it can be transmitted electronically and is weightless!  However, it isn't obvious that the blockchain is completely immune to hacking.  Still, this rally does have the look of a mania and may have become the instrument of any "fear trades" in the market.