Daily Comment (May 22, 2020)
by Bill O'Grady, Thomas Wash, and Patrick Fearon-Hernandez, CFA
[Posted: 9:30 AM EDT]
Good morning and Happy Friday!  As a reminder, financial markets will be closed on Monday, so the next Daily Comment will come to you on Tuesday.  Hong Kong tensions are depressing global equity markets.  We cover the crackdown on Hong Kong.  As usual, we also update the latest on COVID-19.  Here is what we are watching:
COVID-19: The number of reported cases is 5,125,612 with 333,382 deaths and 1,964,097 recoveries.  In the U.S., there are 1,577,758 confirmed cases with 94,729 deaths and 298,418 recoveries.  For those who like to keep score at home, the FT has created a nifty interactive chart that allows one to compare cases and fatalities between nations, scaled by population.
The virus news:
The good news:
The bad news:
The policy news:
The finance news:
The economic news:
There is growing evidence that the economy is bottoming. We are seeing data in both Europe and the U.S. that support the idea that conditions are bad, but not getting worse.  That usually means the recession will end once the trough is met.  If so, this will be, perhaps, the deepest but shortest recession on record.
As businesses reopen, the new conditions for conducting operations is becoming apparent. Costs will undoubtedly rise as firms need to support social distancing and enhanced sanitation.  Who bears the costs of these measures will be key.
One of the effects of the stay-at-home orders is the discovery by firms that some employees are effective away from the office. A number of firms are indicating that work from home rules will be relaxed, allowing some workers to continue to work from home on a regular basis.  In general, the ability to work from home appears to be a function of education.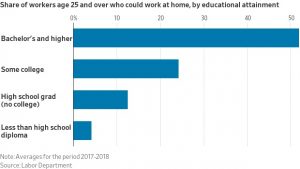 The foreign news:
Odds and ends: The U.S. has indicated it will withdraw from the Open Skies Treaty.  This treaty allowed commercial airliners to film the ground to see if nations are adhering to treaties.  Russia has been violating conditions for some time, so the U.S. decided to end its participation.  The U.S. does plan to have new arms talks that would include China.  Tensions between Greece and Turkey are rising again.  Turkey is constructing a nuclear power plant in southern Turkey which is worrying Greece.  Turkey is also increasing overflights over the eastern Aegean Sea.