Daily Comment (May 19, 2023)
by Patrick Fearon-Hernandez, CFA, and Thomas Wash
[Posted: 9:30 AM EDT] | PDF
Good morning! Today's Comment will start with our thoughts on the recent performance of European stocks. Next, we will give a broad overview of the limitations and controversy surrounding generative artificial intelligence. Lastly, we explain why emerging markets may not be keen to choose sides between the U.S.-led and China-led blocs.
The Renaissance: European equities have garnered attention from international investors as they continue to defy expectations of an economic slowdown.
The market has been taken by surprise due to Europe's resilience over the year since Russia invaded Ukraine. Initially, the conflict raised concerns about the Continent potentially slipping into a severe recession, mainly due to the potential blockade of Russian energy. However, as time passed, it became evident that Europe had not only managed to avoid a downturn, but gas prices have now dipped to their lowest level since 2021. Another positive factor was China's reopening, which resulted in a surge in demand for European goods. This improved outlook has led investors to seek refuge in European assets. Buoyed by the prospect of Fed policy moderation, dollar-based investors have looked to Europe for portfolio diversification.
This year, several European stock price indexes have risen to record highs, showcasing the strength of the market. Germany's DAX stock index surpassed 16,272 points on Friday, marking a new record. At the same time, France's CAC 40 index and Italy's FTSE MIB index have also reached unprecedented levels in 2023. These exceptional gains in European equities have outpaced their U.S. counterparts. The chart below highlights Europe's superior performance in recent months. The relative performance of MSCI United States compared to its European counterpart, declined from a multiple of 3.2 in August 2022 to slightly above 2.5 last month.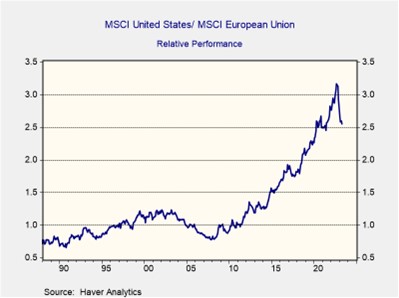 The strong performance of European stocks is expected to continue in the coming months, but there are potential threats looming in the long term. The ongoing trade tensions between the U.S. and China may eventually compel countries within the EU to choose between the two superpowers. While it is likely that EU members will lean towards the U.S.-led bloc, countries like France and Germany might resist relinquishing their access to the world's fastest-growing consumer market. Additionally, there is a possibility of Europe experiencing another energy crisis as supply constraints drive up commodity prices. Consequently, while performance is expected to remain positive in the foreseeable future, investors should remain vigilant and mindful of risks that may impact the market.
AI in Focus: Generative artificial intelligence (AI) has become the new buzzword as investors are optimistic about the technology's earnings potential.
Lawmakers and tech leaders convened on Capitol Hill to address growing concerns surrounding the rapid advancement of generative AI technology. During the hearing, OpenAI's CEO Sam Altman emphasized the need for some form of regulation on this technology. Generative AI technology has faced criticism due to its potential for misuse, including the spread of misinformation, the creation of scams, and the exposure of company trade secrets. Furthermore, there have been talks about the potential revisions to Section 230 of the Communications Decency Act, which shields social media companies from liability for user-generated content. Altman's testimony serves as an initial step by tech leaders to prevent lawmakers from imposing excessive regulations on AI. As aptly stated by IBM's Christina Montgomery, "This cannot be the era of move fast and break things."
The release of OpenAI's ChatGPT in partnership with Microsoft (MSFT, $318.52) has sparked a technological gold rush. Major tech companies such as Amazon (AMZN, $118.50), Alphabet (Googl, $123.55), and Meta (META, $246.85) have made major investments in this revolutionary technology as generative AI is seen as the future of business. These machine-learning algorithms are popular due to their ability to generate content. Although the tech is in its infancy stage, investors believe that over time companies will use the technology to improve their efficiency and boost productivity. Fear of the potential of generative AI has already sparked outrage among labor advocates who worry that the technology may be used to displace workers. The screenwriters' union has been one of the most notable trade groups to speak out about the AI threat.
While this new technology holds immense potential to reshape the world, its full impact is likely to take considerable time to materialize. To explore its capabilities, we tasked OpenAI with providing suggestions for recently released books about generative AI (see image below). The chatbot's response revealed a significant flaw. Despite the authors being real individuals, a quick search on Google and Amazon shows that the book titles and reviews are not. Hence when it is faced with a difficult question, chatbots will generate responses that sound accurate but are ultimately incorrect. Such limitations are expected to diminish over time as AI models process larger volumes of data. Nevertheless, the flaw underscores the fact that the current state of the technology is not as advanced as sensational headlines may imply. Therefore, investors should exercise caution and not feel compelled to rush into this space prematurely.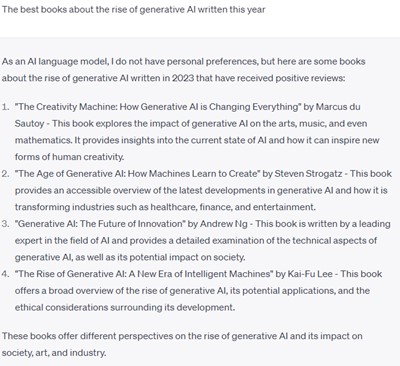 Battle of Soft Power: As the West looks to improve ties within its own group, emerging market countries have decided to keep their options open for as long as possible. 
Meanwhile, leaders from African and Middle Eastern countries are actively asserting their neutral stance in the Ukraine conflict. Recent developments include Russian President Vladimir Putin and his Ukrainian counterpart agreeing to hold separate meetings with six African countries to explore potential peace plans. Additionally, Zelensky is visiting Saudi Arabia to participate in the Arab League Summit, where discussions will revolve around enhancing bilateral trade relationships and seeking a possible resolution to the ongoing war. Our analysis indicates that commodity-producing countries in the Middle East and Africa often align themselves with China and Russia based on bloc tendencies. These diplomatic efforts highlight the regional engagement and strategic considerations when addressing the Ukraine conflict.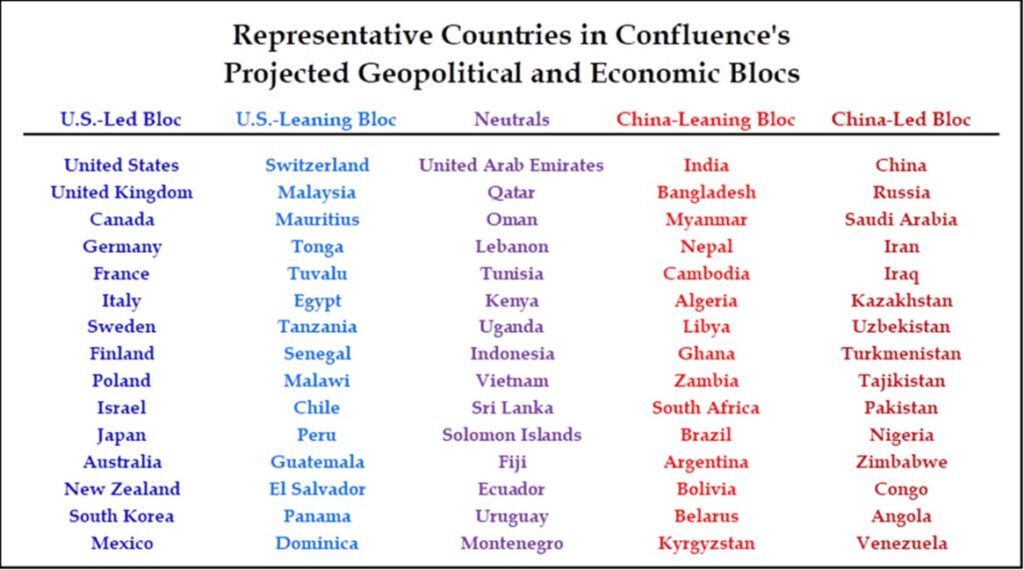 Currently, emerging market countries exhibit a greater reluctance compared to wealthier nations when it comes to aligning themselves with major blocs. Many countries within the bloc led by China and Russia rely significantly on the West for security and humanitarian aid, preventing them from fully severing ties with America. On the other hand, developed countries face fewer challenges in this regard. While countries like Germany and France have expressed their desire to maintain strategic autonomy, they have been hesitant to directly challenge U.S. foreign policy. Consequently, we anticipate that most emerging market countries will not rock the boat with the U.S.-led bloc. This pragmatic approach reflects the complex dynamics and considerations involved in balancing geopolitical relationships and economic interests among diverse nations.