Daily Comment (May 19, 2022)
by Patrick Fearon-Hernandez, CFA, and Thomas Wash
[Posted: 9:30 AM EDT] | PDF
Good morning! Our report begins with the market's reaction to disappointing quarterly reports from major retailers. Afterward, we give an update on the Russian invasion of Ukraine. Next is a discussion about Sri Lanka's default and rising tensions surrounding Taiwan. We end with U.S. economic news and an update on COVID-19.
Equities: There was a broad market sell-off in equities on Thursday after commercial retailer Target (TGT, $161.61) stated that rising freight, wage, and fuel costs would hurt the company's profit margin. The bearish report comes a day after Walmart (WMT,$121.43) cut its earnings guidance and admitted that it underestimated inflation's impact on its bottom line. In addition to rising inflation, retailers have also noticed a shift in consumer taste. Purchases of discretionary goods such as televisions, furniture, and clothes dipped in the latest quarters, while staple goods such as food and drinks increased. The shift in preferences suggests that households are beginning to respond to rising inflation, particularly for food and energy. In short, market reaction was driven by concerns that economic growth may be showing signs of moderating.
Russia-Ukraine: After taking over Mariupol, Russian forces are expected to destroy the Azovstal Steel Plant and turn the city into a tourist attraction. The Kremlin would like to wipe out any reminder of the Ukrainian soldiers' historic stand against Russian forces. The pivot toward making Mariupol a tourist destination is due to concerns that the city will struggle to regain its economic prowess following the destruction from the war. The Azovstal Steel Plant was a significant economic driver for the town. It employed over 10,000 workers and generated billions of dollars of foreign exchange earnings and taxes. On the war front, Russia is preparing for an assault on Severodonetsk as the Kremlin aims to take complete control over the Donetsk and Luhansk regions. Meanwhile, Ukrainian forces continue to pressure Russian troops in Kharkiv. The map below illustrates the latest developments in the war.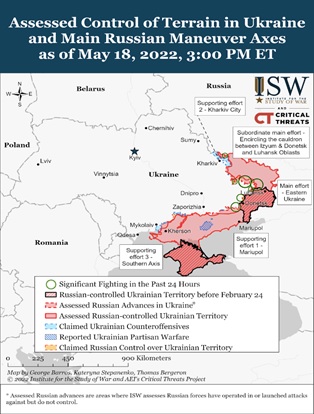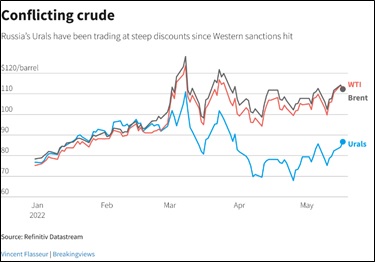 Sri Lanka: On Wednesday, Sri Lanka fell into default for the first time in its history. Last month, the country's president, Gotabaya Rajapaksa, said that his government would stop paying its international debt to conserve foreign currency reserves to import necessities such as food and energy. The country's default is evidence that rising inflation has a detrimental impact on emerging market countries. Countries like Pakistan have ended fuel subsidies to help conserve their reserves. The risk of contagion appears to be limited, but we are paying close attention to emerging markets.
Taiwan issue: A Chinese official warned of a "dangerous situation" if the U.S. insists on increasing its support for Taiwan. The threat appears to be about the U.S.'s increased interaction with the island democracy following Russia's invasion of Ukraine. The Biden administration is considering including Taiwan in talks with other Indo-Pacific countries regarding their economic framework. Including Taiwan would be the region's highest recognition as an independent nation and could further deteriorate the relationship between Beijing and Washington.
U.S. Economic and Policy News:
COVID-19:  The number of reported cases is 525,401,086, with 6,283,844 fatalities. In the U.S., there are 82,951,379 confirmed cases with 1,001,269 deaths. For illustration purposes, the FT has created an interactive chart that allows one to compare cases across nations using similar scaling metrics. The CDC reports that 738,312,155 doses of the vaccine have been distributed, with 582,757,136 doses injected. The number receiving at least one dose is 258,008,907, the number of second doses is 220,739,345, and the number receiving the third dose is 102,439,617. The FT has a page on global vaccine distribution.