Daily Comment (May 15, 2023)
by Patrick Fearon-Hernandez, CFA, and Thomas Wash
[Posted: 9:30 AM EDT] | PDF
Our Comment today opens with a major mining merger that underscores our oft-stated view that global commodity markets are set to enter a prolonged boom period once we get past the expected recession.  We next review a wide range of other international and U.S. developments with the potential to affect the financial markets today, including an unexpectedly strong performance by President Erdoğan in Turkey's elections over the weekend and upbeat comments by Treasury Secretary Yellen regarding the negotiations over the U.S. federal debt limit.
Global Commodity Markets:  Canadian gold miner Newmont (NEM, $45.94) has agreed to buy Australian miner Newcrest (NCMGY, $18.81) in a move that will expand Newmont's access to minerals such as copper, which are expected to be in high demand as the world transitions to electric vehicles and other forms of electrification.
More generally, Newmont's move is consistent with our view that global fracturing and insufficient investment will boost prices for a range of mineral commodities in the coming years. Even automakers are looking to get into mining in order to control prices for key mineral inputs.
Separately, the World Platinum Investment Council issued a report forecasting that global platinum demand will jump 28% this year to 8.2 million ounces. However, the report also warned that sporadic electricity production in South Africa, the main producer, will leave a deficit of almost one million ounces.  The deficit is expected to further buoy platinum prices in the near term.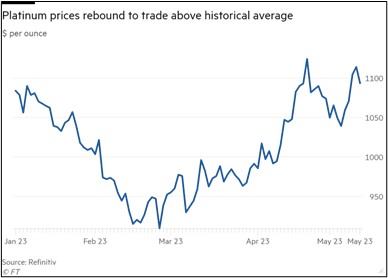 Turkey:  In yesterday's presidential election, President Recep Tayyip Erdoğan and opposition leader Kemal Kılıçdaroğlu came in first and second, respectively, but it appears neither won the required 50% to avoid a run-off ballot.  That ballot will take place on May 28.  Separately, Erdoğan's alliance appeared to be on track to maintain its majority in parliament after clinching 323 of the 600 seats in the National Assembly, compared with the opposition alliance's 211 seats.
Erdoğan's tally in the presidential election was better than recent polling suggested, which could prompt destabilizing allegations of fraud.
In any case, the president's better-than-expected results could lead to disappointment among investors looking for a return to more orthodox economic policies in Ankara and renewed cooperation with the West. Indeed, Turkish stocks are falling on the news so far this morning.
Greece:  In happier news from the same neighborhood, S&P recently assigned a "positive" outlook on Greece's sovereign credit rating.  That sets the stage for the country to possibly regain an investment-grade rating if the winner of the May 21 elections commits to continuing favorable economic policies.  S&P currently rates Greece's foreign debt at BB+/B, one step below investment grade.
Greece was the poster child for Europe's fiscal troubles during the Great Financial Crisis more than a decade ago.
Now, however, economic growth in Greece is skyrocketing and government economic policies have improved markedly.
Regaining an investment-grade credit rating would lower the government's interest payments just when rapidly rising rates are becoming a greater headwind.
Russia-Ukraine War:  After months of slowly pulling back as Russian forces advanced through the eastern city of Bakhmut, Ukrainian forces have not only caught the Russians unawares with a small counterattack, but some reports suggest they may now be trying to surround the city.  If that's the case, the Ukrainians could trap the Russian troops, ammunition, and equipment deployed there.  Such an event, which would probably be distinct from the expected large-scale Ukrainian counterattack, would further weaken the Russian military and be a major embarrassment for President Putin.
China-United States:  The Chinese government said it has sentenced a U.S. citizen to life in prison for espionage.  The U.S. citizen, 78-year-old John Shing-wan Leung, also has permanent-residency status in Hong Kong.  He was arrested in April 2021.  The case could further strain ties between China and the U.S. despite recent government-to-government meetings aimed at reducing tensions.
Separately, some Chinese students in the U.S. are pushing back against the Chinese Communist Party's effort to control their activity even when they're thousands of miles from home.
The small group of Chinese students studying at George Washington University in Washington, DC, has announced the establishment of an Independent Chinese Student Union to give young local Chinese a platform to organize and express political ideas free from the party's prying eyes.
The students say their aim is to protect students from the CCP and the Chinese Students and Scholars Association that the party directs. They also aim to convince the university to fully divest from "companies complicit in the Uyghur genocide and which enable the CCP."
China-Vietnam-Philippines:  In a new stand-off over control of the South China Sea, the Chinese government has dispatched coast guard ships and ostensibly private fishing vessels to an area where Vietnam said it would expand oil drilling.  Reports indicate the Chinese coast guard ships have provocatively cut off Vietnam's coast guard vessels sailing near an existing oil well.  Separately, the Philippine government has attempted to assert its sovereignty over areas of the South China Sea by placing navigation buoys in its exclusive economic zone near the disputed Spratly Islands.  China so far has not responded to the placement of those buoys.
Thailand:  In elections over the weekend, two opposition parties took the lion's share of the 500 seats in parliament.  The progressive Move Forward Party was the top vote-getter, earning a projected 151 seats, while the populist Pheu Thai Party earned 141 seats.  However, the ruling military junta will have the ultimate say in who forms the next government, a process that could take weeks.
Argentina:  The government today will unveil a series of tough economic measures designed to avoid a big currency devaluation ahead of October's elections.  The measures reportedly will include a 600 bps rise in interest rates, increased central bank intervention in the currency markets, and the elimination of tariffs on food imports to help bring down inflation.  The measures apparently don't address the key causes of Argentina's economic problems, such as its big budget deficit.
U.S. Fiscal Policy:  Over the weekend, Treasury Secretary Yellen said administration officials and congressional Republicans were making progress in their negotiations over an increase in the federal debt limit.  According to Yellen, the negotiators "have found some areas of agreement" that could lead to a deal that would avoid having the government default on its debt.  Reports suggest one potential area of agreement is to temporarily cap federal spending, rather than institute outright cuts, while another is to claw back unused pandemic relief funds.  Any deal that removes the risk of a government debt default could prompt a relief rally in financial markets.  However, any such rally could be short-lived as investors start to focus again on the likelihood of a recession.
U.S. Municipal Economies:  Conference and hotel demand in North America finally surpassed 2019 levels in the fourth quarter of 2022, according to the Events Industry Council, an organization consisting of convention trade groups.  Rebounding convention business will likely give a welcome boost to downtown areas in many cities and help bolster municipal tax bases.
U.S. Weather:  The Pacific Northwest has been hit with a record-breaking heat wave, with temperatures reaching the high 80s in Seattle and the mid-90s in Portland.  If they last longer than anticipated, the high temperatures could raise the risk of flooding, worsened drought, and a more dangerous forest fire season.