Daily Comment (May 13, 2021)
by Bill O'Grady, Thomas Wash, and Patrick Fearon-Hernandez, CFA
[Posted: 9:30 AM EDT] | PDF
Good morning.  Our coverage begins with a few comments about yesterday's CPI report.  We take a quick look at the deteriorating situation in Israel.  The Colonial pipeline has reopened.  Economic and policy news follows, with China news next.  The international roundup comes after that, and we close with the pandemic update.
About that inflation data:  Yesterday's CPI data was clearly a surprise.  Although we expect prices to accelerate into late summer, the surprise effect will diminish over time.  Usually, economists overcompensate when they miss widely, so even with rising CPI in the coming months, the market reaction should be lessened.  As we have warned before, base effects from last year would tend to boost inflation this year.  April data showed that and then some.  However, some of the price spikes won't last.  Rising prices will eventually lift supply and will probably curtail demand.
Here's another way of looking at the data.  Since an event last year affected the yearly comparisons, it might make sense to look at the price changes from two years ago.  That data suggests an increase, but nothing that indicates an outlier.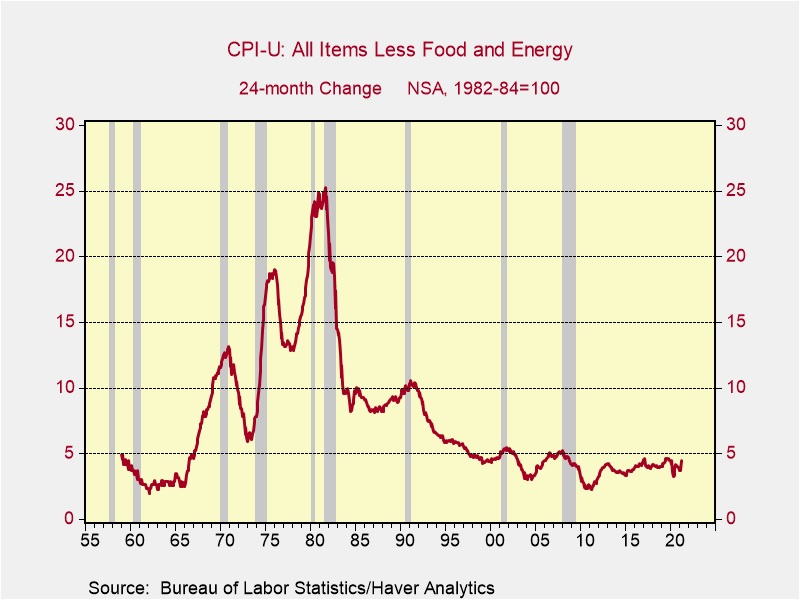 The Fed's position is that the increase we are seeing in inflation is transitory.  We tend to agree with this position.  Rising prices will trigger a supply response and bring down prices at some point.  However, there is a risk to this position, which is that inflation expectations change.  If households begin to buy now for fear of higher future prices and firms begin to treat inventory as an asset, inflation could become a much more serious problem.  We don't think that is happening yet, but we are watching closely.
Clearly markets were not happy.  Outside of shorting, there really was no area of the market that hasn't suffered over the past few days.  Rising yields boosted the dollar and depressed commodities, stocks, and bond prices.  In equities, the market has become richly valued, so a period of pullback isn't the worst thing.
The FOMC is getting the first real test of its shift to a focus on labor markets and less emphasis on inflation control.  There will be increasing worries about the Fed allowing inflation expectations to get out of hand.  We think it is more likely that we see a few months of elevated inflation followed by a moderation.  Current Fed policy will, over time, raise inflation, but there are several long-term factors that will continue to weigh on keeping inflation under wraps.  These include aging demographics, the preponderance of intangible investment and capital, inequality, and the openness to trade.  We do expect the latter two factors to eventually reverse, but for now, they remain factors that will dampen inflation.
The Israel problem:  There is a persistent level of tension between Israel and the Palestinians.  When violence flares, it can be tricky to determine whether the situation is a short-term event or something more serious.  The current one is starting to worry us.  The tensions are ostensibly about the eviction of a group of Palestinians from East Jerusalem to allow Israeli settlers to move in.  The broader situation appears to be tied to a conflict between Hamas and Palestinian Authority.  The Palestinians were expected to hold elections this year, and Hamas was projected to gain power, mostly due to divisions within Fatah.  To prevent this from occurring and to remain in power, the leader of the Palestinian Authority, Mahmoud Abbas, postponed the vote.  This decision has led Hamas to try to find a way to retaliate against Abbas.  It appears Hamas has decided to attack Israel using the evictions as a reason.  Unfortunately, the fighting is escalating rather quickly.  Casualties are occurring on both sides as Hamas fires volleys of rockets into Israel from Gaza, and the IDF retaliates with airstrikes.  Civil unrest in Jerusalem is leading to additional casualties.  There is also increasing unrest in Arab parts of Israel and Israeli cities.
As the violence increases, outside parties are being drawn in.  The U.S. is reluctantly becoming involved, with President Biden offering support for Israel.  Turkey and Russia are calling for peacekeepers, something Israel will oppose.  Complicating matters is the uncertainty surrounding the Israeli government.  Successive U.S. presidents have been trying to reduce American involvement in the region, in part, to focus on the great power competition with China.  This tragedy could undermine the Biden administration's domestic agenda.  There is one other interesting factor; the silence from the Arab states that has been improving relations with Israel is notable.  The Abraham Accords have changed the diplomatic situation in the Middle East, meaning that the Palestinians can no longer rely on support from these nations during uprisings.  That factor may reduce the duration of the current tensions.
Colonial pipeline:  The pipeline managers announced that operations have restarted.  That's good news.  The bad news is the flow in the line is between three to five miles per hour, meaning it will be several days before product begins to flow at adequate levels.  Meanwhile, gas lines, reminiscent of the 1970s, have emerged.  The southeast appears to be seeing the fastest price increases.  We should see supply issues improve by the end of next week.
An observation:  The Colonial pipeline, the inflation spike, and the tensions in Israel all have one common effect—they will tend to become a distraction for the administration's policy progress.  All new presidents enter office with plans.  But, as Clausewitz noted, "No campaign plan survives the first contact with the enemy."  Although these events are not all related, they do show that governments operate under conditions that can distract and delay policy progress.  Given that political capital is perishable, such events make it difficult to meet policy goals.
 Economics and policy:  Comments on crypto assets and credit cards.
China:  China is expanding its use of social media, and the population issue continues to dominate the news.
International roundup:  Russia is seeing a worker shortage and is looking at gun control.  Austria's chancellor is being investigated.
COVID-19:  The number of reported cases is 160,513,476 with 3,333,245 fatalities.  In the U.S., there are 32,815,408 confirmed cases with 583,690 deaths.  For illustration purposes, the FT has created an interactive chart that allows one to compare cases across nations using similar scaling metrics.  The FT has also issued an economic tracker that looks across countries with high-frequency data on various factors.  The CDC reports that 337,089,765 doses of the vaccine have been distributed with 264,680,844 doses injected.  The number receiving at least one dose is 153,986,312, while the number of second doses, which would grant the highest level of immunity, is 117,647,439.  The FT has a page on global vaccine distribution.  The Axios map shows a clear improvement in the U.S.