Daily Comment (May 11, 2016)
by Bill O'Grady and Kaisa Stucke
[Posted: 9:30 AM EDT] As noted above, global equity markets are lower this morning in a quiet trade.  There wasn't much news overnight and the trade looks like it is taking a breather today after a strong day in the U.S. yesterday.
One market that had a strong day yesterday was soybeans.

(Source: Bloomberg)
This chart shows the nearest soybean contract over the past three years.  Prices have been edging higher since mid-March.  A combination of factors has affected soybeans.  First, Brazil has been experiencing dry conditions.  Worries about the Brazilian crop, coupled with rising political turmoil (the Brazilian Senate votes today on impeachment proceedings—we expect them to vote to start an impeachment trial with the news coming out this evening), have raised worries about soybean supplies.  Then, flooding in Argentina has raised fears that some of the crop will be lost.  Although analysts always assume normal weather, there is an elevated chance of drought in the U.S. this summer if a La Niña develops.  Yesterday, the USDA estimated that global soybean inventories will decline 8.1% this year and end the season at 68.2 metric tons (mt), which is well below analyst estimates of 72.9 mt.  Corn inventories were also forecast lower than analyst estimates, at 1.8 billion bushels, but due to increased planted acreage the market expects a record U.S. harvest for corn this year.  Of course, if the weather fails to cooperate, that record crop won't materialize.
Rising grain prices tend to eventually show up in rising food prices as corn and soybean meal are key inputs.  Although the relative importance of food to the U.S. household budget is relatively low, studies have shown that lower income households tend to spend more on food than their wealthier counterparts.  Thus, rising food, especially meat prices, could become an election issue by November.
First, this chart shows the relative importance of food and meat to the CPI.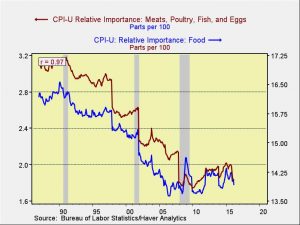 Second, meat prices have declined after years of strong growth (see chart below).  Meat prices are also affected by drought; we have seen a sharp drop in the cattle herd in recent years, although reports indicate that the herd is building again.  A rise in corn and soybean meal prices should filter into higher meat and egg prices later this year.