Daily Comment (May 1, 2020)
by Bill O'Grady, Thomas Wash, and Patrick Fearon-Hernandez, CFA
[Posted: 9:30 AM EDT]
Good morning, happy Friday and happy May Day, the international celebration of Labor Day.  Most European financial markets will be closed, although Denmark and the U.K. remain open.  Equity futures are lower as tensions with China rise, while oil is rallying again.  We update the COVID-19 news.  Relations with China are deteriorating; we report on the latest.  Here are the details:
COVID-19:  The number of reported cases is 3,274,747 with 233,792 deaths and 1,022,331 recoveries.  In the U.S., there are 1,070,032 confirmed cases with 63,109 deaths and 153,947 recoveries.  Here is the FT chart: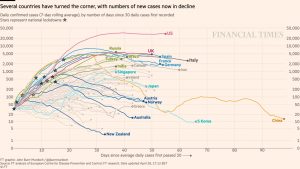 Here is an updated map of all the state-level social distancing measures.
The virus news:
The good news:

We have been reporting of evidence that some of those who have recovered from COVID-19 have tested positive again, suggesting there isn't much of an immune response from contracting the virus. Reports out of South Korea suggest that the tests actually reveal flaws in the test; those who reportedly were re-infected did not become ill.  Instead, the test was picking up virus fragments.  Thus, there is a good chance that those who have recovered do have some degree of immunity.
Although remdesivir is getting a lot of press, there are other drugs being tested against the virus. This "repurposing" process is actually what led researchers to remdesivir; it was originally created to combat Ebola.  Interestingly enough, it failed against that disease.  The benefit of a repurposed drug is that it has likely already passed safety tests.  This testing is positive because usually one drug alone doesn't work forever with infectious diseases because the virus mutates against it.
As we have been reporting, the administration is preparing to bring a vaccine to the country by January.

The bad news:

Researchers at the Center for Infectious Disease Research and Policy (CIDRAP) at the University of Minnesota published a report suggesting that (a) COVID-19 will likely be spreading for another 18 months to two years until herd immunity is achieved, and (b) there is a chance that, similar to the Spanish influenza pandemic, a strong return in autumn could occur.
It appears the Veterans Administration is preparing for continued fatalities; it ordered $300k of body bags.
COVID-19 is spreading rapidly in Brazil. To some extent, this was a deliberate policy of the Bolsonaro government, which concluded that the Brazilian economy could not tolerate aggressive social distancing.  Officially, the country has 87,187 confirmed cases and just over 6k fatalities; these numbers are likely a serious undercount.  There are anecdotal reports suggesting the health care system is being overwhelmed.  The situation is deteriorating enough to where Brazil's neighbors are either considering or implementing steps to manage the border to limit the spread into their countries.  These measures will almost certainly reduce trade.
Russia's prime minister has tested positive for COVID-19.
Although the Senate has returned to Washington, the Capitol physician, Dr. Brian Monahan, warned that he does not have access to unlimited testing and that he will only test senators and staffers who exhibit symptoms. The average age of a senator is 61.8 years old and 28% are 70 or older.  If the Senate is infected, we could see significant problems develop.
China is reporting that 60% of new COVID-19 new cases are asymptomatic. This scenario facilitates the spread of the disease in the absence of widespread testing.
The policy news:
For the past several years, a number of states have created impediments to applying for unemployment insurance. The goal was to eliminate potential abuse of the system.  When the economy had unemployment below 4%, these changes didn't matter all that much.  But, now that millions of Americans are filing for unemployment insurance, the rules are becoming an obstacle to households getting aid.
The Fed is widening potential participation in its $600 billion Main Street lending program by expanding the eligibility criteria. The Fed will now support lending to larger firms (15k employees from 10k) and the size of the loans will be lowered to $500k from $1.0 million.  Restrictions on firms held by larger companies will remain in place.
The Paycheck Protection Program is being panned by a larger number of businesses who find that the requirements of using 75% of the loan proceeds to pay employees is too restrictive. Many businesses, especially in large cities with high rental costs, are finding that they need more funding for rent and less for payrolls.
The economic news:
In a recent WGR, we examined the issue of optimization, arguing that efficiency can introduce fragility into a situation. The meatpacking crisis looks like an example of this underlying issue.
Colleges and universities are facing a major crisis due to COVID-19. It isn't obvious if they can safely reopen next fall and it hardly makes sense to pay tens of thousands of dollars for online education when it can be found much cheaper.  State public colleges are being hit with budget cuts as states struggle to balance budgets, and private schools, especially small ones with limited endowments, may not survive.  International students, who had represented a source of full-tuition paying attendees, may not be able to return from abroad.
Rent strikes are widening which may put some mortgage-backed securities at risk.
The market news:
The foreign policy news:
The COVID-19 pandemic is straining Western relations with China. We have been documenting conflicts with the U.S. and the EU.  Now, Australia can be added to the list.
Officially, the U.S. intelligence community has indicated that COVID-19 was not a bioweapon. There has been some conjecture that the naturally occurring virus (likely originating in bats) may have leaked out of a Chinese lab due to poor biosecurity.  U.S. intelligence agencies have confirmed they are investigating this possibility.
If it turns out that China is responsible for introducing the virus to the world, what is to be done? The administration is making plans to punish China; actions may include tariffs, a repudiation of some of the Treasuries China holds in its foreign reserves, stripping China's sovereign immunity (which would subject China to the tender mercies of the U.S. tort bar), demanding reparations, blocking Chinese assets in government pension funds and other measures.  Any of these would dramatically increase tensions between the U.S. and China.  The one we would be most concerned about is the repudiation action.  We could write a whole report on that (perhaps a future WGR) but suffice it to say that such a move would effectively end U.S. hegemony.  One of the two roles of a global hegemon is to provide a reserve currency which, outside of a gold standard, implies also providing the reserve asset, which is currently the Treasury.  If reserve managers suddenly believe that the U.S. would selectively default on Treasuries, we would be in a world where there would be limited assets available to reserve managers.  This is a bit like crossing the streams.
As we noted earlier this week, China pressed the EU to temper comments about the origin of the virus. Apparently, the pressure is becoming strident.
Taiwan is an extremely sensitive issue for China. The U.S. and China have engaged in strategic ambiguity[1] over the island since the 1970s.  However, maintaining that ambiguity requires the world to avoid suggesting that Taiwan has the status of a state; once that bridge is crossed, Taiwan is no longer a runaway province of the mainland but a renegade.

The Netherlands has run afoul of Beijing by changing the name of the foreign mission in Taiwan to "Netherlands Office Taipei," which is clearly less than calling it an embassy but enough to trigger a response from China. The announcement came on April 27, the day when the Dutch named Taiwan a colony in the 17th  China is considering trade retaliation against the Netherlands.
Australia is backing Taiwan's return to the WHO, which will certainly infuriate Beijing.

Meanwhile, tensions between Secretary of State Pompeo and China are rising rather strongly. He is continuing to press for access to Wuhan labs, something that China likely sees as an infringement on sovereignty, and he is calling for China to stop arresting Hong Kong protestors.  It appears it is starting to get personal as these screenshots from Chinese television show.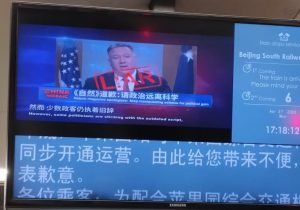 Beijing has tried to use sales of medical equipment to nations reeling from COVID-19 as a form of soft power. However, there have been persistent reports of substandard equipment; the state of Missouri received counterfeit KN95 masks from China and Illinois may have as well.  Now, Britain is reporting it has received ventilators from China that may be deadly.  The combination of potential negligence at the Wuhan labs and the faulty medical equipment is raising the odds of retaliation against China.

At the same time, the White House itself is divided over this issue. Peter Navarro, a China hawk, has been pressing for the U.S. to produce more medical equipment domestically.  Other members of the administration oppose this action for fears that it will (a) harm relations with China, (b) raise costs, and (c) lead to shortages of such equipment at this important time.
The GOP as a party is becoming increasingly hostile toward China.
In addition, the White House wants Phase 1 of the trade deal with China to be executed. China is "committed" to the agreement, but further escalation of tensions could bring the arrangement into doubt.

China claims it forced the U.S.S. Barry, an Arleigh-Burke class guided missile destroyer, out of the South China Sea. The U.S. has not confirmed the Chinese report.  A second U.S. ship has reportedly made a freedom of navigation operation in the South China Sea.
Finally, China is finding itself under pressure from frontier market borrowers who are facing difficulties in servicing their debt. China has been a major lender to many of these nations through its "one belt, one road" project and is now facing calls to offer debt relief.  We suspect Beijing is reluctant to offer significant support, viewing itself as a developing nation.  The U.S. behaved similarly after WWI; Europe asked for debt relief to which President Coolidge allegedly responded with, "they hired the money, didn't they?"
Saudi Arabia:  Reuters is reporting that the U.S. threatened to withdraw American military support from Saudi Arabia if the kingdom didn't agree to cut output.  The Saudis, as one would expect, have not responded to this report.  We will be watching to see if MBS allows this statement to stand; if it does, it would make him look weak.  And, as we have stated all along, promising to cut is one thing, but reducing supplies is another.
Hezbollah:  Germany has banned Hezbollah from any activity in its country and is pressing the rest of Europe to adopt its measures.  The actions will weaken relations with Iran, which views Hezbollah as a client.
Iran:  Iran's recent launch of a satellite suggests that it is mastering intercontinental ballistic missile technology.  Although it cannot reach the U.S. yet, Iran is clearly heading in a direction where it will be able to achieve that goal in a few years.  Already, Europe is at risk.  If Iran acquires a nuclear weapon, the ability to deliver a bomb would make Iran impossible to invade and overthrow.
North Korea:  The latest in the unending game of "where is Kim?" is that luxury boats are now at the Wonsan compound.  Although the appearance of these vessels doesn't tell us much about the health of the young general, it may suggest he isn't dead quite yet.
Venezuela:  The Maduro government is reportedly selling gold reserves (around nine tons) to Iran and the latter is using its aircraft to ferry the bars back to Tehran.  Venezuela is reportedly paying Iran for its assistance in operating PDVSA's moribund refineries.  Iran has been using gold for some time to conduct trade and skirt U.S. sanctions.  We have no reports of how much Iran paid Maduro for the gold, but we would not be surprised if Tehran paid a premium.
---
[1] Where two parties say the same thing but mean something entirely different.  This is a very effective strategy in diplomacy and marriage.