Daily Comment (March 4, 2020)
by Bill O'Grady, Thomas Wash, and Patrick Fearon-Hernandez, CFA
[Posted: 9:30 AM EST]
After yesterday's wild rollercoaster ride in the markets, we're looking for a happier Wednesday.  We provide an update to the COVID-19 panic and the confusing policy responses, as well as a recap of yesterday's Super Tuesday primaries.  On a less positive note, it seems the U.S.-Taliban peace deal is already at risk, while a new migrant crisis continues to threaten the EU.
COVID-19:  Official data show confirmed cases have risen to 94,250 worldwide, with 3,214 deaths and 51,026 recoveries.  In the United States, confirmed cases rose to 128, with nine deaths and eight recoveries.  Those figures still pale in comparison with the typical impact from influenza every year, but the COVID-19 virus is still a novel, unknown threat, and world markets have been buffeted by waves of fear and worry that even powerful policymakers may be ineffective in their fight against it.
Federal Reserve.  Over the last 24 hours, the key event in the COVID-19 panic was the Fed's decision to slash its benchmark fed funds interest rate to a range of 1.00% to 1.25%.  Not only was the cut unusually large (50 basis points), but it also came sooner than expected.  In fact, it was the first cut outside a regular policy meeting since 2008.  The aggressive action initially prompted strong stock buying, but the aggressiveness itself seemed incongruous with the Fed's recent signaling that the economy is in good shape.  Even worse, Fed Chair Powell warned in a post-decision press conference that the virus and measures to contain it will still weigh on the global economy in the future, and Cleveland Fed President Mester later reiterated that idea.  This begs the question as to why policymakers felt the need to move so soon, undercutting the "coordinated" action that global officials had been hinting at.  Does the Fed know something that we don't know, perhaps from the business contacts that contribute to the Beige Book?  Did policymakers cave to political pressure from the White House?  Or, after years of monetary policy coming to the rescue of the economy and markets, did the bungled messaging finally wake up investors to the fact that low interest rates and central bank asset purchases can't cure all ills.  Sometimes, they're merely anesthesia.  In any case, the market's judgement turned negative quickly, pushing stock prices down sharply.
Bond Market Action.  Amidst the drop in stocks, safe-haven Treasuries surged, pushing the yield on the benchmark 10-year note down to a record intraday low of 0.91% and a record closing low of 1.01%.  Strong buying during a stock rout is no surprise, but there was probably more to it than that.  We note that the Fed's big cut still wasn't enough for the fed funds rate to catch up with one of our favorite indicators: the implied LIBOR rate two years out.  That figure suggests the Fed would have to cut rates by about 50 more bps soon.  Just as important, multiple structural issues ranging from slower population growth and population aging to deregulation and globalization still seem likely to hold down inflation in the near term.  At this point, it's hard to see a need for serious rate hikes in the foreseeable future.  Some snap-back in longer yields wouldn't be a surprise, but a dramatic and sustained rebound may not be in the cards.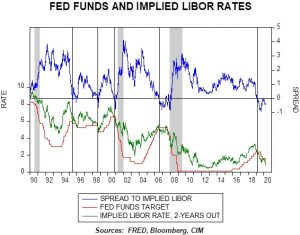 Other Central Banks.  Like the Fed, other major central banks have been signaling their willingness to loosen policy to cushion the impact of COVID-19, but they may wait a bit longer.  The ECB may be the next move, with markets pricing in a cut of 10 bps when it meets on March 12.  The Fed holds its next regular policy meeting March 17-18, at which point it could cut again, while the Bank of Japan holds its next meeting on March 18-19 and Bank of England policymakers meet on March 26.
Economic Impact.  Even though public health officials' draconian measures to stem the epidemic have so far proven much more economically disruptive than the disease itself, a new IPSOS poll shows people around the world are comfortable with quarantining whole cities.  In the U.S., the poll found fully 70% of respondents comfortable with citywide quarantines.  That support is probably one reason why public officials and private firms alike continue to take dramatic steps that can seem excessive compared with the risk of the disease.  Conferences and business travel plans are being cut at a historic rate.  The NCAA even says it's open to banning fans from attending the men's basketball championship tournament.  Such cancellations could increase if a well-known personality is sickened or dies from the virus; rumors are already swirling that Pope Francis has been infected with COVID-19.  With global manufacturing still nursing its wounds from last year's trade war, the hit to the service sector is a key risk.  As shown below, data today showed a big drop in the PMI for services in both China and Japan.  Of course, manufacturing workers in China and elsewhere have borne much of the brunt of the epidemic's disruptions, but the generally lower pay, lower skill level, and lack of unionization among service-sector workers in industries like air travel and lodging mean their income and spending could quickly come to a hard stop as the disruptions continue.
Super Tuesday:  In yesterday's Democratic primaries, former Vice President Joe Biden did much better than anticipated, winning multiple states outright and surging past Vermont Sen. Bernie Sanders in committed delegates to the party's summer convention.  Biden showed particular strength in the South, Midwest, and New England, while Sanders won California, Utah, Colorado, and Vermont.  Former New York Mayor Bloomberg and Massachusetts Sen. Warren walked away with little to show for their efforts.  With the moderate Biden now leading what has become a two-man race, and with Bloomberg promising to richly fund whichever Democrat wins the nomination, the results are likely to be a positive for equities today.
Turkey-Syria-EU:  Rushing to take advantage of President Erdogan opening Turkey's border with Greece, thousands of Middle Eastern refugees are streaming across Turkey to cross into the EU.  However, Greek officials continue to block the migrants, and EU leaders are demanding that Turkey comply with its 2016 agreement to keep them bottled up in return for aid.  While Erdogan hopes to use the EU's fear of a new migrant crisis as leverage for additional aid and help in Turkey's fight against Syrian troops, EU officials are showing no sign of caving to his demands just yet.
United Kingdom:  Home Secretary Priti Patel's position in the government appears to be hanging by a thread after multiple senior civil servants have accused her of using an abusive, bullying management style.  Given the Home Secretary's high profile in British government, a Patel resignation would be politically damaging to Prime Minister Johnson.
United States-Afghanistan:  Just days after the U.S. and the Taliban signed a deal to end U.S. involvement in Afghanistan, yesterday Taliban fighters carried out dozens of attacks on Afghan security checkpoints in Helmand province alone, prompting a U.S. airstrike against the Taliban.  The violence suggests the U.S.-Taliban deal is already at risk.  If the deal fails, it could leave the U.S. with no good option to withdraw from the country and cause a significant political liability for President Trump in the run-up to the November election.
Iran:  The International Atomic Energy Agency said yesterday that Iran has tripled its stockpile of enriched uranium and is barring international inspectors from two undeclared nuclear sites.  The moves follow Iran's announcement last year that it will stop adhering to aspects of the international nuclear agreement in response to the U.S. re-imposing sanctions.  This news will further ratchet up tensions with the West and potentially bring Israel closer to taking unilateral military action.