Daily Comment (March 31, 2020)
by Bill O'Grady, Thomas Wash, and Patrick Fearon-Hernandez, CFA
[Posted: 9:30 AM EDT]
As March draws to a close today, we're reminded of the old adage about the month: in like a lion, out like a lamb.  After what we've all gone through during the last month, we certainly hope for a day that's as quiet and gentle as a lamb!  As always, we review all the key news on the coronavirus epidemic and related, market-relevant items.
COVID-19:  Official data show confirmed cases have risen to 801,400 worldwide, with 38,743 deaths and 172,657 recoveries.  In the United States, confirmed cases rose to 164,610, with 3,170 deaths and 5,945 recoveries (though the recovery data is lagging).  Here is the latest chart of infections from the Financial Times: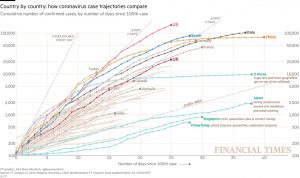 Virology.  Two research groups affiliated with the Chinese insurance giant Ping An (2318.HK, 76.70) yesterday projected that new infections will peak no later than this weekend in key countries including the United States.  The projections seem rosy to us, especially since they show U.S. infections topping out at just 300,000.  Besides, a respected model from the University of Washington still projects the U.S. peak hospital usage will come later, on April 15.  All the same, we think the Ping An researchers' model sensibly incorporates factors such as how late the countries started to enforce social distancing, their population density, the share of their population aged 60+, the number of intensive-care hospital beds they have available, and the level of public support for their officials' lockdown orders.  Those markers are probably worth watching to gauge the future course of the pandemic.
Klaus Regling, the managing director of the EU's European Stability Mechanism, poured cold water on the idea of issuing EU-wide "coronabonds" to finance the bloc's response to the pandemic. According to Regling, it would take between one and three years to set up a new European institution to issue such debt.  However, in an apparent olive branch to hard-hit Italy and Spain, he did suggest aid in the short term could be funded via existing bodies and instruments.
Similarly, Eurogroup President Centeno said in a letter to EU finance ministers that coronavirus aid could be raised using existing institutions and mechanisms, though "alternatives" could be considered. He also called a meeting of all 27 EU finance ministers to discuss aid next Tuesday.
As a reminder, our latest Weekly Geopolitical Report, published yesterday, examines how the disputes over coronavirus funding have the potential to cause a breakup of the EU.
Global Oil Market:  Two major shale producers in the Permian Basin have asked Texas regulators to consider curtailing crude output in the state as the industry grapples with collapsing demand and plunging prices.  Meanwhile, poorer oil producers such as Iraq and Venezuela are being forced to consider steep budget cuts as low oil prices cut deeply into their revenues.