Daily Comment (March 31, 2016)
by Bill O'Grady and Kaisa Stucke
[Posted: 9:30 AM EDT] Standard & Poor's lowered China's credit rating outlook from stable to negative, citing a slower than expected economic rebalancing.  Although Chinese risk markets dropped initially, they have recovered since, indicating that the rating outlook cut is not likely to have a long-term effect.  We saw similar temporary weakness when Moody's cut the nation's rating outlook in the beginning of March, but equities were seemingly unaffected after the initial drop.  After all, it was already known that the rebalancing would be slower as the government attempts to maintain higher rates of growth through continued investment support.
Domestic wage growth, in general, has remained lackluster, with economists forecasting a 2.2% annual increase in hourly earnings for tomorrow's employment report.  Yellen has cited disappointing wage growth as one of the reasons why she supports a cautious pace of monetary tightening.  The chart below shows a long-term history of growth in average hourly earnings.  Historically, and especially during the time that most of the Fed governors were completing their graduate degrees, the Phillips Curve was applicable, meaning that tighter labor markets led to higher wages which led to higher prices.  We note that this process is slow, with average inflation rising gradually as the labor market improves, but the closer we move to full employment the more likely it is that wage growth and inflation will accelerate.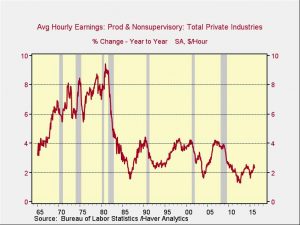 The question of whether the Phillips Curve is still relevant is significant.  Although the unemployment rate has improved since the end of the recession, structural changes in the labor market mean that the participation rate has hardly moved from its recessionary lows and wages have remained stagnant.  We are seeing wage growth pick up in certain areas of the country as Minneapolis-St. Paul, Dallas and Seattle are all seeing strong yearly wage growth.  These "hot" wage growth regions could be the first signs of future general improvement in wages for the country.