Daily Comment (March 28, 2017)
by Bill O'Grady, Kaisa Stucke, and Thomas Wash
[Posted: 9:30 AM EDT] As we mentioned yesterday, we want to expand our thoughts on equities.  Although growing disappointment is a worry regarding the president's ability to execute his agenda, we do note that cash levels remain elevated.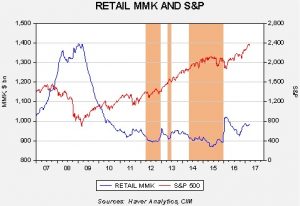 This chart shows the level of retail money market funds and the S&P 500.  The three amber blocks on the chart indicate periods when retail money market levels dipped toward $900 bn.  At those levels, the rising trend in equities tends to stall.  If investors are so inclined to boost their holdings of equities, it appears that there is ample cash to do so.  As we saw in yesterday's trade, equities opened lower but gradually edged higher during the day; this pattern is usually seen when there are investors waiting for a pullback with liquidity available.
Of course, this indicator does have another side to it; rapidly rising cash levels tend to coincide with declines in equities.  Again, this makes sense.  If investors are raising cash, they are probably doing so by selling assets, including stocks.  We aren't seeing that now and, barring some sort of panic, we suspect that the downside in equities is probably limited.
In the wake of the health care defeat, President Trump is now signaling that he wants to implement tax reform and infrastructure spending simultaneously.  Although we don't think he means to include them in the same bill, he is attempting to link the two and will probably indicate that he won't sign one without the other.  His thinking seems to be that the Democrats would really like infrastructure spending and the GOP really want lower taxes.  If he links the two, he might be able to accomplish both.  Although this is a novel idea, and it makes sense as a bargaining position, the problem is that it doesn't appear that either policy change has been fully developed.  Regarding infrastructure, although lists of projects have been drawn up, there isn't much on funding mechanisms.  Meanwhile, the only tax proposal is from Speaker Ryan and it includes the border adjustment tax (BAT), which has little support.  There is growing talk that without the revenue from AHCA and BAT, the highest corporate marginal tax rate may only be cut to 28%, which is what President Obama proposed.  That is well below the 15% to 20% that had been promised during the campaign.  The idea of linkage has merit; however, there is the need for details, which this administration didn't master with health care.
Yesterday, South African President Jacob Zuma called Finance Minister Pravin Gordhan back from a "road show" for foreign investors.  Gordhan was on his first day of a seven-day tour of the U.K. and U.S.  There are reports that Zuma wants to fire Gordhan, who has repeatedly prevented Zuma from implementing policies that the former sees as illegal patronage.  Zuma has previously tried to fire his finance minister only to back down due to financial system stress.  In the wake of this news, we have seen the ZAR weaken.
Bloomberg reported over the weekend that Chinese nationals are in a "race to apply for U.S. golden visas," the EB-5 class.  This visa allows any foreign investor to receive a green card who invests $1.0 mm in the U.S. (or $500k in targeted employment areas of high unemployment) that creates 10 jobs.  What has spurred interest is that Congress is considering increasing the minimum on targeted employment areas to $1.35 mm (and $1.8 mm for investments outside the targeted employment areas).  Chinese citizens can only legally move $50k per year outside of China but that restriction is apparently not all that tight, as this chart can attest.  China is clearly the leading source nation for EB-5 visas.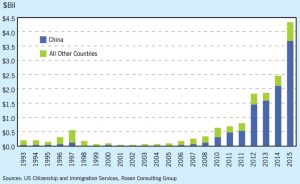 Although this program is a small part of the estimated $728 bn that exited China last year, it is popular with Chinese nationals because it offers an "escape pod."  It is worth noting that Chinese investment in this program tripled in 2012 compared to 2011 when President Xi took office.  We don't know for sure all of the factors driving Chinese capital flight, although we suspect the crackdown on corruption may be part of that desire to move funds abroad.  This program of giving a green card is likely an attractive option.