Daily Comment (March 27, 2020)
by Bill O'Grady, Thomas Wash, and Patrick Fearon-Hernandez, CFA
[Posted: 9:30 AM EST]
Happy Friday as we wrap up another long week.  After three days of vigorous equity rallies, we are taking a breather this morning.  We update all the COVID-19 news.  Venezuela's president is indicted.  Israel has a new unity government.  Here are the details:
COVID-19:  The official number of global cases is 542,788 with 24,361 fatalities and 124,351 recoveries.  There is growing skepticism over China's numbers; this is especially pertinent given media reports that the U.S. now has more cases than China.  Here is the usual FT chart: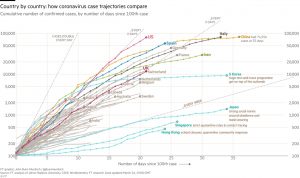 There is a recognizable "bend" developing in the U.S. infection rate.  That is potentially good news.
The virus news:
The policy news: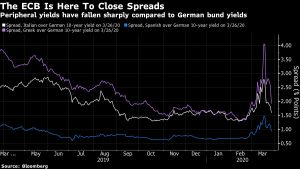 The economic news:
The jump in initial claims, reported yesterday, was historic. And, it is quite possible that the claims data was understated.  We modeled the unemployment rate using the four-week average of claims and continuing claims.  We will likely see a massive rise in unemployment.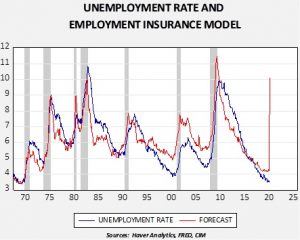 The March employment data will be very sensitive to the survey week, which is usually the second week of the month.  We may not get the full impact of the virus until the April data is released, which comes out in early May.
Although we continue to lack data on the level of damage to the economy, there are high-frequency reports from new sources that suggest serious weakness. Here is one on consumer confidence.  Polling suggests widespread pain.
With reference to our recent WGR, the Swiss have been managing their shutdown with relative ease because of government strategic stockpiles of foodstuffs.
Companies are reporting a jump in sales of tops and shirts, but without the corresponding pants and skirts—perhaps a reflection of increased videoconferencing.
The market news:
Foreign policy:
Israel:  Although Netanyahu and Gantz vowed not to form a unity government, under the stress of the virus, they have worked out a deal.
Venezuela:  The U.S. has indicted Venezuelan President Maduro for narcotics trafficking and has offered a $15 million reward for information leading to his capture and conviction.