Daily Comment (March 25, 2021)
by Bill O'Grady, Thomas Wash, and Patrick Fearon-Hernandez, CFA
[Posted: 9:30 AM EDT] | PDF
Good morning!  U.S. equity markets have turned lower this morning.  Our coverage begins with the pandemic, with a focus on the mess that Chancellor Merkel finds herself in with elections coming in autumn.  China coverage follows; the diplomatic spat between the EU and China has intensified and Beijing and Moscow continue to tighten relations.  International coverage is next, followed by economics and policy, and we close with technology news.
COVID-19:  The number of reported cases is 124,894,108 with 2,745,702 fatalities.  In the U.S., there are 30,011,551 confirmed cases with 545,746 deaths.  For illustration purposes, the FT has created an interactive chart that allows one to compare cases across nations using similar scaling metrics.  The FT has also issued an economic tracker that looks across countries with high frequency data on various factors.  The CDC reports that 169,223,125 of the vaccine has been distributed with 130,473,853 of doses injected.  The number receiving at least one dose is 85,472,166, while the number of second doses, which would grant the highest level of immunity, is 46,365,515.  The FT has a page on global vaccine distribution.  The weekly Axios map shows a mixed bag; some states are reporting falling cases, but there is a disturbing rise in others.  Due to reporting issues, we have seen a jump in U.S. infections to 86K.
Virology
Germany is facing a jump in infections that is leading to a political crisis. In light of a slow vaccine rollout and after a meeting with regional leaders, Chancellor Merkel decided to issue not only a lockdown order but to extend the Easter holiday by two days.  The backlash was strong; protests broke out and the political opposition was critical of the move.  The suddenness of the action and the lack of planning for how businesses and households would handle the changes to the holiday raised hackles.  And so, in the face of strong opposition, Merkel reversed her order and publicly took sole responsibility, asking Germans to forgive.

There is growing political fallout from the current government's handling of the pandemic. Although Germany's actions, at first, were considered strong, the inability to distribute vaccines, the persistent waves of infections followed by ineffective lockdown measures, and the fact that there appears to be "no light at the end of the tunnel" have weighed on the government.  Political standouts of the CDU, possible successors to Merkel, have seen their stars fall, raising the possibility that the CDU/CSU/SPD will fall from power in September.
Belgium has announced a lockdown over Easter; however, the measures don't appear to be all that strict and there hasn't been a notable public response.

The EU's vaccine program has been something of a mess. The leadership focused on price rather than securing supply.  In a globalized world, this has led to a situation where vaccines produced in the EU are being shipped to other parts of the world, where nations paid higher prices.  Europe is considering restricting vaccine exports in response, which will not make its trading partners happy.  But supply isn't the only problem.  Logistics and clear lines of authority have been a problem, too.
The U.K. is signaling that it will restrict travel between France and the U.K. due to the surge in COVID-19 cases in the EU.
AstraZeneca has revised down its efficacy rate to 76% from its original report of 79% due to data integrity problems.
The UAE has been aggressive in acquiring vaccines, allowing China and Russia to conduct clinical trials in return for vaccine supply. The Sinopharm (SHTDY, USD, 12.04) vaccine has been distributed; we note that health authorities are notifying some of the recipients who received two injections that they should receive a third, suggesting the prior inoculations were ineffective.  China claims a 79% efficacy rate, but never released any supporting data.  This vaccine has also been distributed in Egypt, Cambodia, Senegal, and Peru.  If it turns out the vaccine is ineffective, it would require these countries to source vaccines from other nations and would be a blow to China's prestige.
Studies published in the New England Journal of Medicine suggest that out of 8,121 fully vaccinated employees at the University of Texas Southwestern Medical Facility, only four contracted COVID-19 after inoculation. A similar study in Los Angeles hospitals shows seven out of 14,990.  Although we doubt the current vaccines will give us sterilizing immunity, these studies suggest it will be close.  In addition, those who did contract the disease reported mild symptoms, suggesting that getting the shot will keep a recipient from a serious case of the disease.
China:  China's foreign relations with the EU and U.S. are getting increasingly difficult.  In response, Beijing is getting close to Russia.
International news:  Israel is trying to form a government, North Korea launched missiles, and the Indian farmers' strike continues.
Economics and policy:  The Suez Canal remains blocked, rental arrears continue to be an issue, we are watching what households do with the "stimmy," and inflation worries are rising.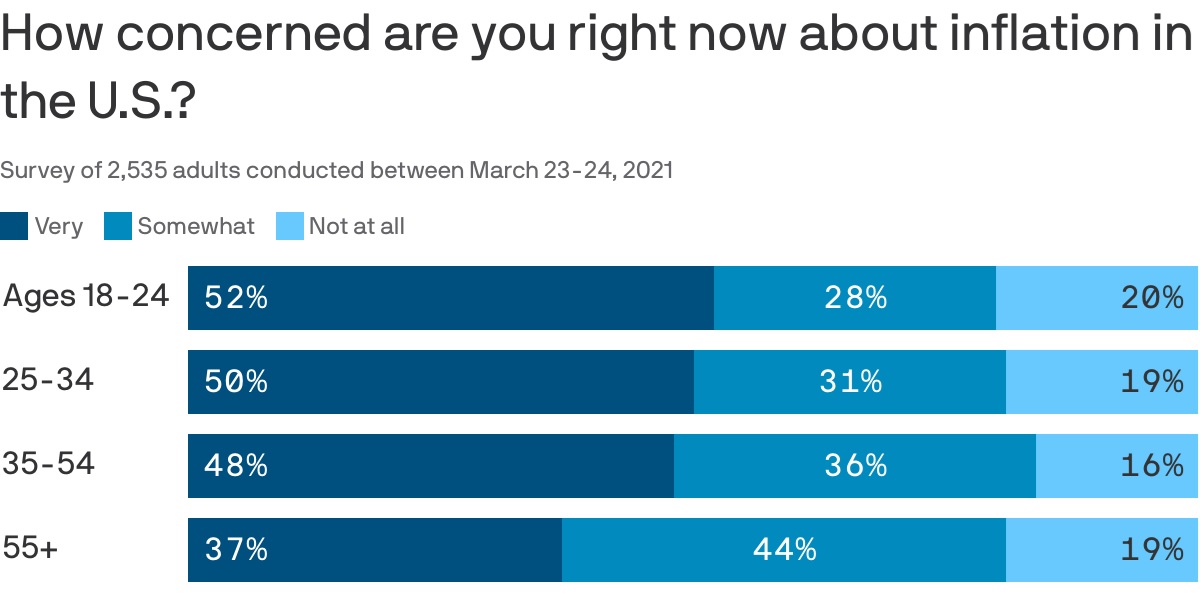 Technology:  Tech leaders testify before Congress and Amazon (AMZN, USD, 3087.07) faces a union vote.